Схемы Teresa Kogut
Размер 12″ x 12.75″
St.ct. 182 x 182.
Вышивается DMC floss
!!Нитки WDW заказываются в закупку WDW!!
WDW 1304 -1
Марина Евграфова(1m)
Ирина Литвинова»>
Размер 6.5″ x 6.25″
Вышивается DMC floss
Для основы 30 ct Weeks Dye Works Cocoa #1233 — https://vk.com/photo-118634314_457260826?rev=1
950р.
Анастасия Круглякова(1m)
Марина Евграфова(1r)»>
Примерный размер 9″ x 11″
Для основы лен — Belfast 32ct Mystic — Окрашенная вручную ткань от Picture This Plus — https://vk.com/photo-118634314_456244861
1280 руб.
ЗАКАЗ
Анютка Панкрашкина (1r)
Мариана Евграфова (1r)
Татьяна Аноприенко (1r)
Ольга Малкова (1r)»>
Вышивается DMC floss
Для основы 35 ct
1300р.
Для основы 35CT PARCHMENT #1110 Weeks Dye Works https://vk.com/photo-118634314_456240021″>
Размер 8.5″ x 7.25″
Вышивается нитями Weeks Dye Works 1304 (4шт.) & DMC floss
Для основы Weeks Dye Works — 35ct Tin Roof 1174 — https://vk.com/photo-118634314_457260822?rev=1
950р.
Анастасия Круглякова
Мария Бондарева»>
Размер 4.5″ x 6.25″
Основа — Weeks Dye Works — Mocha 30ct
Вышивается Weeks Dye Works (WDW # 1232, 4121, 1270 — под заказ в ПЕРИОД ЗАКУПКИ WDW) и DMC https://vk.com/album-118634314_239973159?z=photo-118634314_457257235%2Falbum-118634314_239973159
950р.
Размер 144 x 104 крестиков
Для 36ct
950 руб
Для основы 35CT Weeks Dye Works #1123 Cornsilk — https://vk.com/photo-118634314_457257737″>
Размер St ct 82 х 118
Вышивается нитками Weeks Dye Works & DMC & 1 Valdani
Для 30ct
950 руб
Анастасия Волкова(1r)
Людмила Ферапонтова(1r)»>
Размер 160 x 136 крестиков
Для основы 32 Ct. Gingerbread Belfast Picture This Plus — https://vk.com/photo-118634314_456244817
Вышивается нитками WDW (Заказ СТРОГО в период закупки ниток WDW)
Qty 1: Weeks Dye Works — Putty #1201
Qty 1: Weeks Dye Works — Pecan #1228
Qty 1: Weeks Dye Works — Swiss Chocolate #1237
Qty 1: Weeks Dye Works — Collards #1277
Qty 1: Weeks Dye Works — Merlot #1334
Qty 1: Weeks Dye Works — Juniper #2158
Qty 1: Weeks Dye Works — Oscar #2197
Qty 1: Weeks Dye Works — Red Rocks #2240
Qty 1: Weeks Dye Works — Crimson #3860
950 руб.
Анастасия Волкова(1r)
Юлия Моисеева(1r)
Мария Бондарева(1r)
Лиля Лаб(1r)
Елена Ульянова(1r)
Жанна Сергиенко(1r)
Ольга Варламова(1r)»>
Flosstube 112

I recorded on Friday this week since we are having our grandkids all weekend (ages 1 and 2). Pray for us! 😂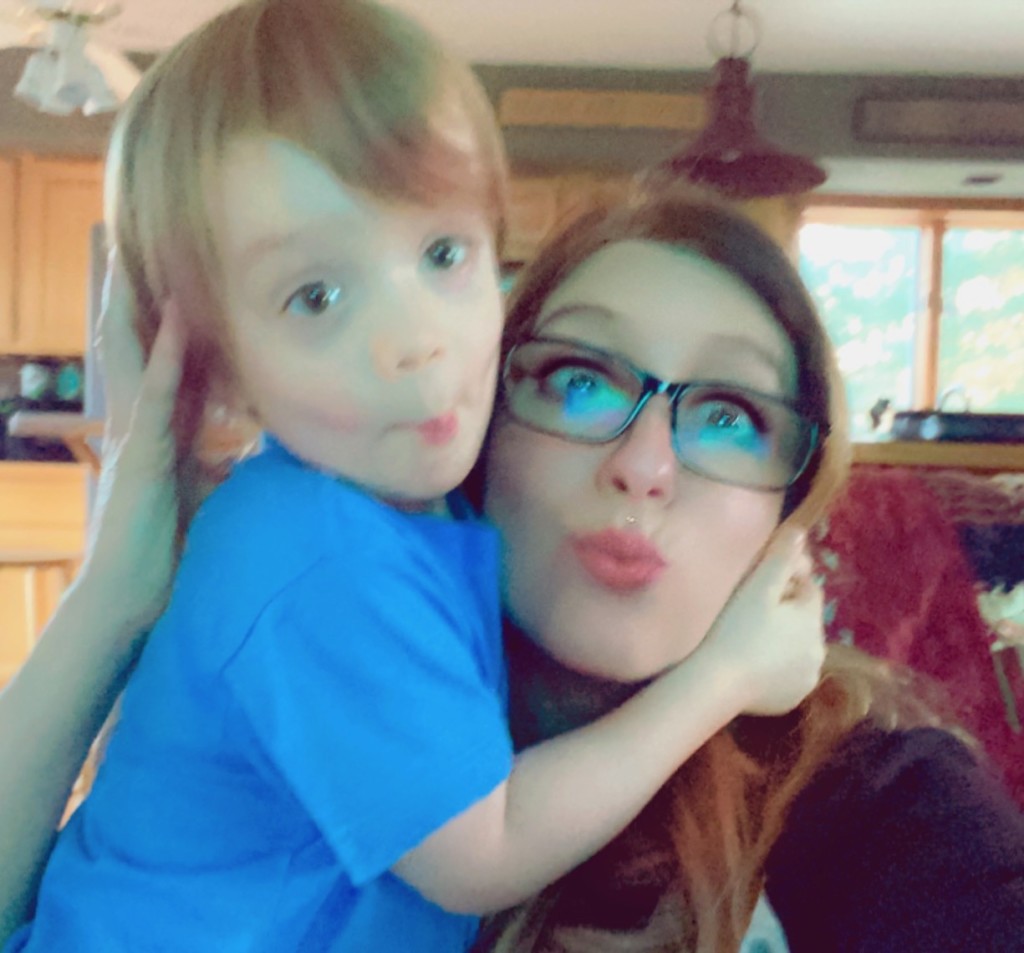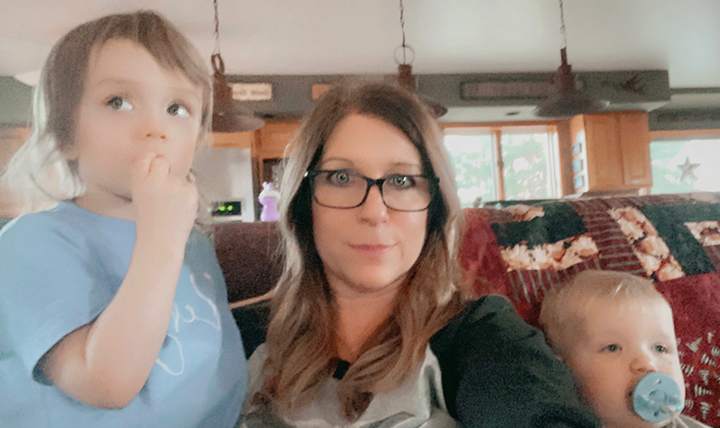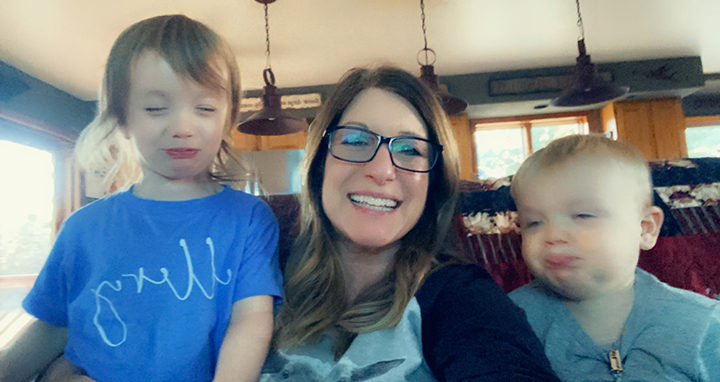 "For the Love of Nature" Fabric Line
As stated in my video, I was teaching my CW Live painting class and someone congratulated me on my Riley Blake Designs fabric line. I was like "where did you see it?" She said it was on RDB website. So all my students that were with me live went to the site and I knew this because they all were commenting on how they loved the line. So I too went to the website and was delighted to see it! Here is a link so you can check it out as well. Contact your LQS (local quilt shop) to make sure they've preordered the line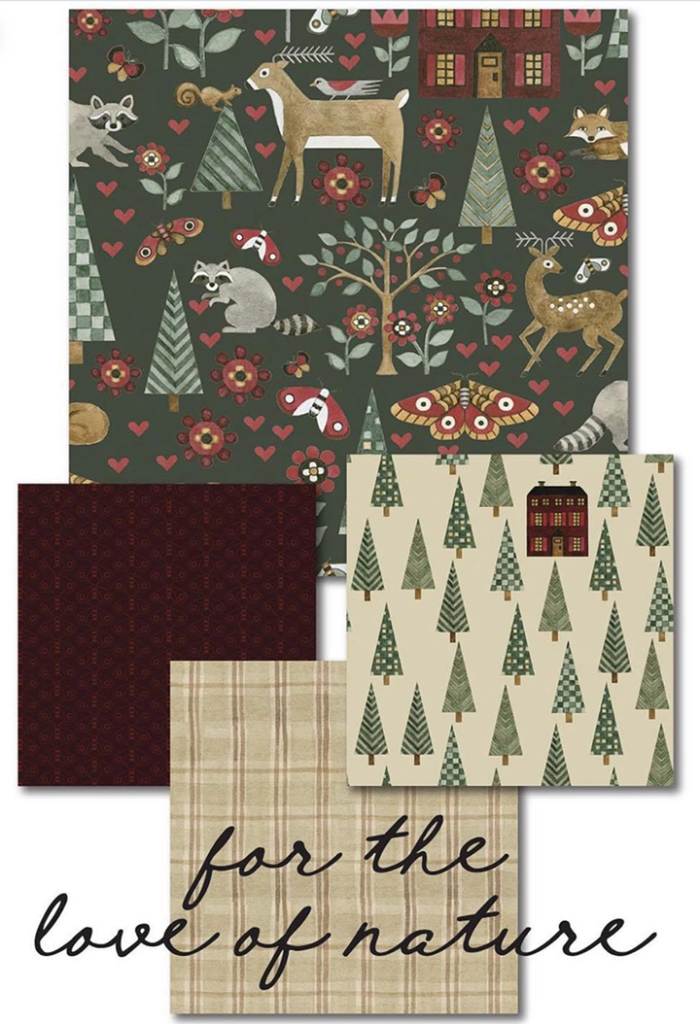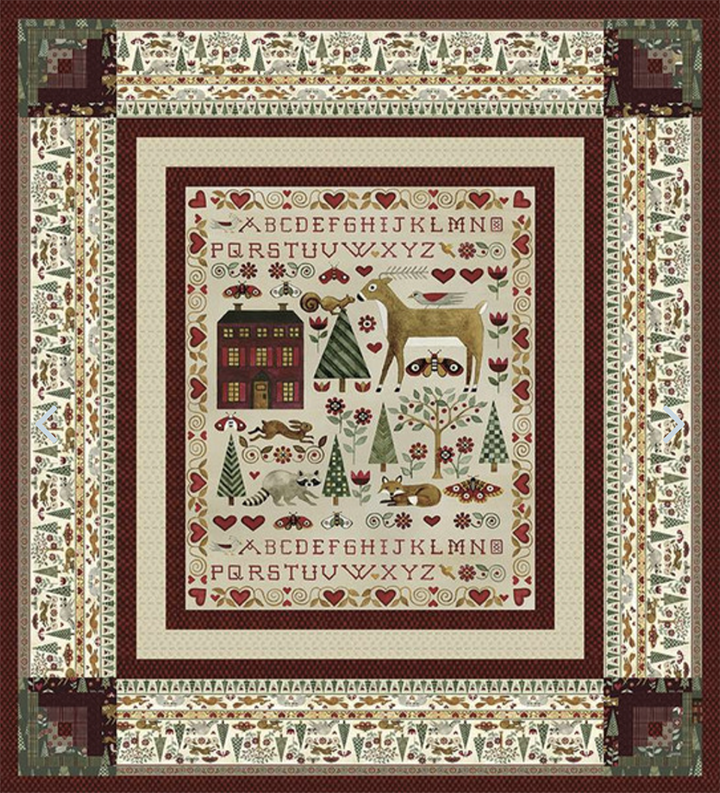 Pattern Release Dates
Here is the our list of pattern release dates for cross stitch and punchneedle patterns.
May – small release 2-3 cross stitch and 1-2 punchneedle
August – Needlework Expo – large release – 8 or more xs and 3-4 punchneedle
Fall (late Oct/early Nov) – small release 2-3 cross stitch and 1-2 punchneedle
January 2022 – small release 2-3 cross stitch and 1-2 punchneedle
March 2022 – Nashville Market – large release – 10-12 xs and 4-6 punchneedle
"Retiring" Patterns
Due to storage issues, we plan to retire a lot of cross stitch and punchneedle patterns in April. I will create a list and share it so if you want a physical pattern or hard copy, you can make sure to get it.
After we retire these patterns they will be made into PDF only patterns and only available in my Etsy shop. This way the patterns will still be available but we won't have to store inventory for the physical patterns. We have to make room for new!
CW LIVE Session 5 to start soon!
Session 5 starts April 6th! If you want to learn to paint fun projects, please check out Creative Whims Studio Live here
Below is a list of projects you'll have access to when you join. A total of 24 projects!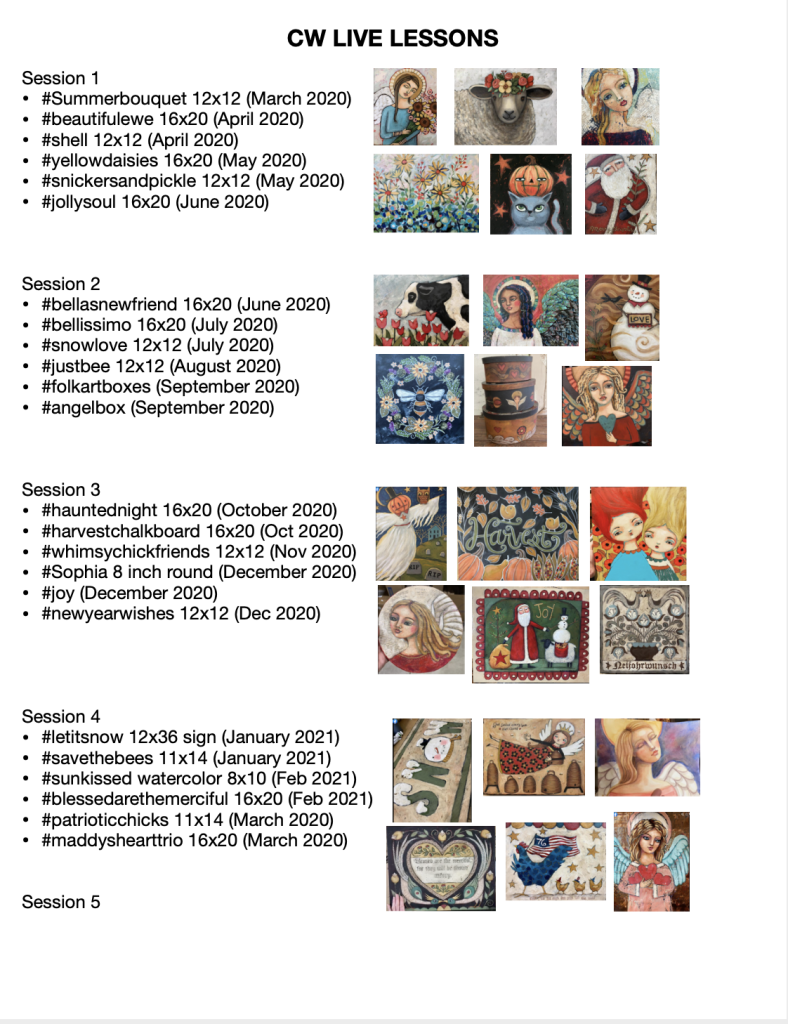 Here's a photo of one of my student's work. Thank you Karen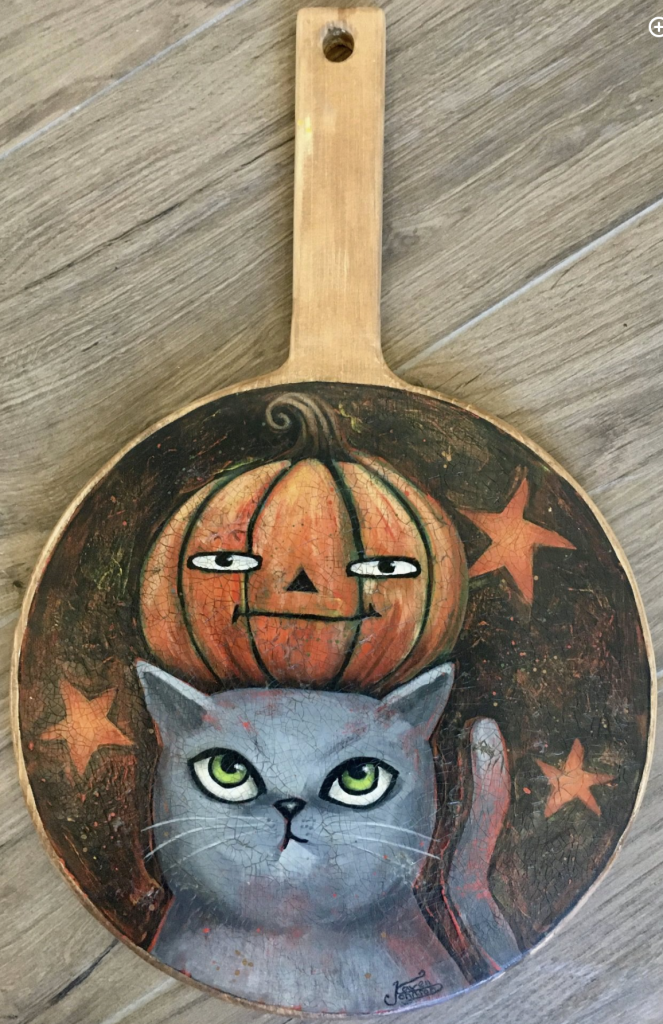 Needlework
Unfortunately I have no progress on my cross stitch and haven't started a new punchneedle due to working on my Halloween fabric line for Riley Black Designs.
CW Live we started Maddy's Heart Trio. We got a lot done in one lesson. I love her!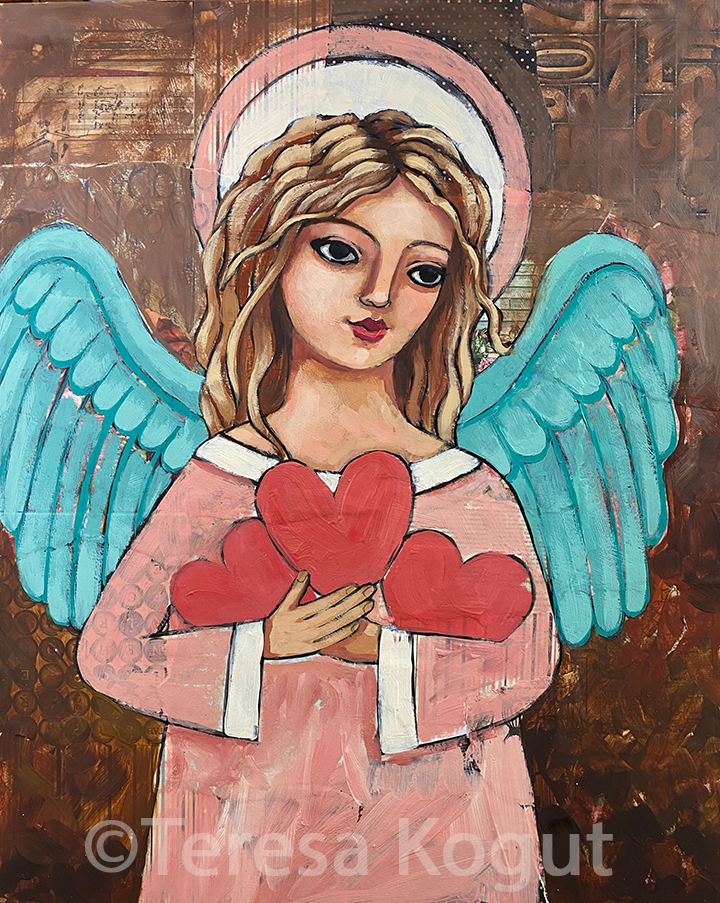 I'm still working on "Perfect Love" during Whatcha Paintin Wednesday. I fixed Baby Jesus' face and worked on Mary's hair.
Join Kristin and I on Wednesday at 2pm eastern time and chat with us while we paint live on Facebook and YouTube.

You can watch the video here:
FINISHES
If you don't have a subscription to Punchneedle and Primitive Stitchers Magazine, you need to do so today! It's the best magazine for cross stitch and punchneedle.
I've been so fortunate to have one of my designs in every issue since the magazine started. Here's my contribution to the Spring 2021 magazine and my finishing video.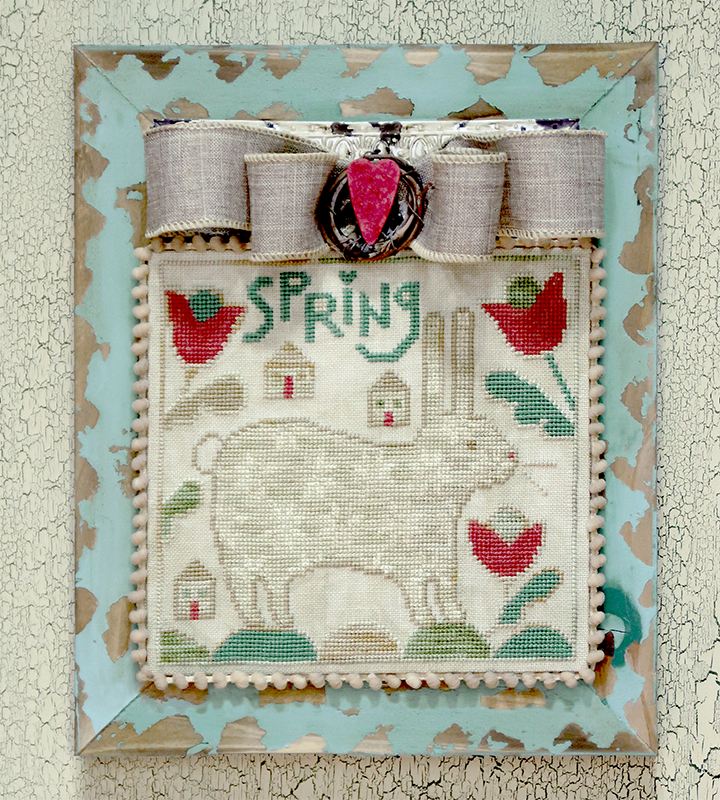 I'm not posting photos but I do show them in the video….
I bought 3, yes 3, antique samplers.
That's all folks! See you next week!
Flosstube 110 & 111
Flosstube 110
Expo has consumed Kevin and I for the past few weeks! The prep work, the expo weekend and the shipping afterwards …..not to mention rebuilding stock because we underestimated how well the show would go. We sold way more than we anticipated so thank you to all of you who pre-ordered from your LNS.
Below are some photos of the booth and my view from the booth. Watch the below video for more behind the scenes of Needlework Expo.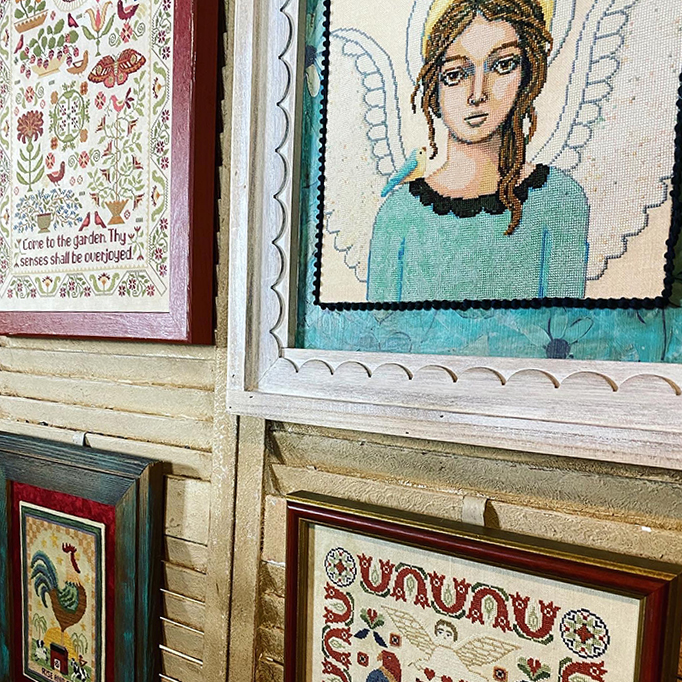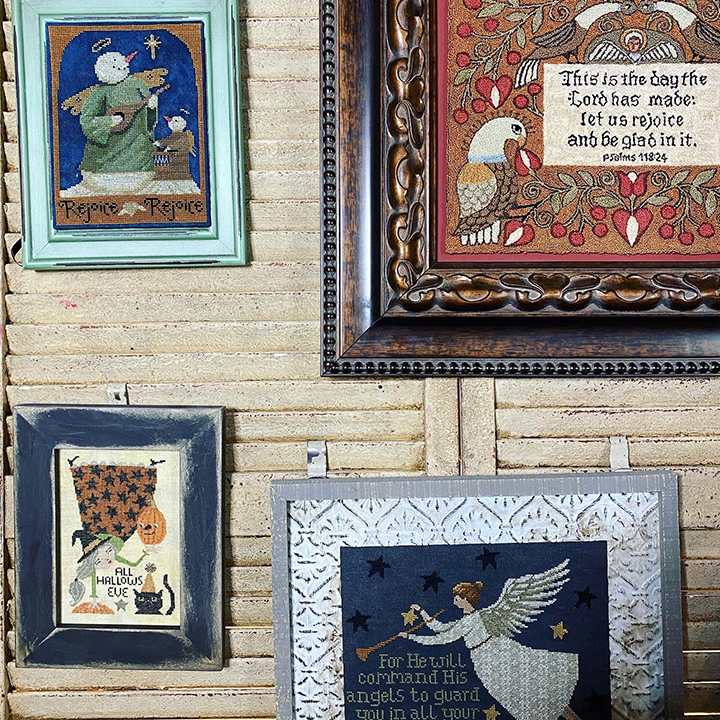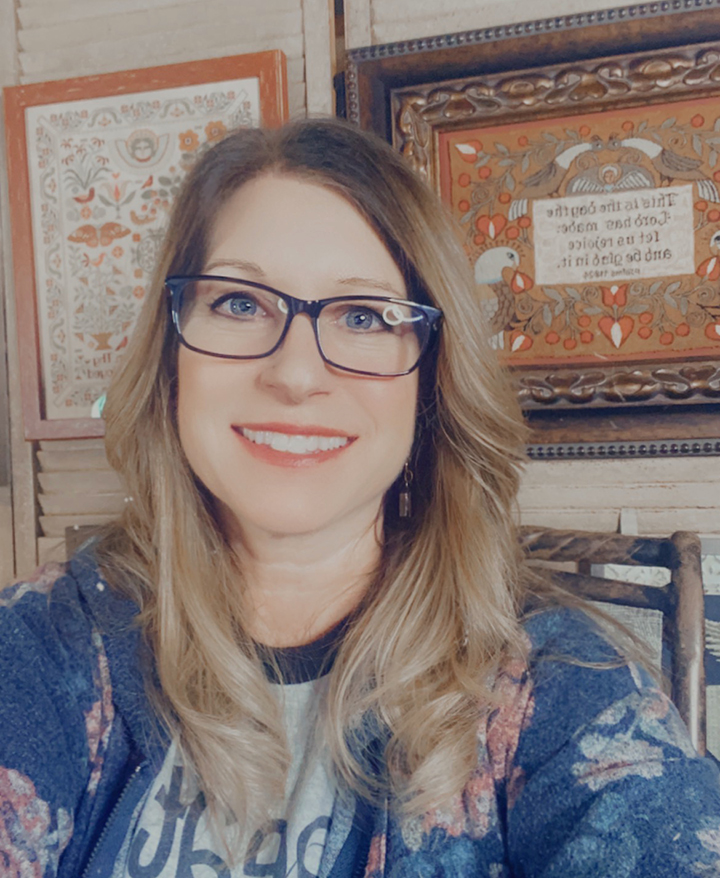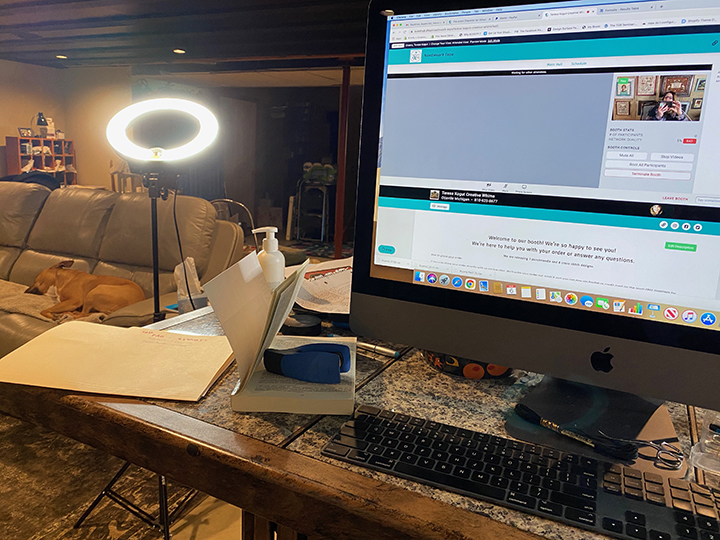 Here's Flosstube 110
Needlework
Honestly….I don't have photos this week of my punchneedle and cross stitch WIPS but they are shown in the video above.
I'm very close to being done with Brigid…..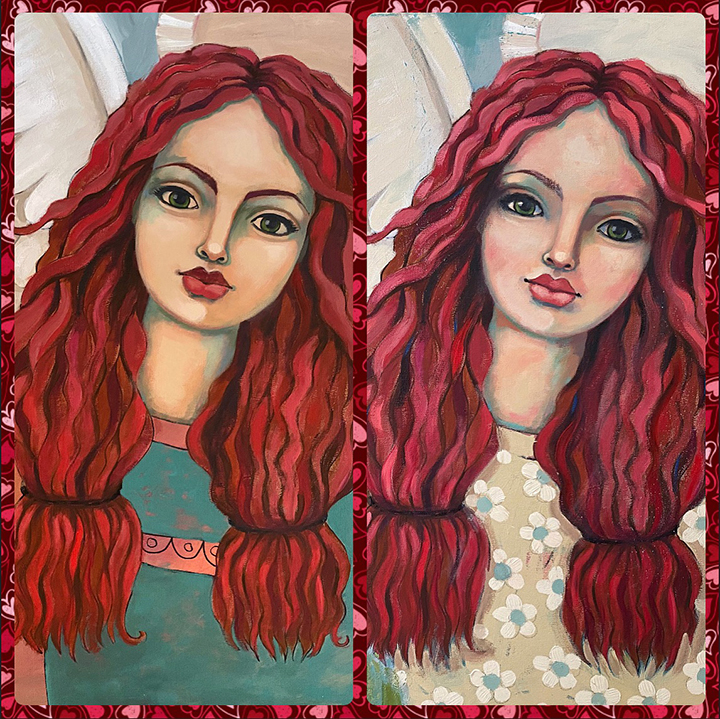 I mentioned in my video how I worked a few hours on my Whatcha Paintin Wednesday painting on my own without going live….I just needed time to really focus on her face and decide how I wanted the rest of the painting to look. Here is a short time lapse video showing how I got from the before to the after.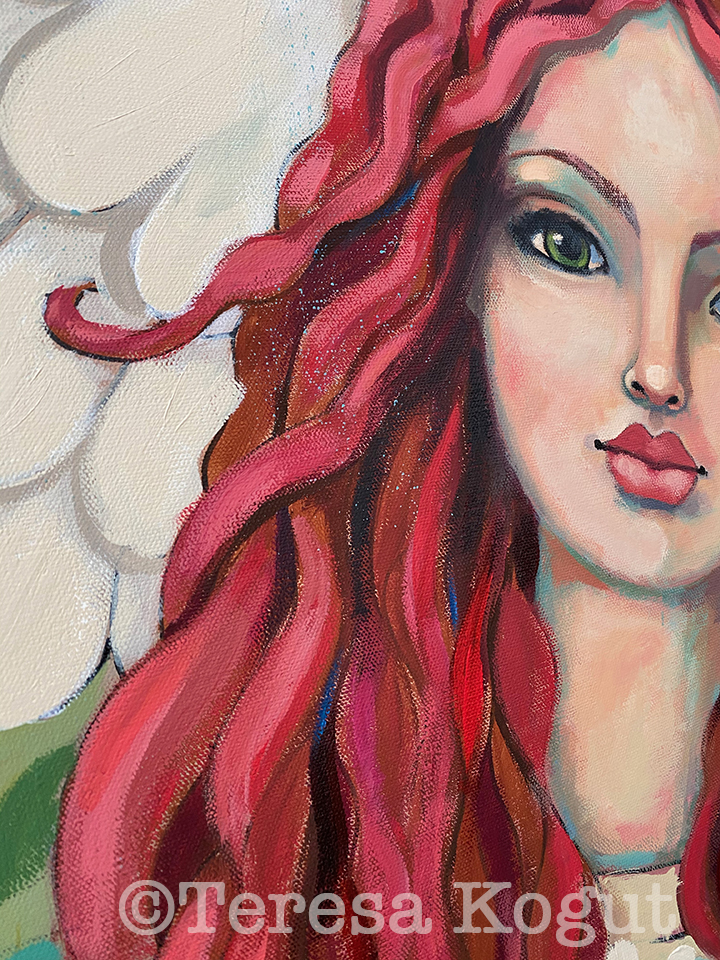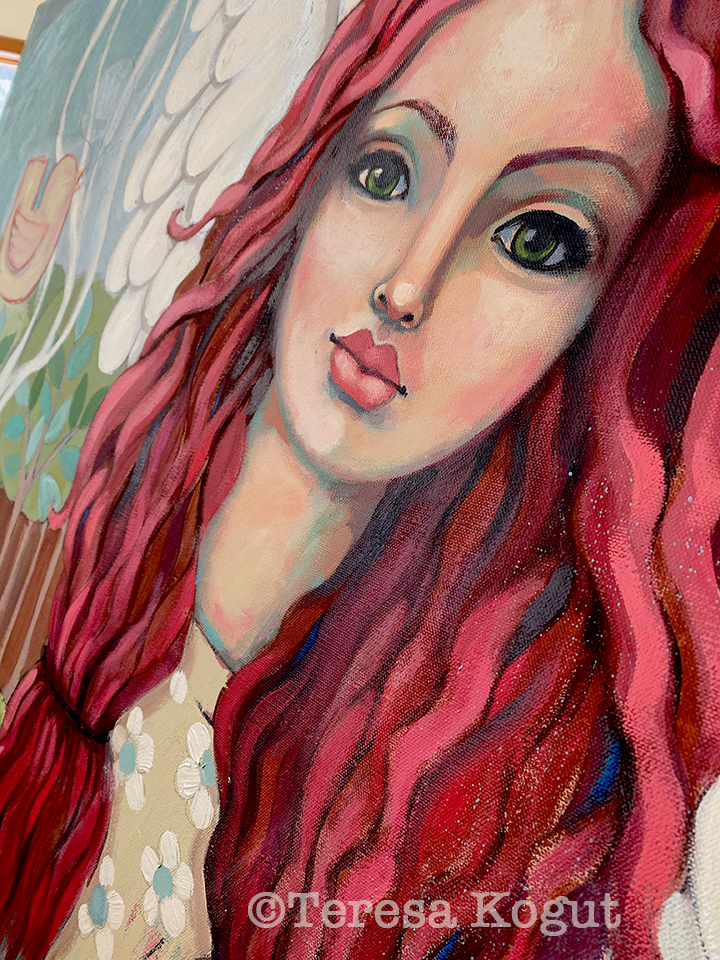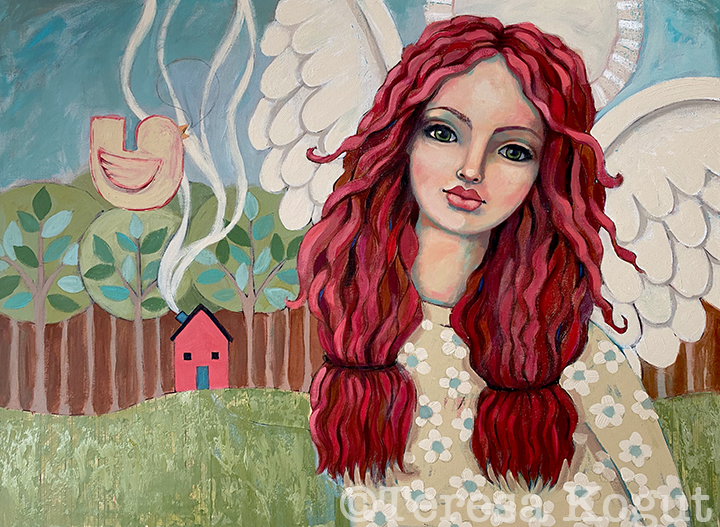 Here's our Whatcha Paintin Wednesday video:
FINISHES
In CW Live we painted #patrioticchicks
To learn more about CW Live go here. The next session starts April 6.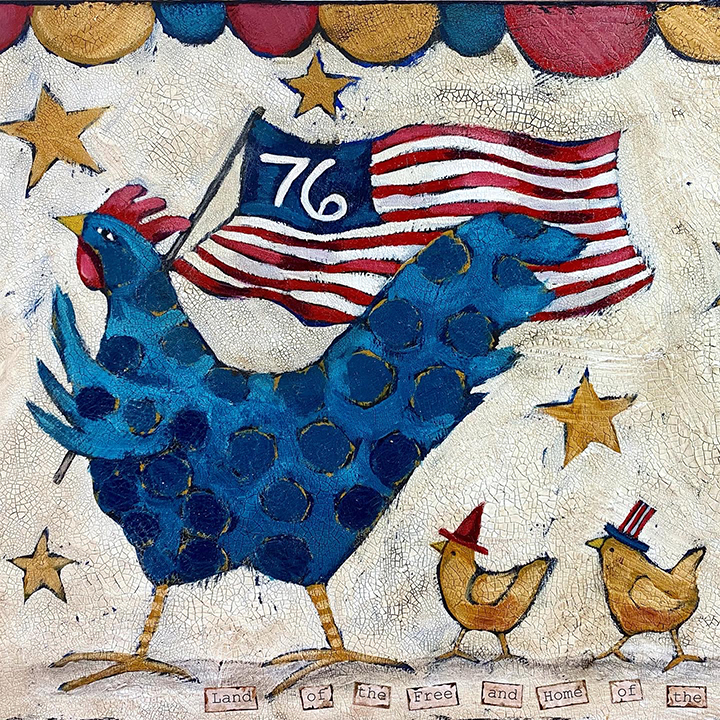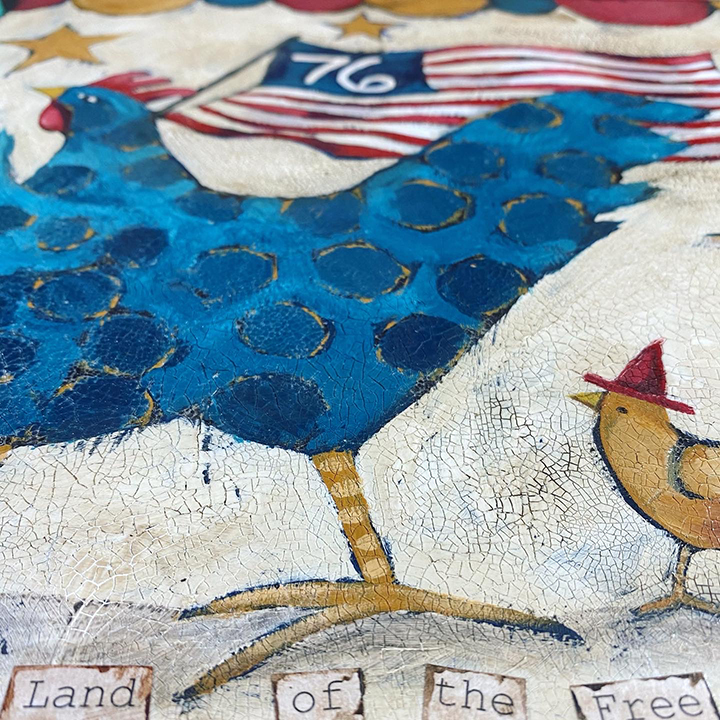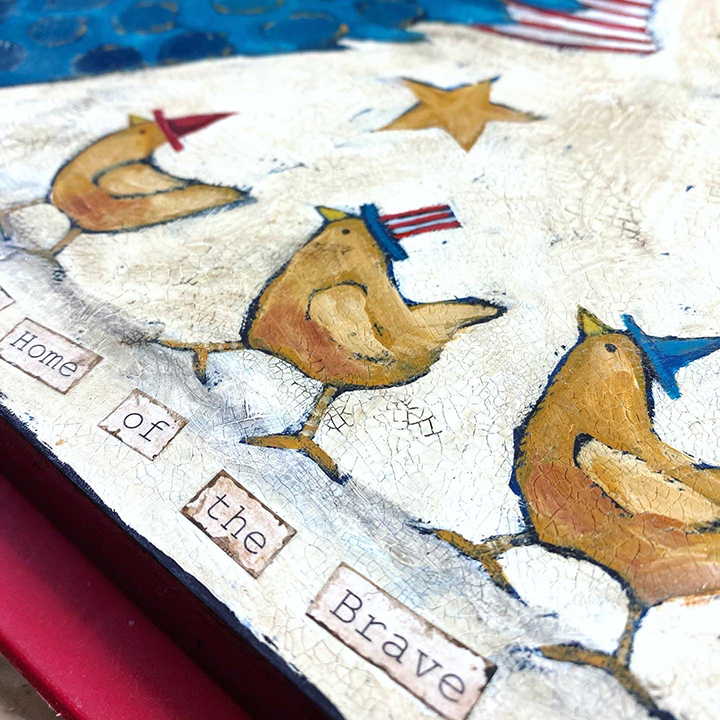 Another great week! Below are photos of my art journaling haul. Starting in April I'm going to art journal every Monday. I will recording my process on my YouTube art channel: www.youtube.com/c/teresakogut
All products shown below (except for the Valdani Floss) can be purchased at my Amazon shop here.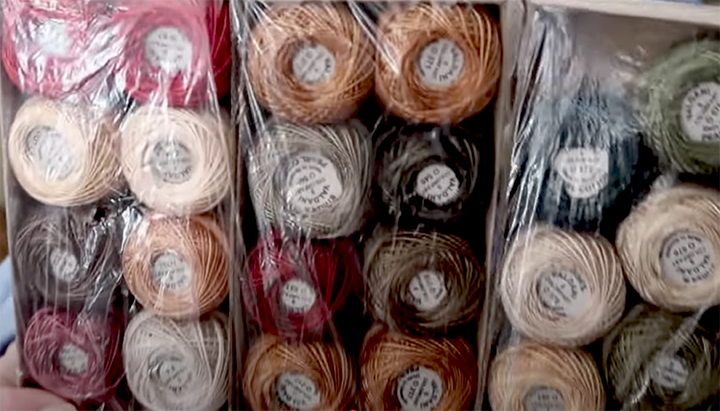 Valdani Pearl Cotton. This is great for punchneedle because it's already in three strands and is in a continuous ball of 73 yards. These Valdani balls equal .08/yard for three strands. But to do this comparison we need to double that because it's 3 strands vs 6 strands which makes Valdani .16/yard. Most other over-dyed floss companies (Weeks Dye Works, Classic Colorworks and Gentle Arts) are 6 strands of floss and cost around .48-.50/yard. DMC is .07/yard. So for punchneedle Valdani makes sense. They offer a large range of overdyed floss in gorgeous colors.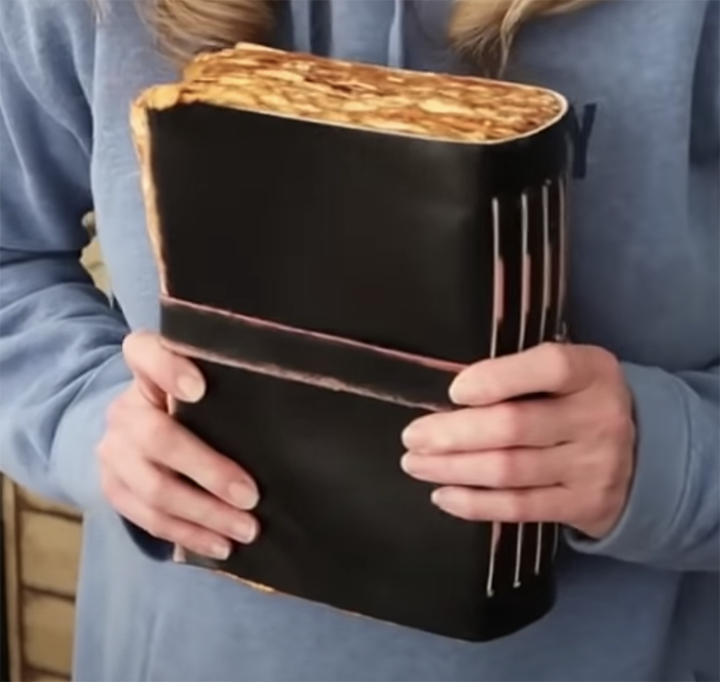 I can't wait to start journaling in this book!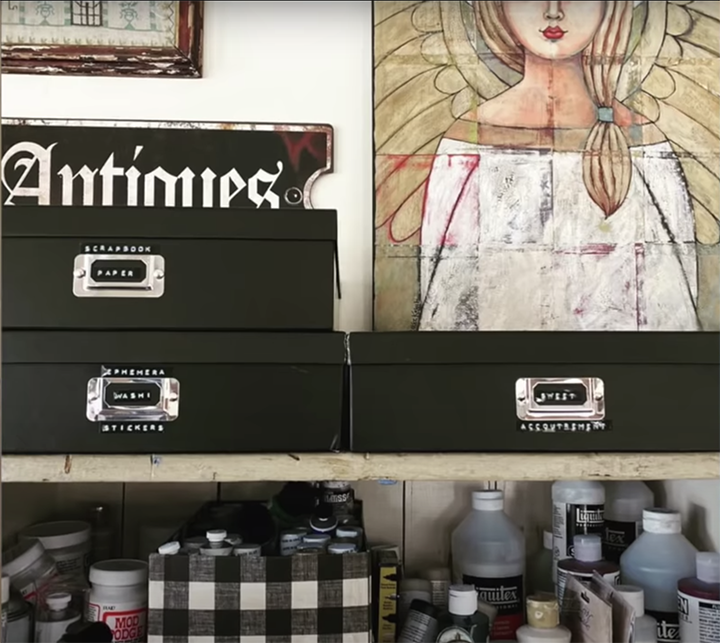 I also got these awesome storage boxes for all my journaling supplies (I need to get a few more). I used the lable maker shown below to label the boxes.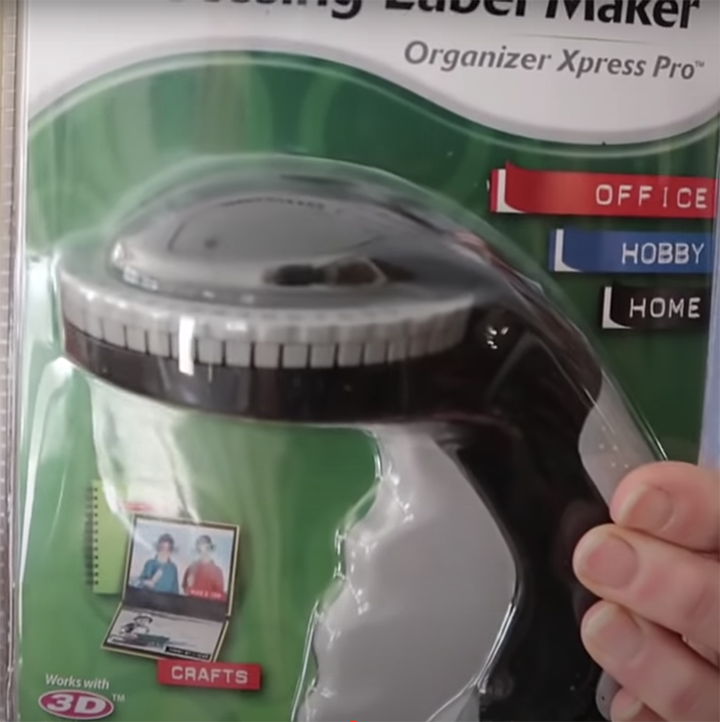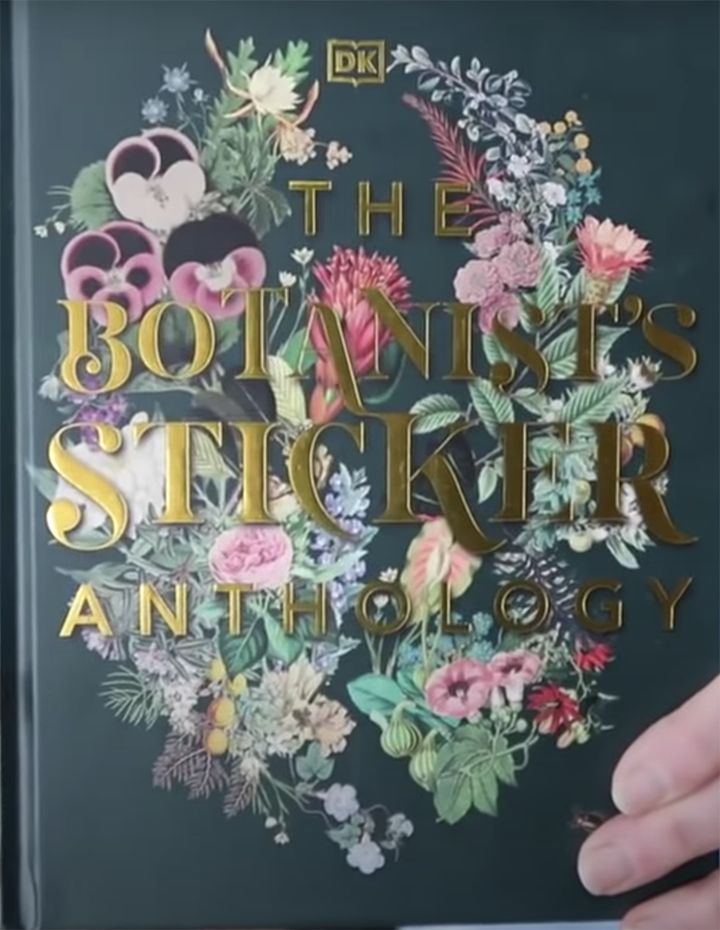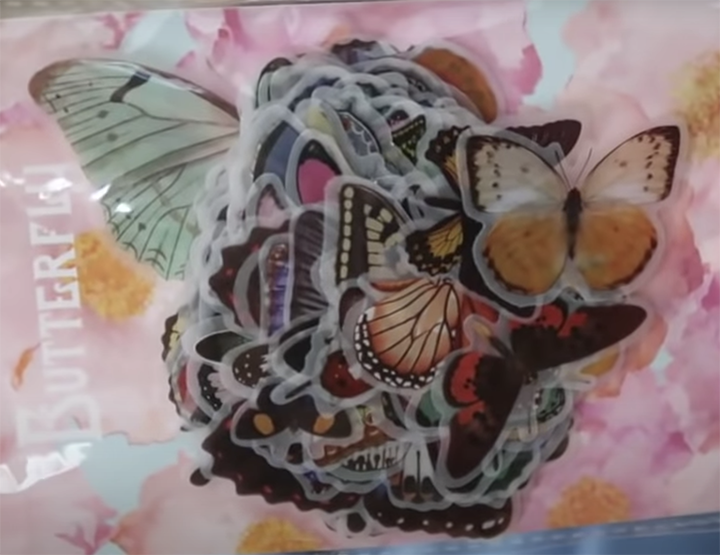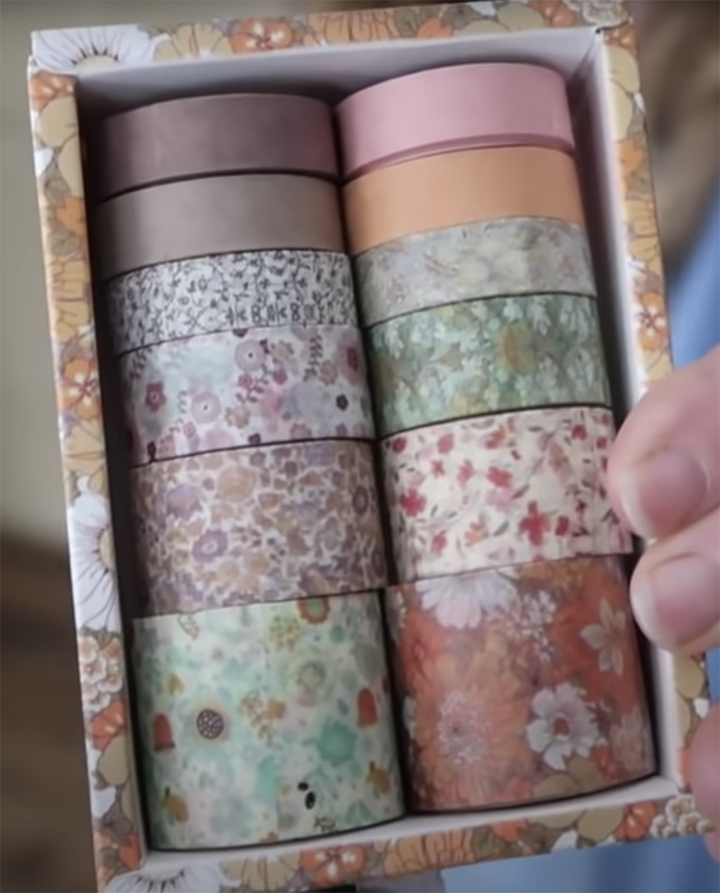 FLOSSTUBE 111
We started shipping orders from Expo Monday March 8th and hoped to get them all out by the end of the week….which might have been possible if we had enough inventory. We had to continuously print, cut, and stuff patterns all week. It looks like it will flow into next week, too.
Needlework
I didn't work anymore on Brigid, but I prepared the cradled board for our next CW Live project #maddyshearttrio Here's a time lapse video and photo.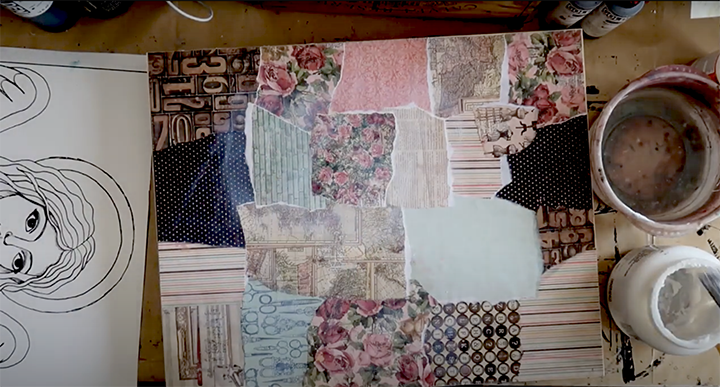 I stared a new painting for Whatcha Paintin Wednesday called "Perfect Love".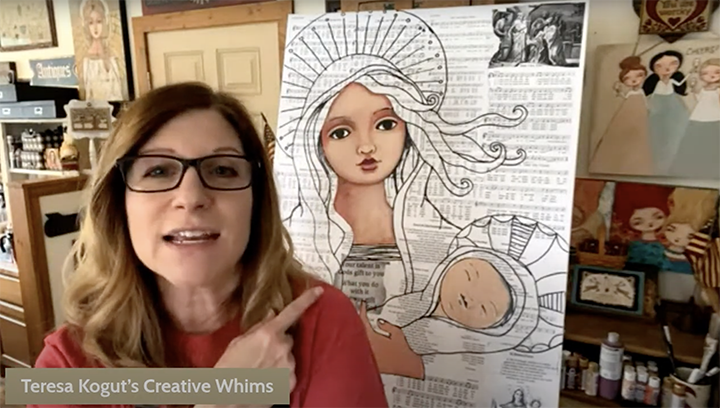 Finishes
Needlework
Unfortunately no time for cross stitching. I did, however, finish the punchneedle for Park Designs and it is beautiful! I worked on it while binge watching Anne with and "E".
(Hopefully I'll remember to insert the photo later)
Your Finishes
Jan Holder finished Land That I Love CW Sampler. She stitched on 36 ct Iced Cappuccino used all called for floss with the exception of subbing DMC 3865 in place is the DMC 712.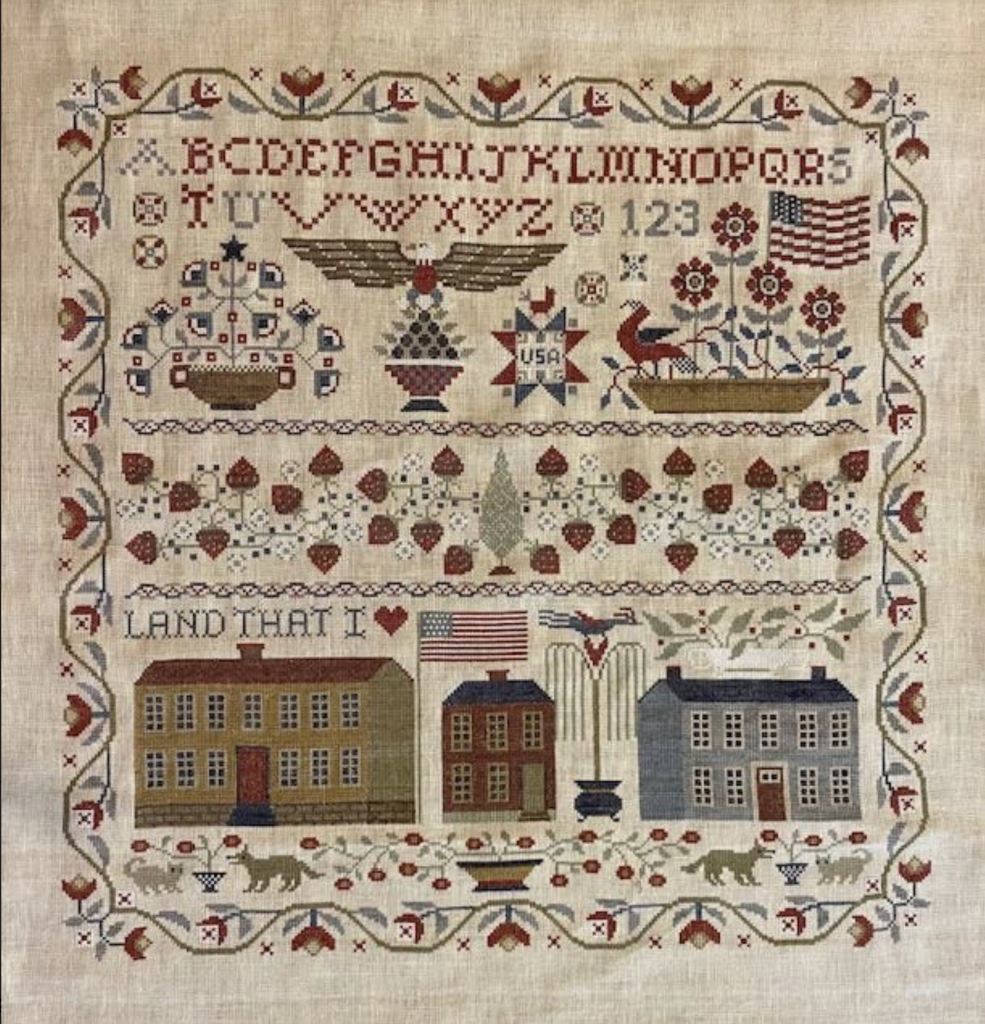 Deanna Ellet stitched my Work of Heart Good Tidings. "It is stitched on 18ct aida with all the called for threads. I found the frame at Hobby Lobby and had them cut a mat to size for me."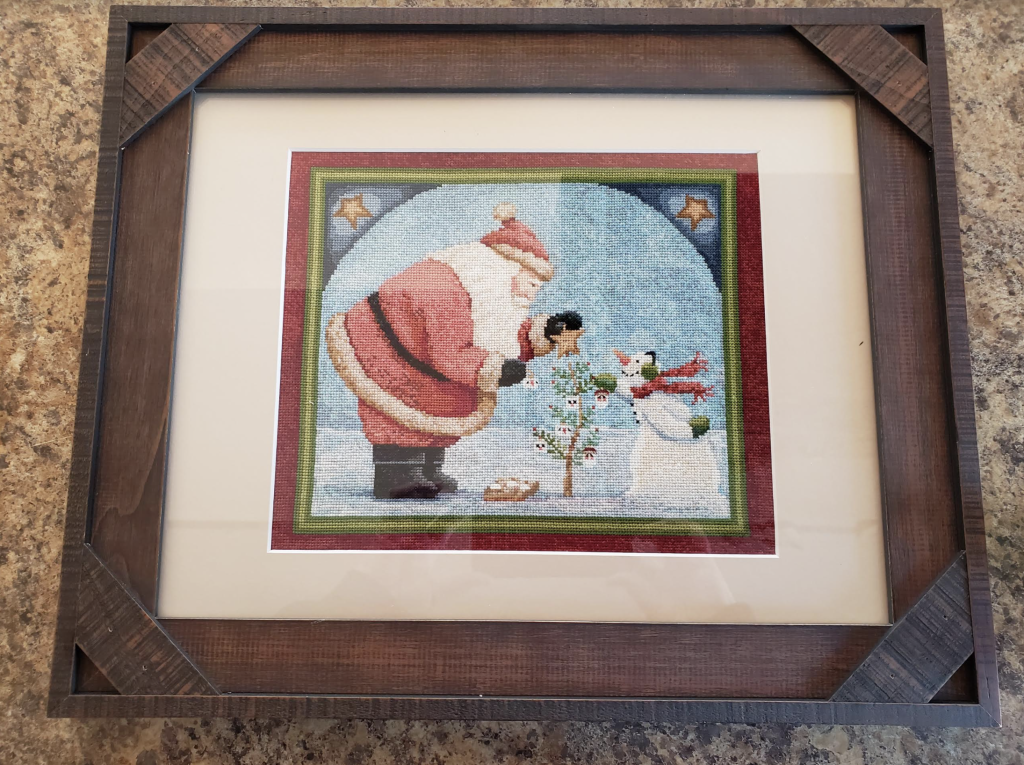 Tammy Easterling stitched Snowman Greetings. "Done on 18 count nutmeg aida from an Etsy shop vintage needlework. With all called for colors except for the grass is Lexington green. I also included a picture of the fabric on the back."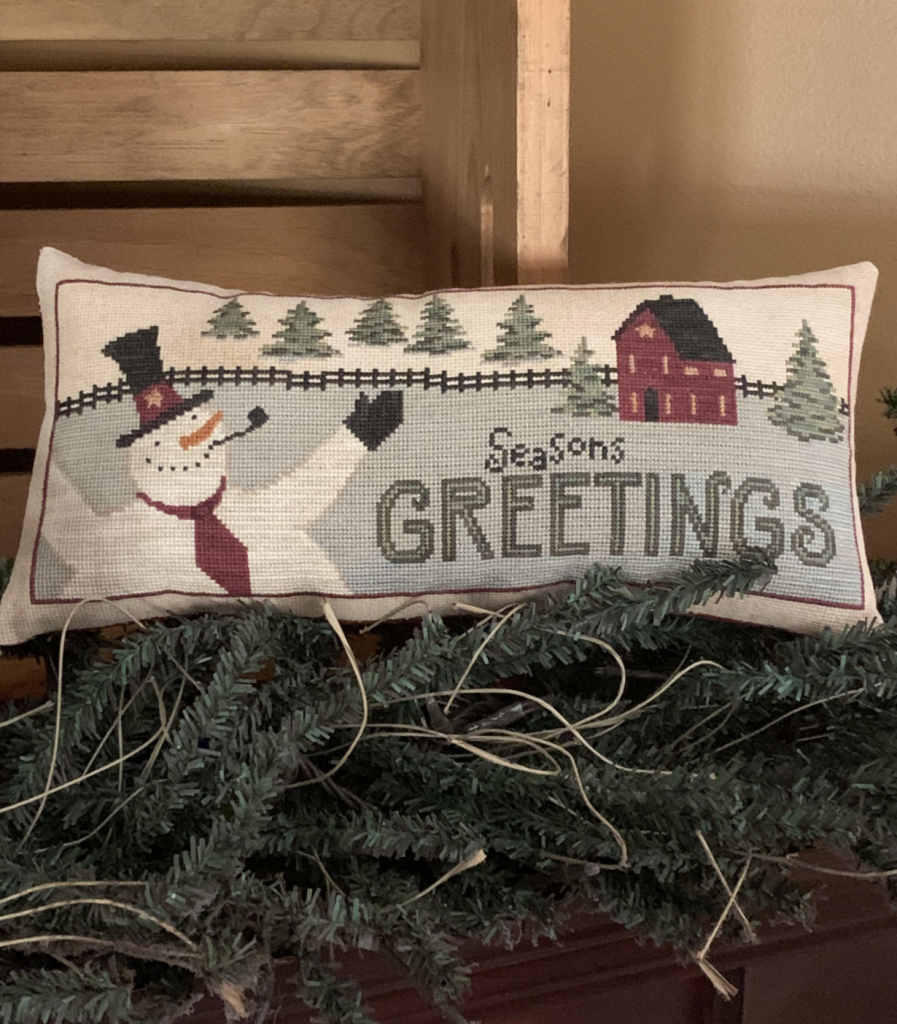 Sarah Goodman Strobl stitched this piece from my Celebrate Cross Stitch book. "I changed the red birds to blue to remind me of the bluebird of happiness heirloom that was handed down to me by my great aunt.
The background fabric is used from an old park design quilt. Frame was purchased at hobby lobby."
Thank you ladies for sharing your finishes! If you want your Teresa Kogut design finish featured on my Flosstube, please email me at teresakogut3@gmail.com
This was a project for CW Live and I just needed to paint the verse on it…well, I used a waterproof pen thinking it was permanent but when I rubbed the raw umber wash over top to antique the painting much of the words rubbed off! It was a happy accident because it looks more aged this way

Oh…and then someone informed me that I have the wrong verse….it's suppose to be Matthew 5:7 so I need to remove the "1". lol!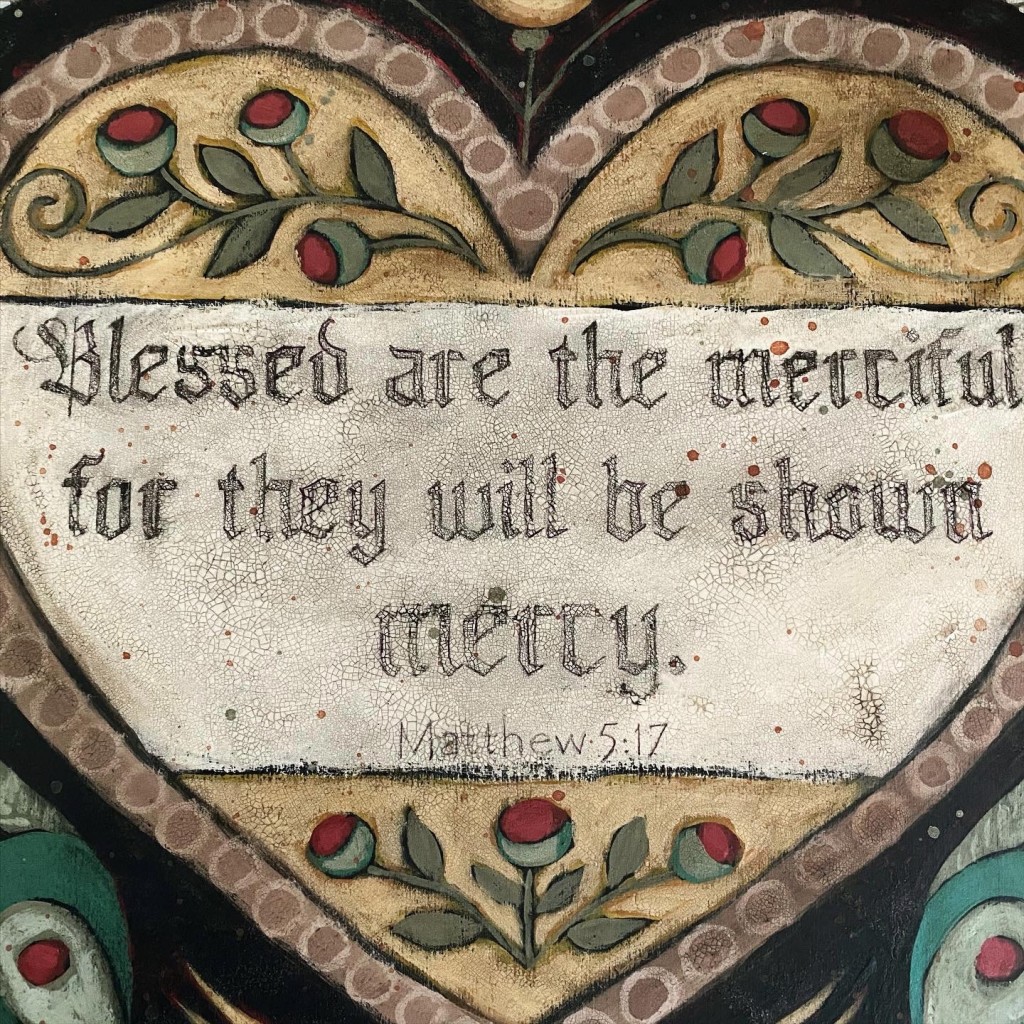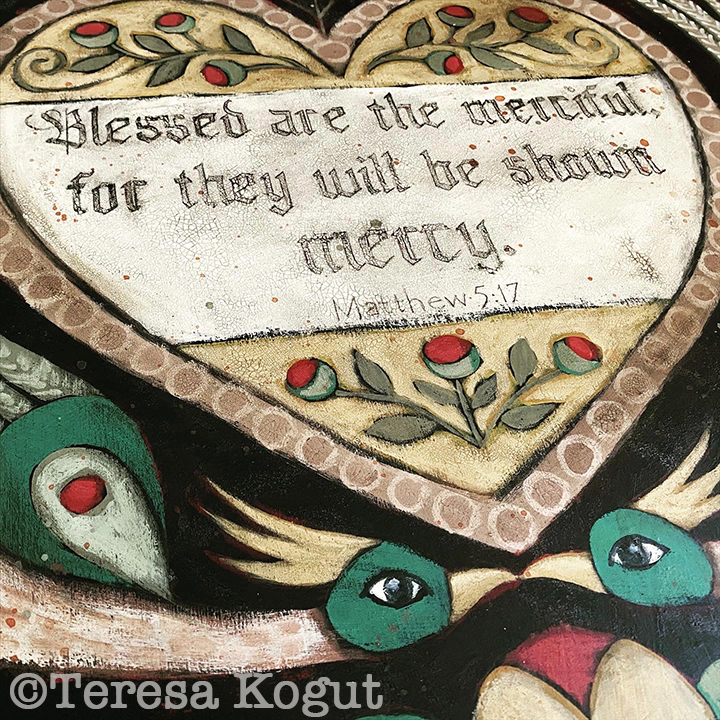 No haul this week….takin a break after the past two weeks! lol!
Hope you have a great stitchy week!
Flosstube 109 – Bringin' the Haul
Flosstube 109 – Bringin' the Haul
Last week was super busy and productive. I worked 13-14 hour days but I got everything done for the new release! It feels so good to be on the other side of all of that work. Below you can watch my Flosstube video.
PATREON UPDATE
The first of the month is when I upload the Patreon-only charts and coloring book pages. Click here if you'd like to learn more about my Patreon. Here is a sneak peek of the Tier 4 exclusive chart: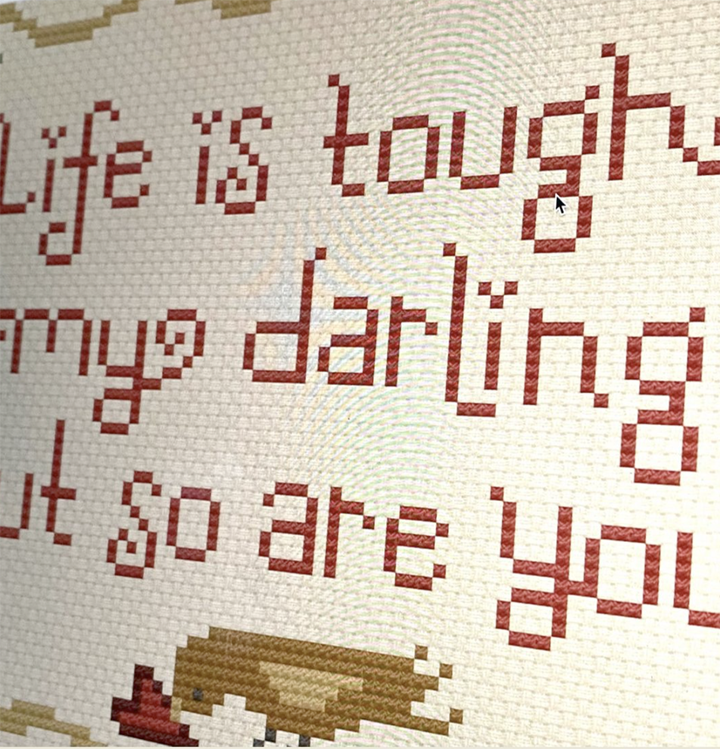 No needlework wips I can show you this week. I didn't have time to stitch or work on the Park Designs punchneedle. I did, however, get to work on my paintings.
Tuesday night's CW Live class we worked on #blessedarethemerciful
I crackled it but need to do the raw umber rub to bring out the crackles, as well as, paint the scripture in the heart.
If you'd like to join Creative Whims Live and paint with me live in the private Facebook group, Session 5 starts in April. Go here to learn more.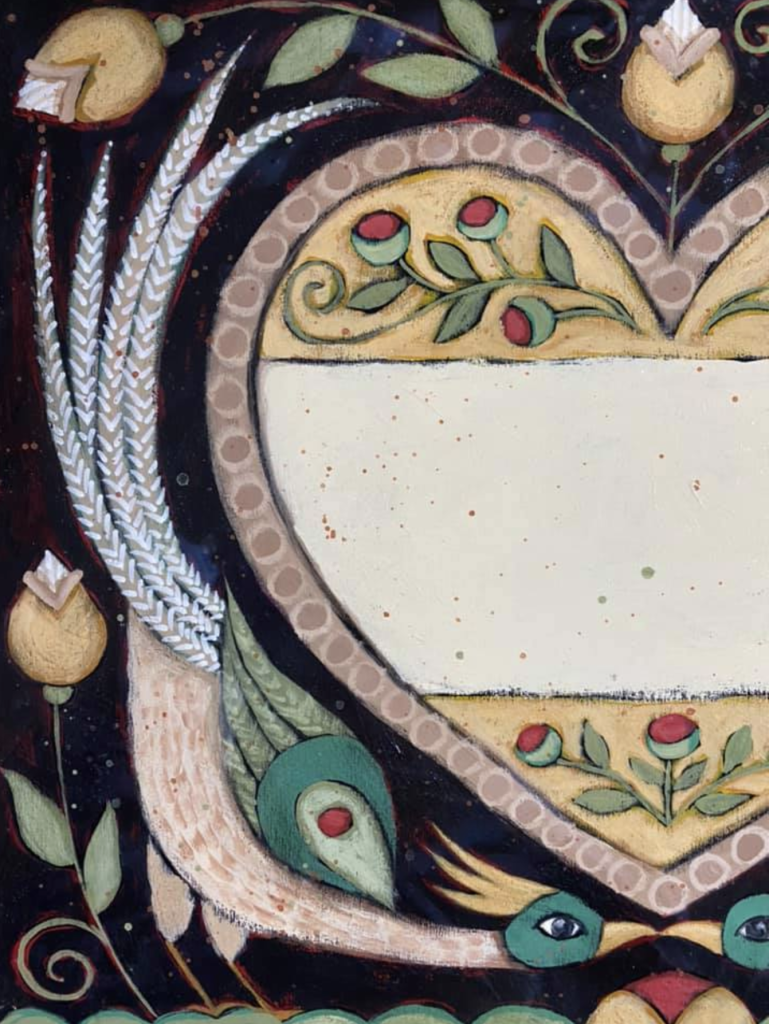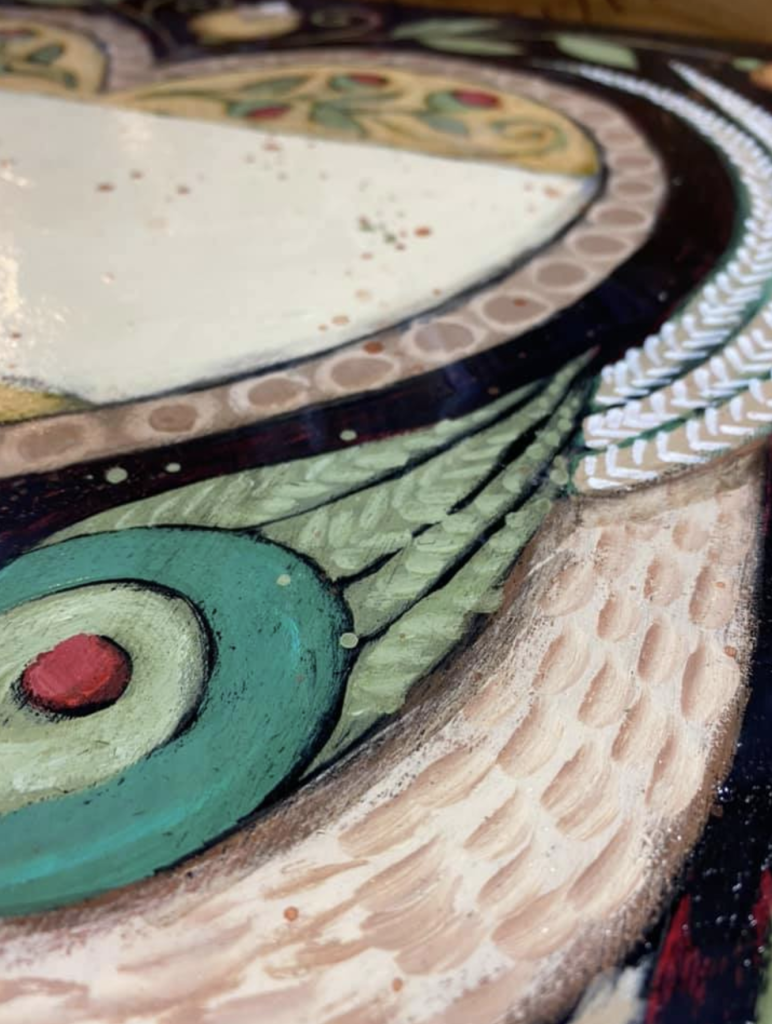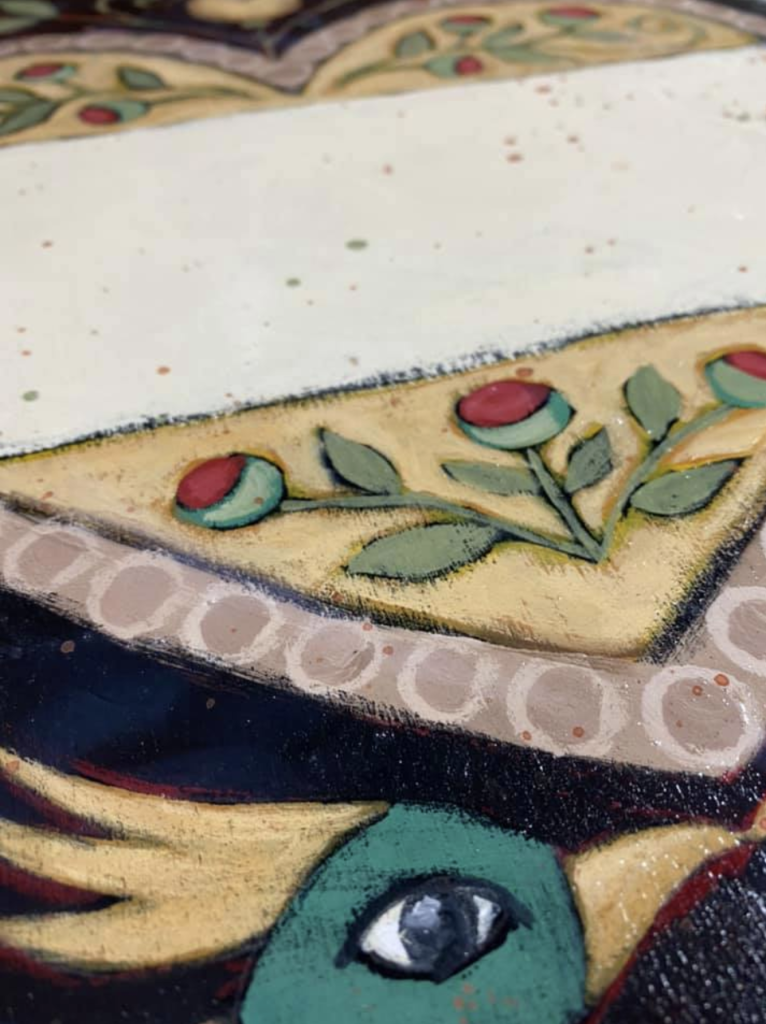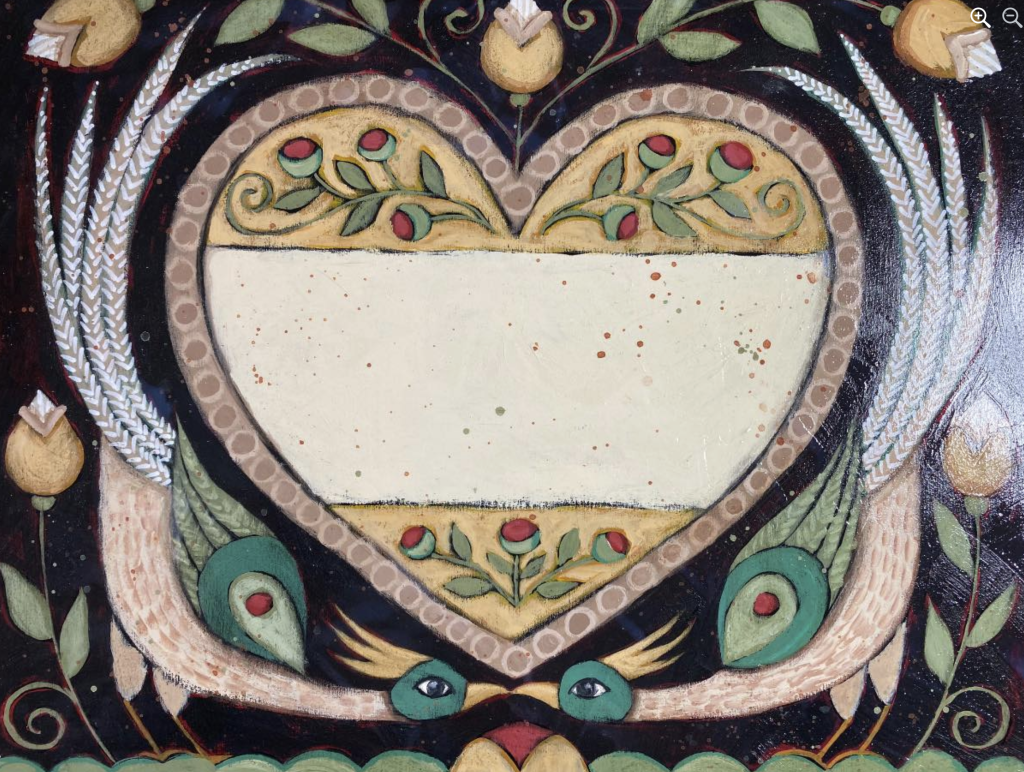 Then on Wednesday for Whatcha Paintin Wednesday (I go live on Wednesdays at 2pm eastern on Facebook and YouTube to paint with my soul sister Kristin of Shabby Perceptions who lives in Tennessee)
I'm continuing to work on Brigid…my Irish angel. I lightened her skin color and worked on her hair.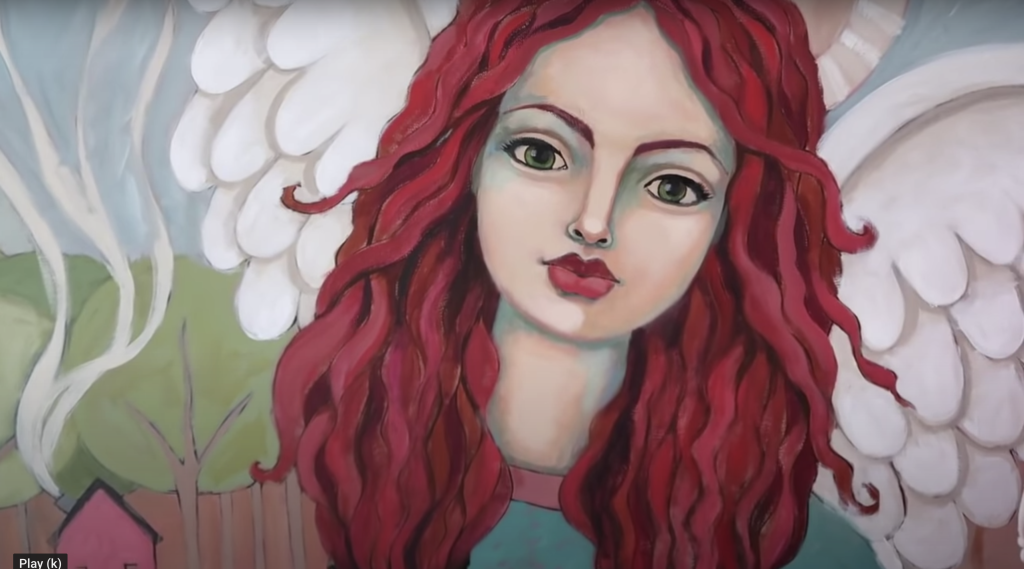 Here is last Wednesday's video:
FINISHES
I had a lot of finishes because of my pattern release. Go here to see them all fully finished and ready for Expo!
YOUR FINISHES
If you've stitched and fully finished one of my designs and would like me to show it in my next Flosstube video, please email your photos to teresakogut3@gmail.com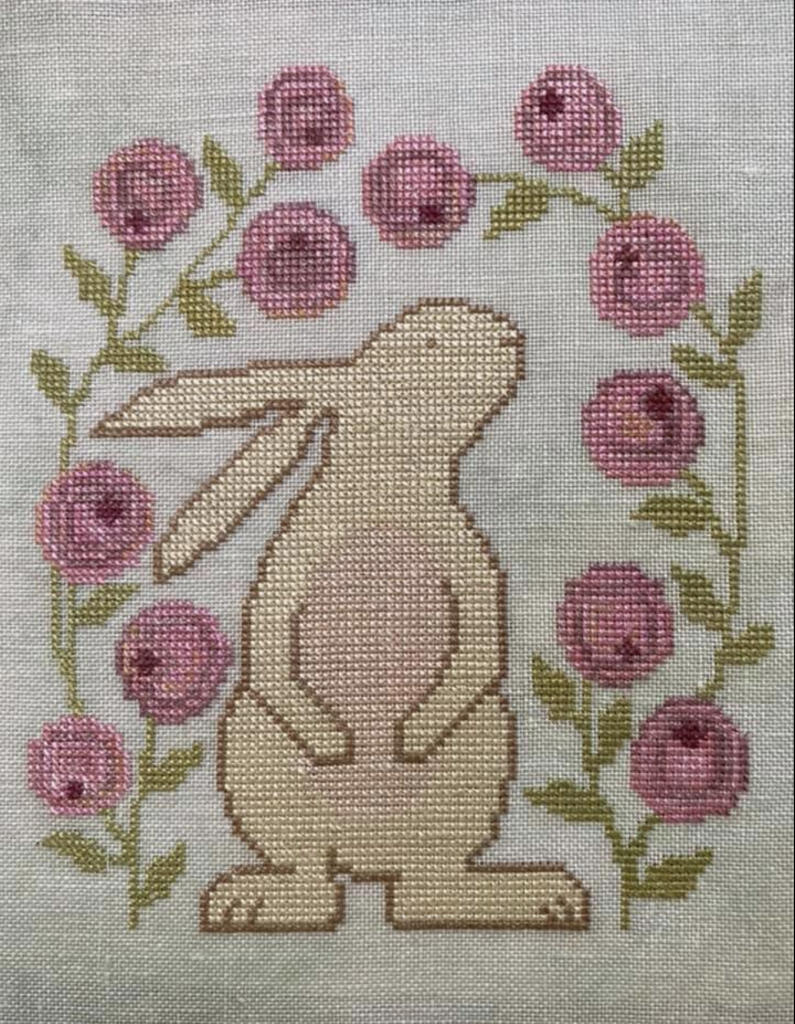 Curious Bunny stitched by Mary Kunkle Goodenow – Finished Curious Bunny on 40 count Celery. "Used my silk stash and realized I didn't have enough for the entire bunny. Gave him a bunny belly to avoid the problem"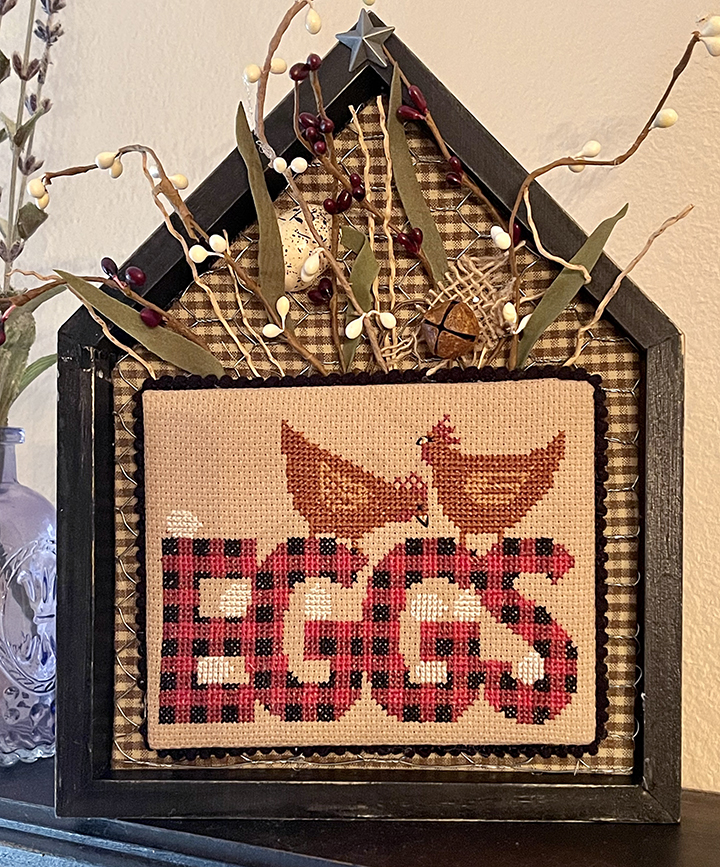 Fresh Eggs from the Celebrate XS book stitched by Sara Goodman
Haul (photos to be added soon)
I had so many orders show up this past week! Dames of the Needle, 123 Stitch, Weeks Dye Works and floss replacement from Classic Colorworks. PLUS….several vintage postcards I ordered from an Etsy shop.
That's it for this week. See you next weekend!
March 2021 Releases
March 2021 Releases
Kevin and I are excited for our March release! Below are what we are releasing at the Needlework Expo March 6-8. You can preorder from your favorite LNS or ONS now!
Punchneedle
I have two new punchneedle patterns. The first one is "Soul Sisters" in honor of my BFF Kristin Alexander of Shabby Perceptions. I used our initials but you'd want to write you and your Soul Sisters initials in place of ours.
Soul Sister Definition: a woman whose thoughts, feelings, and attitudes closely match those of another; a kindred spirit.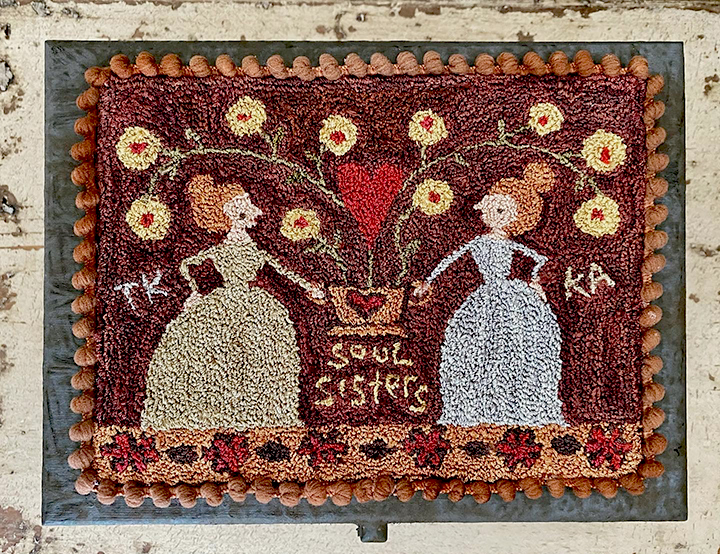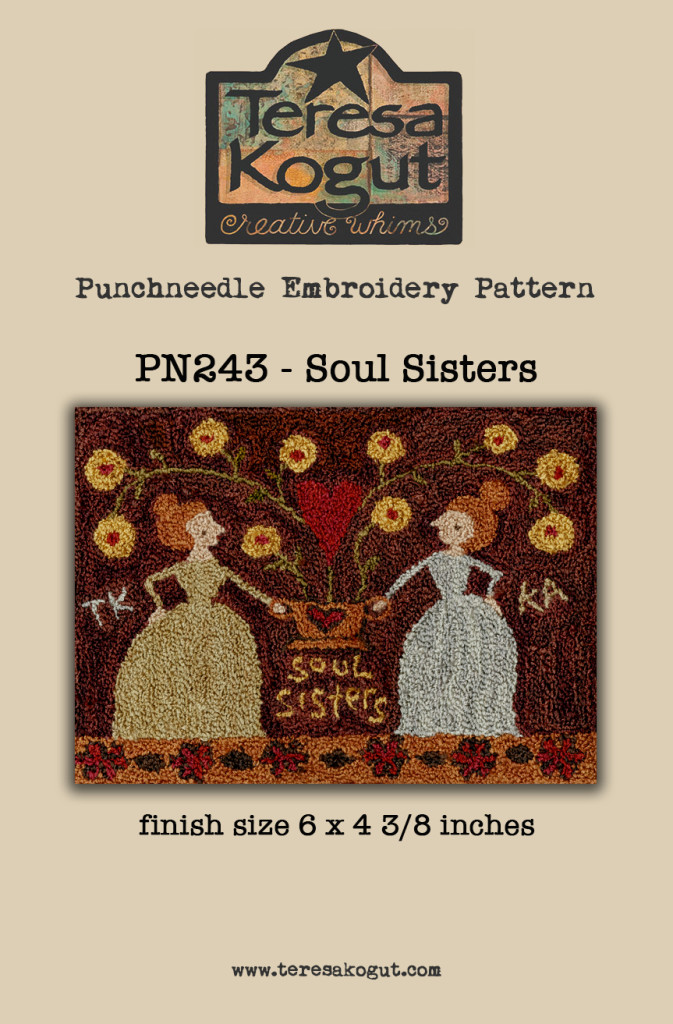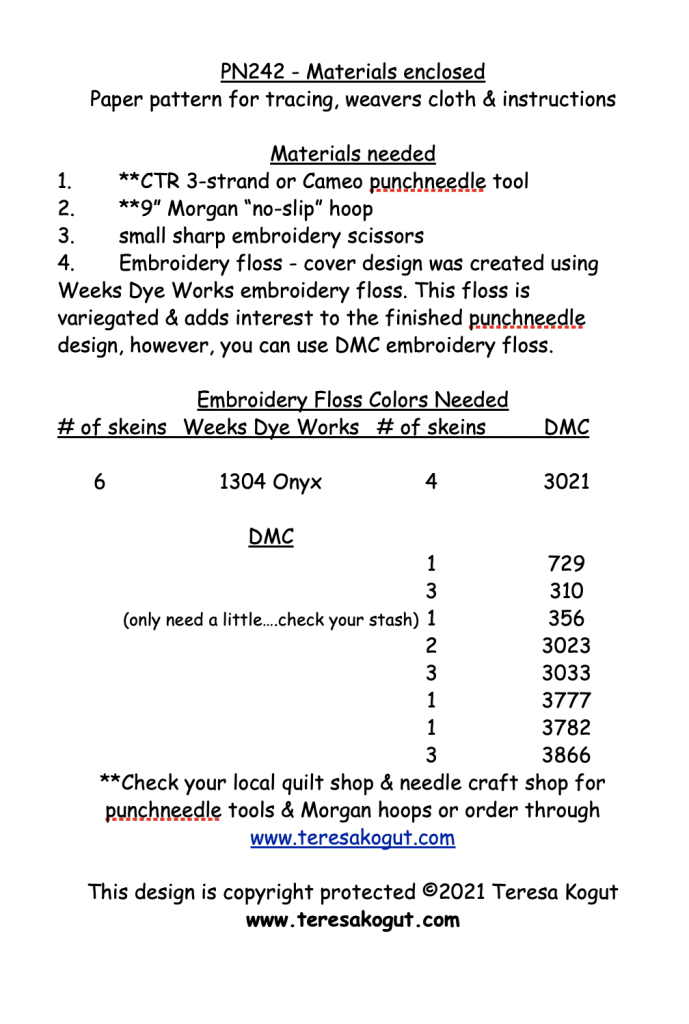 "This is the Day" was a labor of love. It's by far the largest punchneedle I've ever created! This design was translated from my original painting.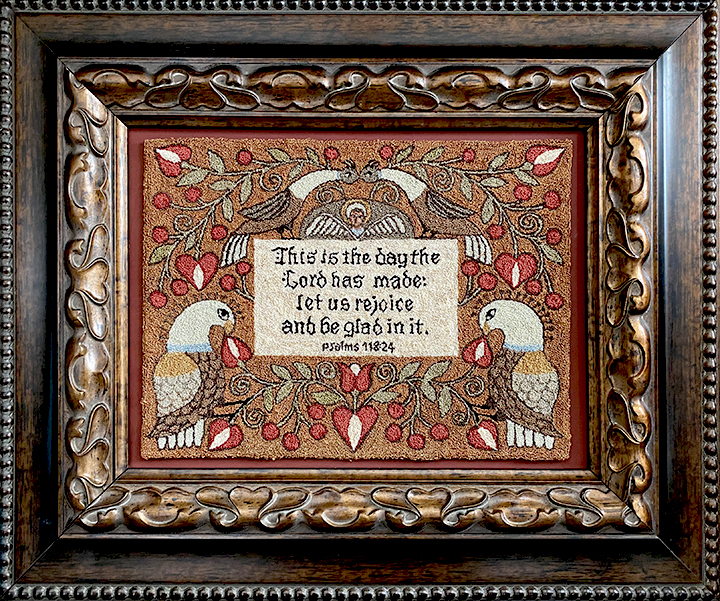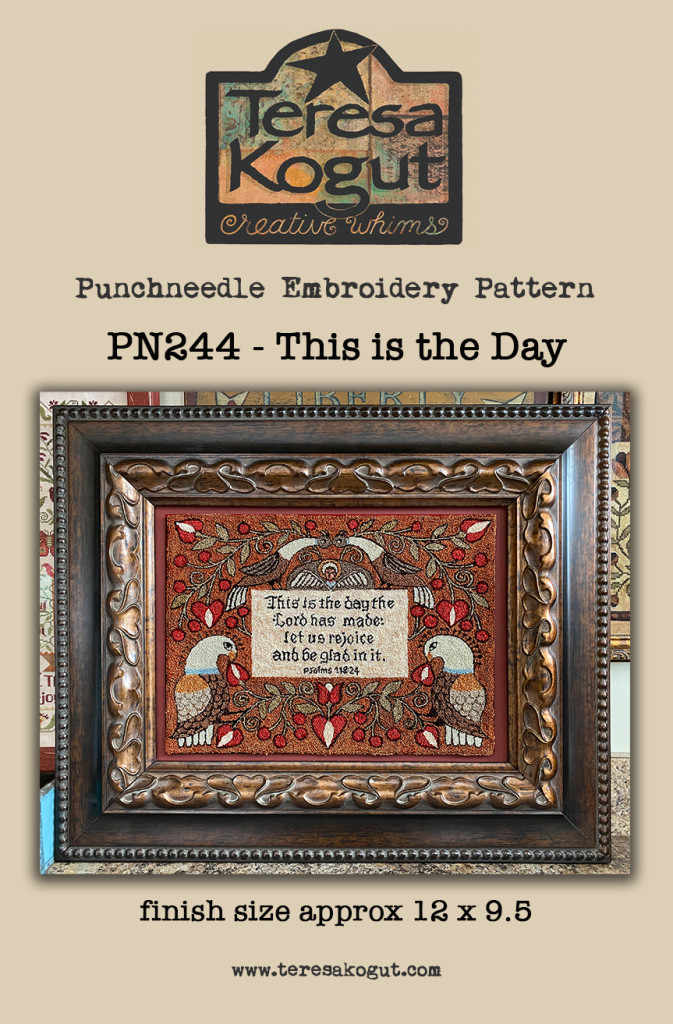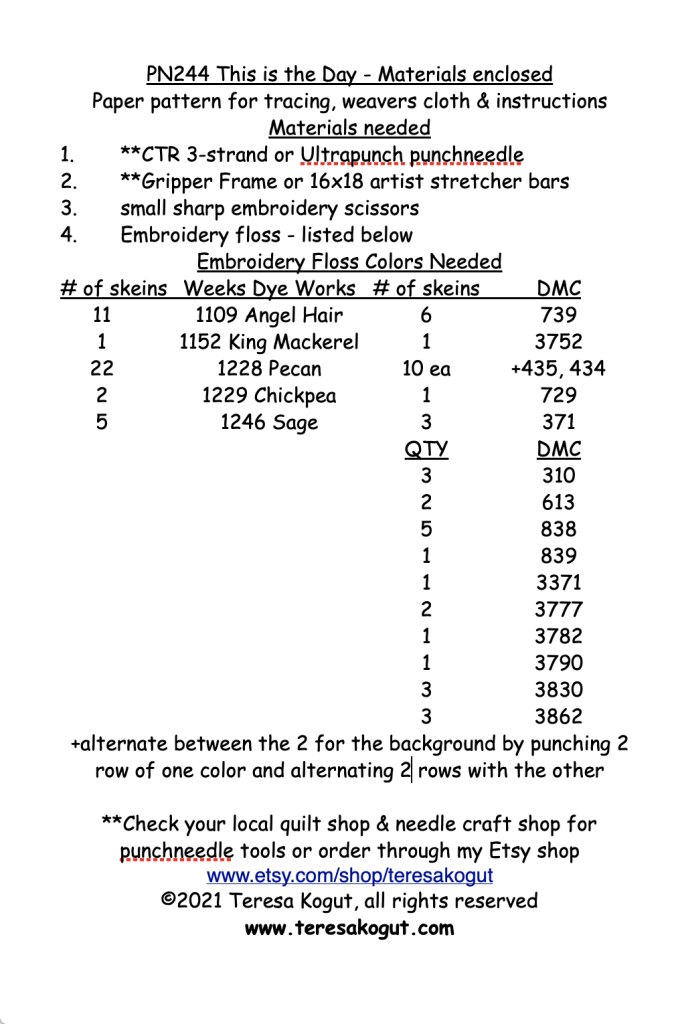 Cross Stitch
We are releasing 8 new designs! I didn't realize it until a few days ago but 5 of the 8 xs releases have angels. 👼 Pre-order yours today! If you are reading this after March 2021, you can shop your LNS, ONS or my Etsy shop for these charts.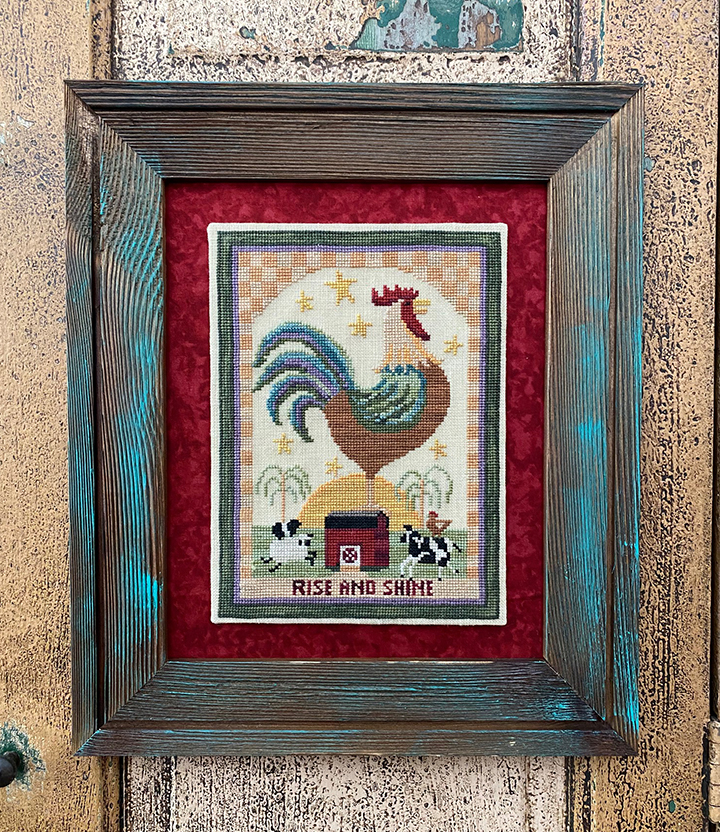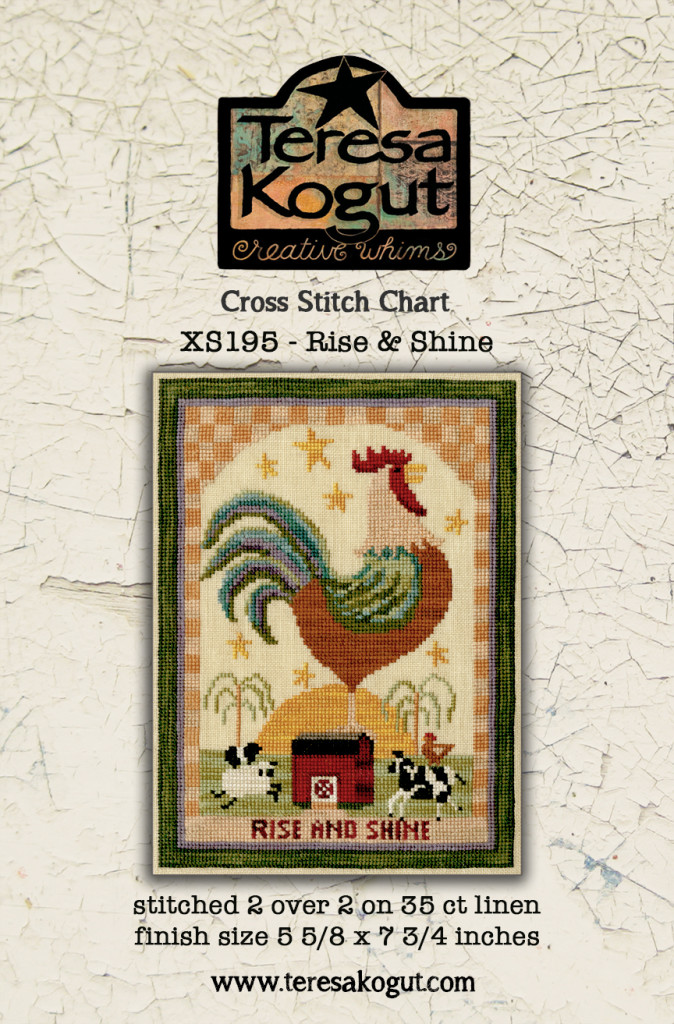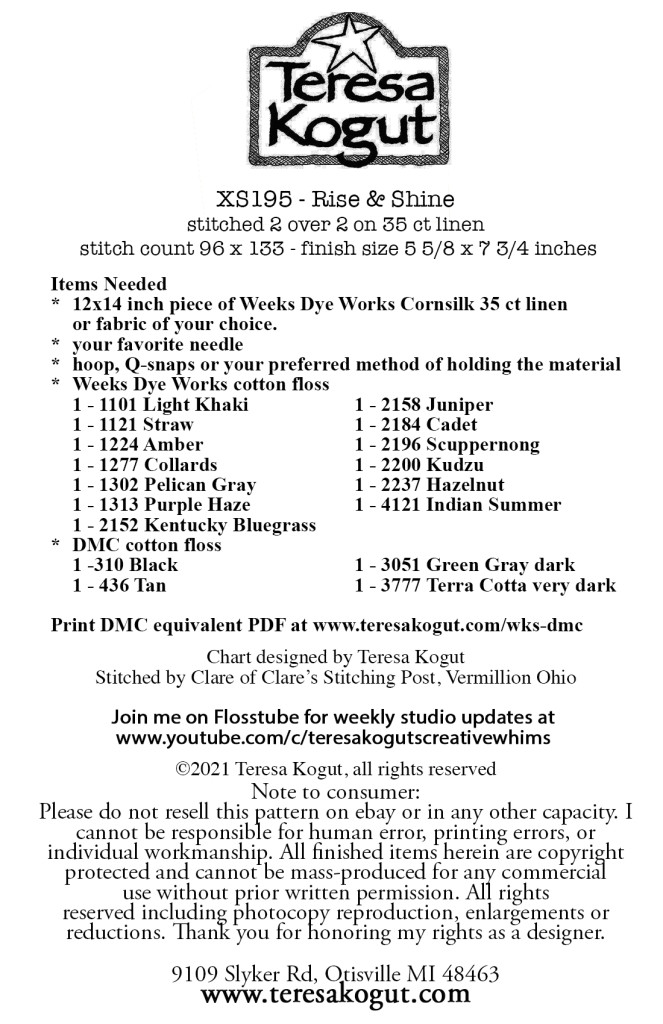 Whimsy Chicks. I love these fun chicks. I have sketch books full of them and plan to continue to chart them for cross stitch.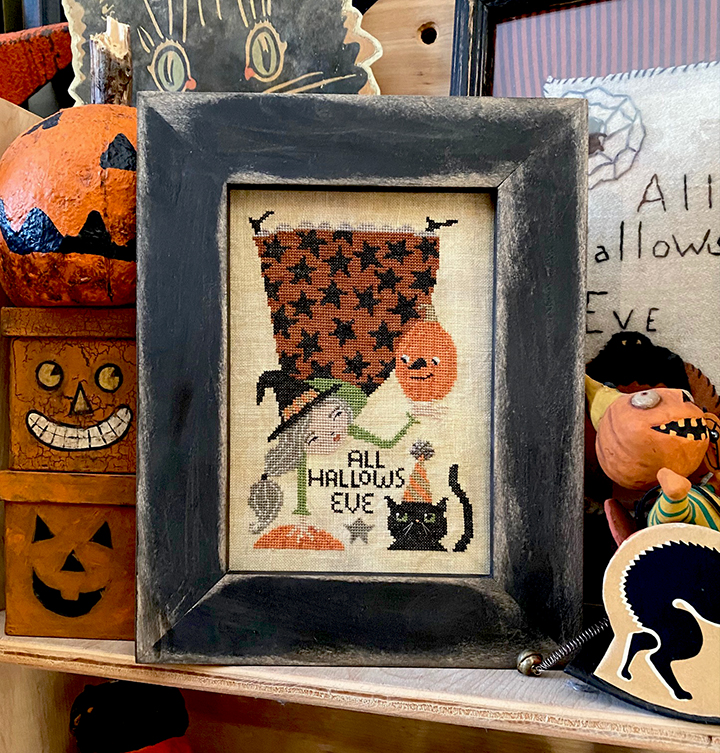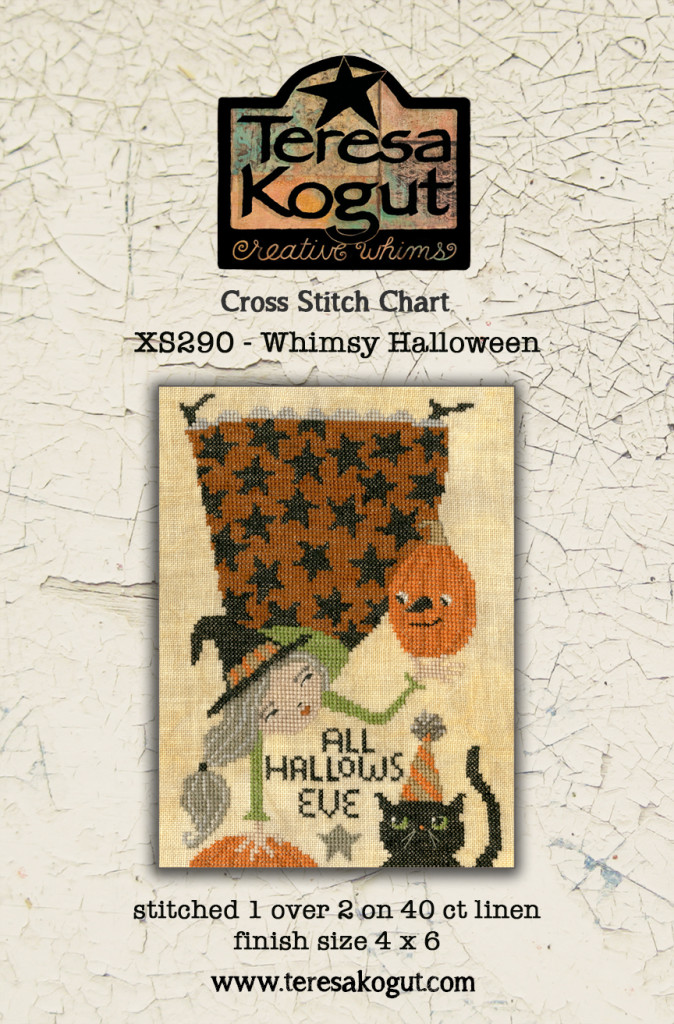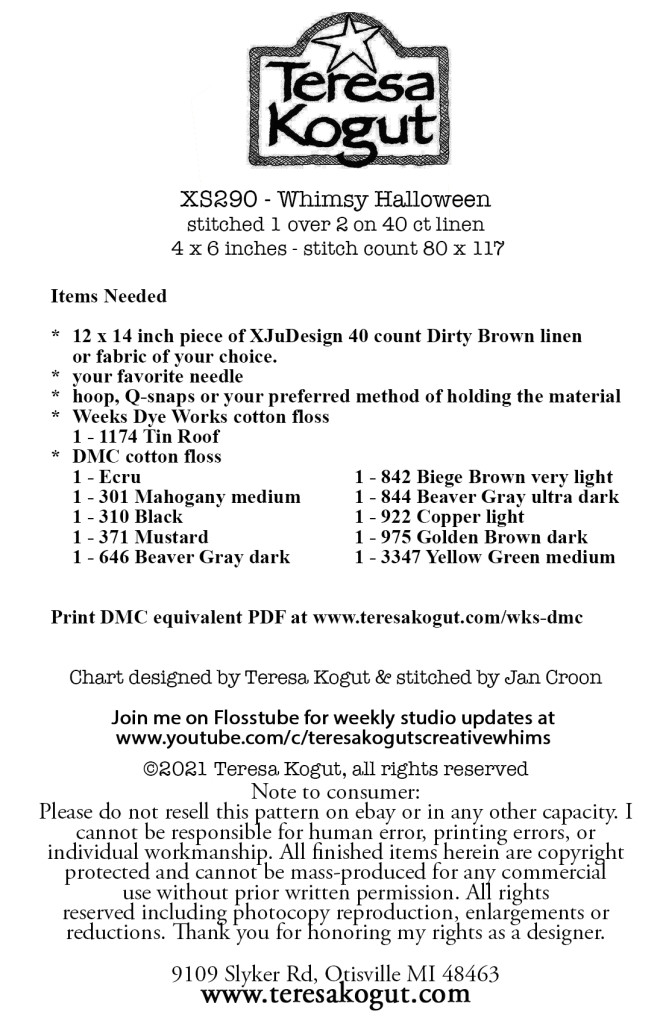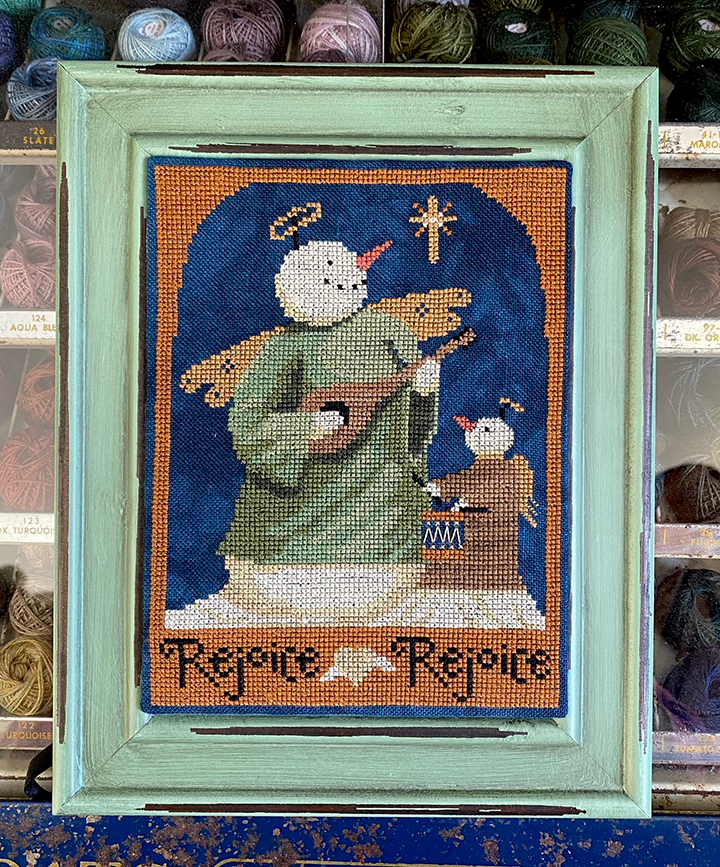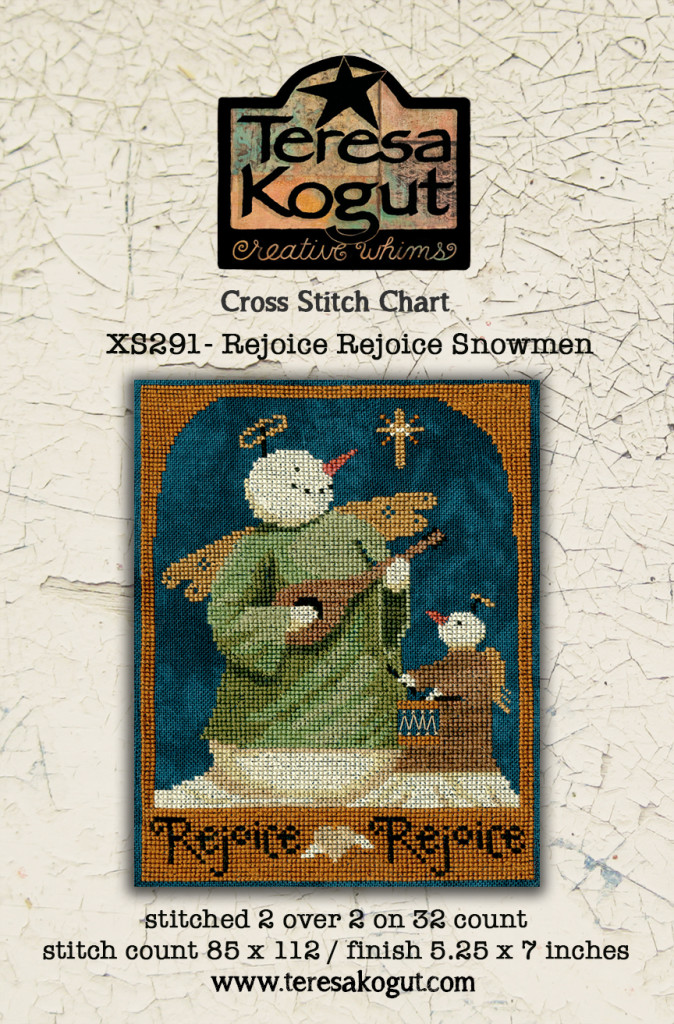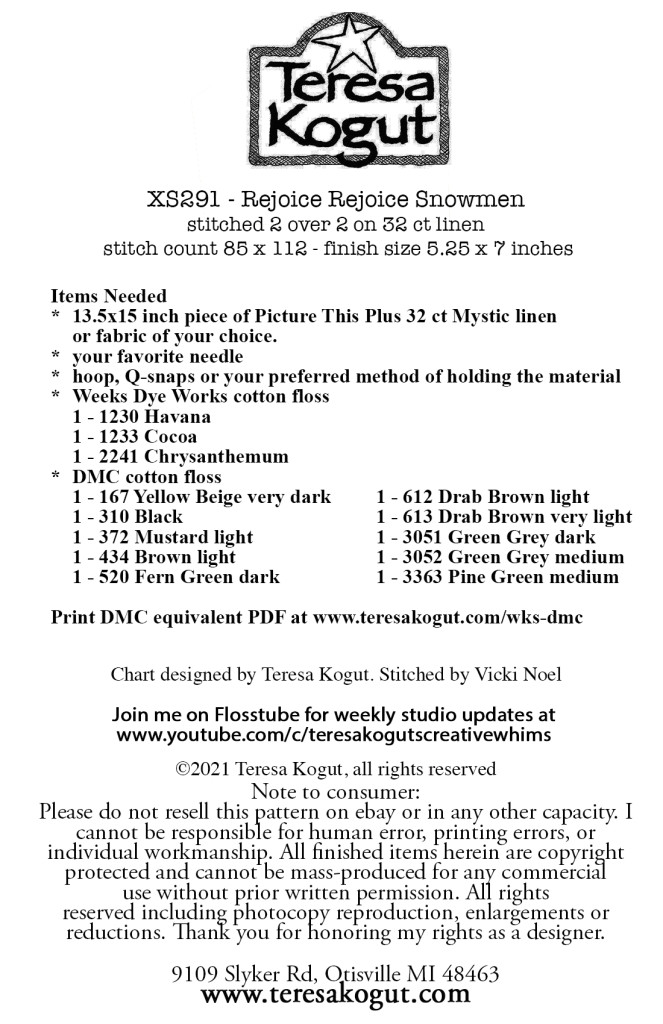 The next design is part of the designer collective named "The Moo The Merrier" or "TMTM". You can search for both hashtags on Instagram.
Many of your favorite designers have joined the collective by designing a cow chart. It's a fun way to built your collection if you love cows or farm designs.
Mine is named, Pennsylvania Dutch Farm Series – Heifer…..this is the first of 6 designs for the series. There will be a chicken, pig, sheep, donkey and goat added to the series.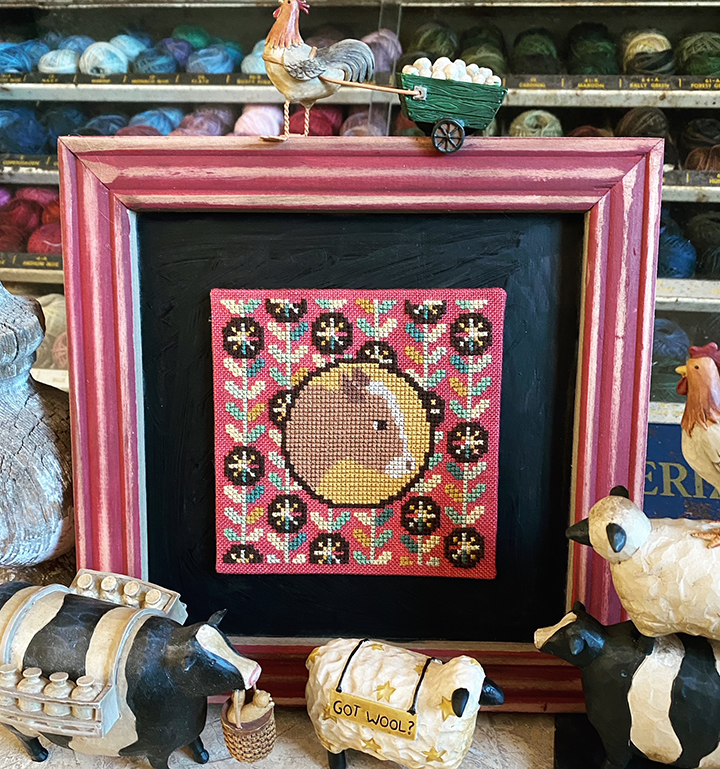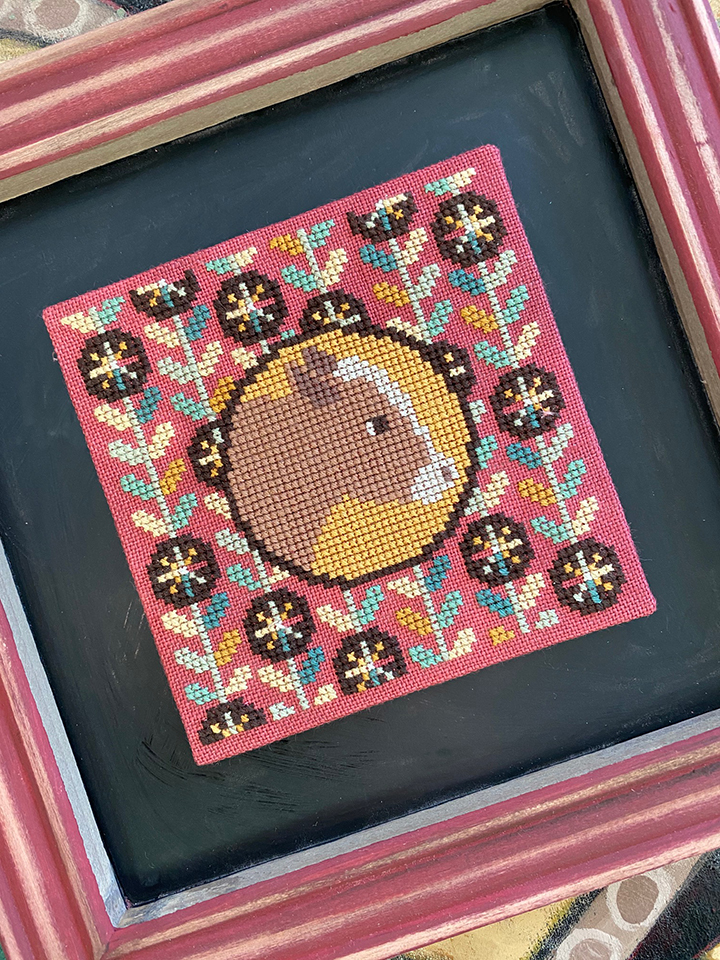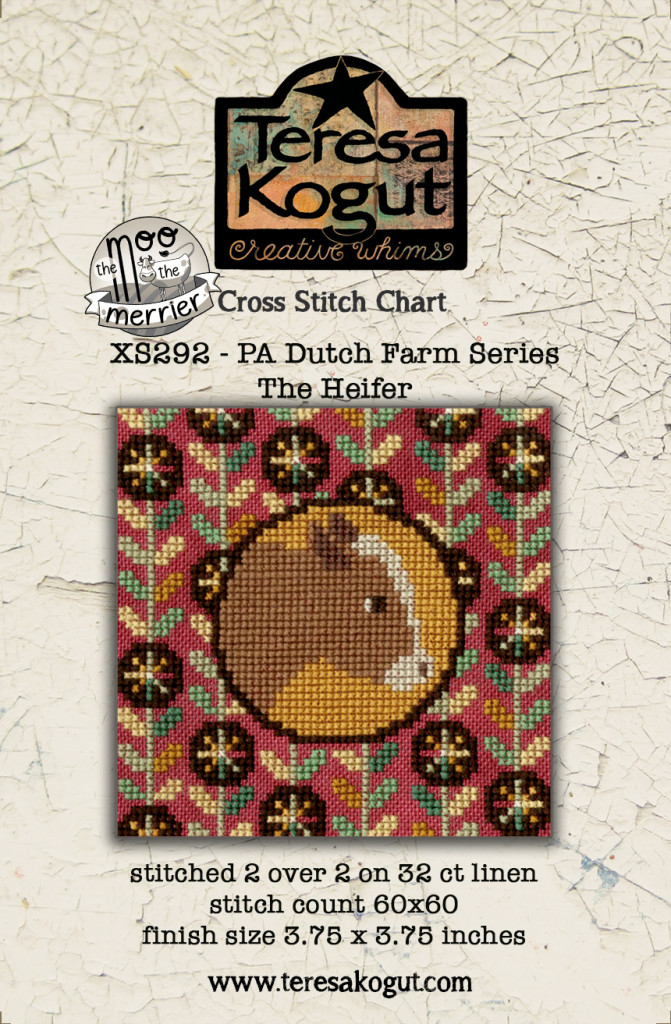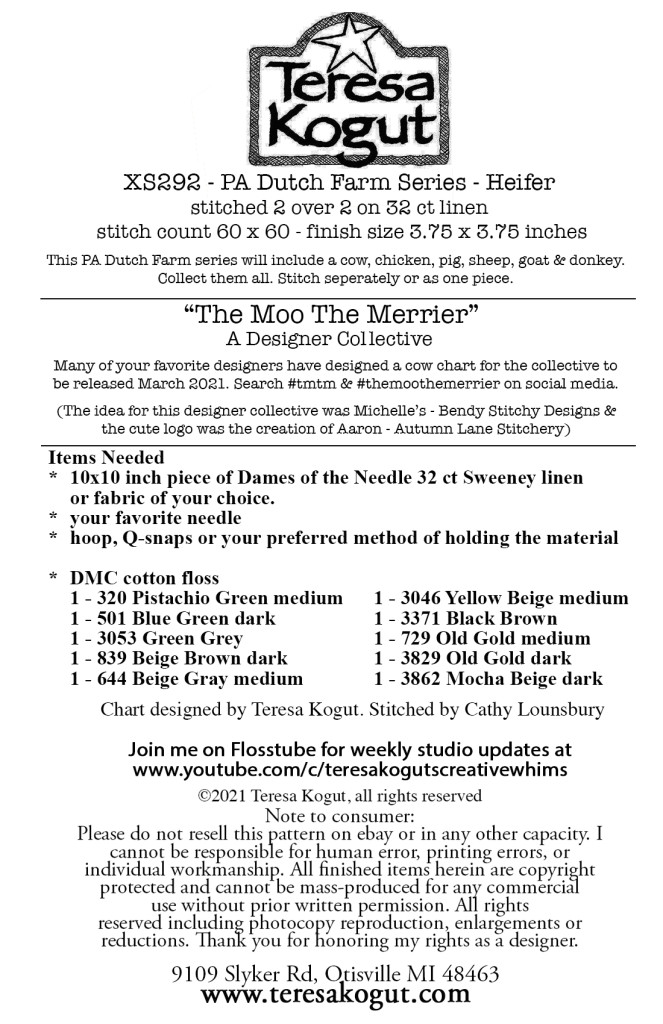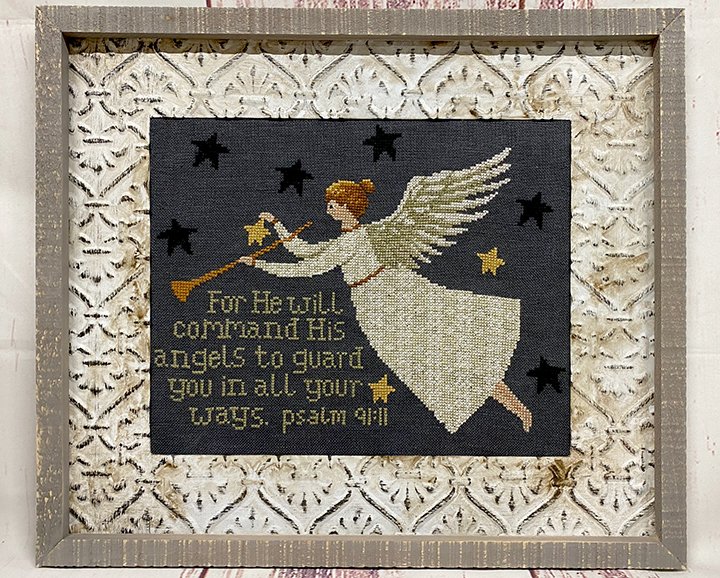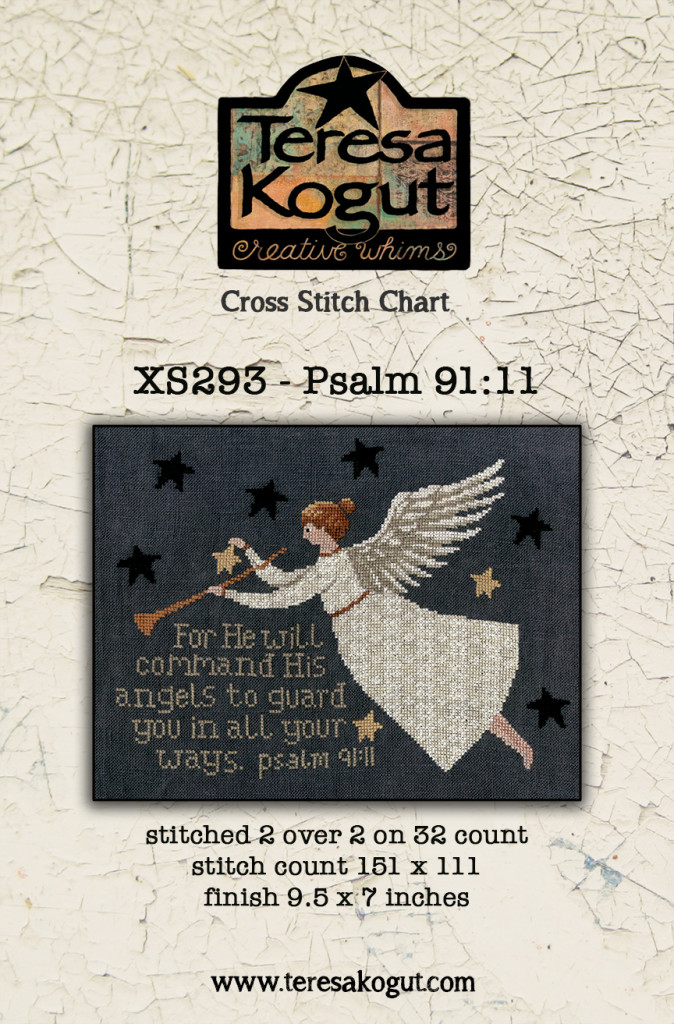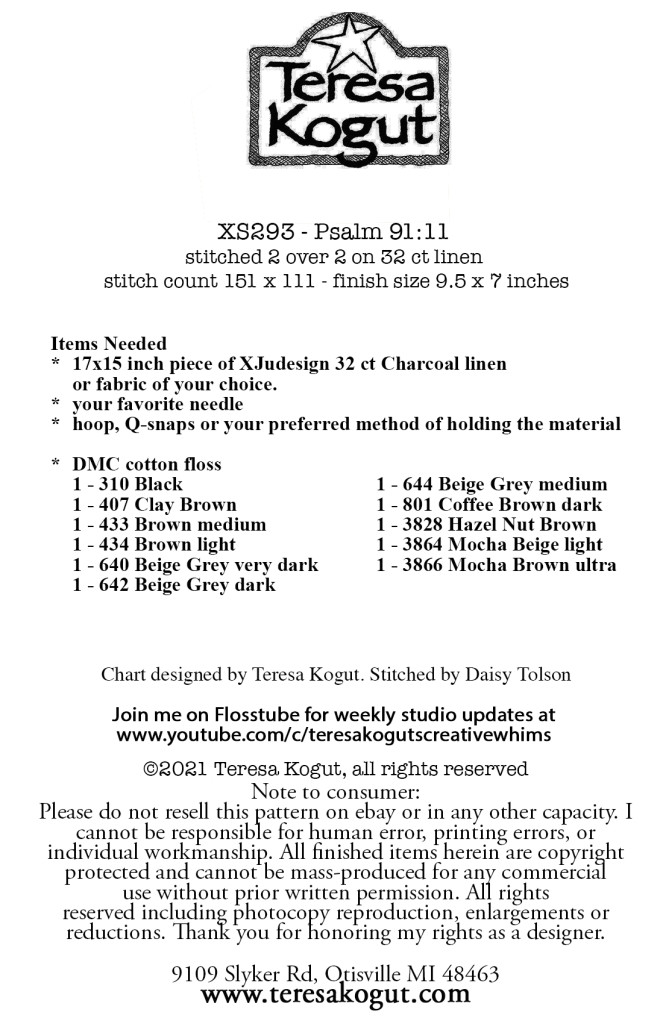 A new "Work of Heart" angel! I release 1-2 a year of these beautiful angels which are translated from my original paintings.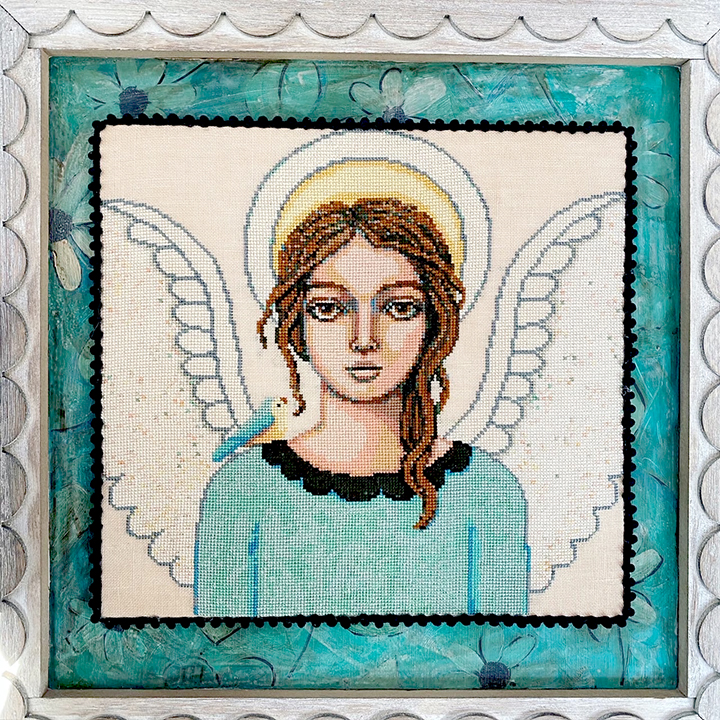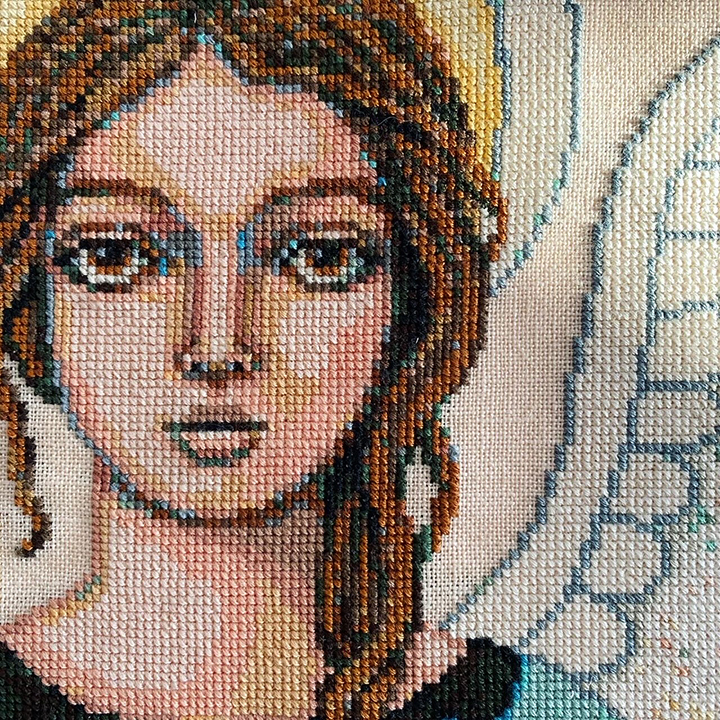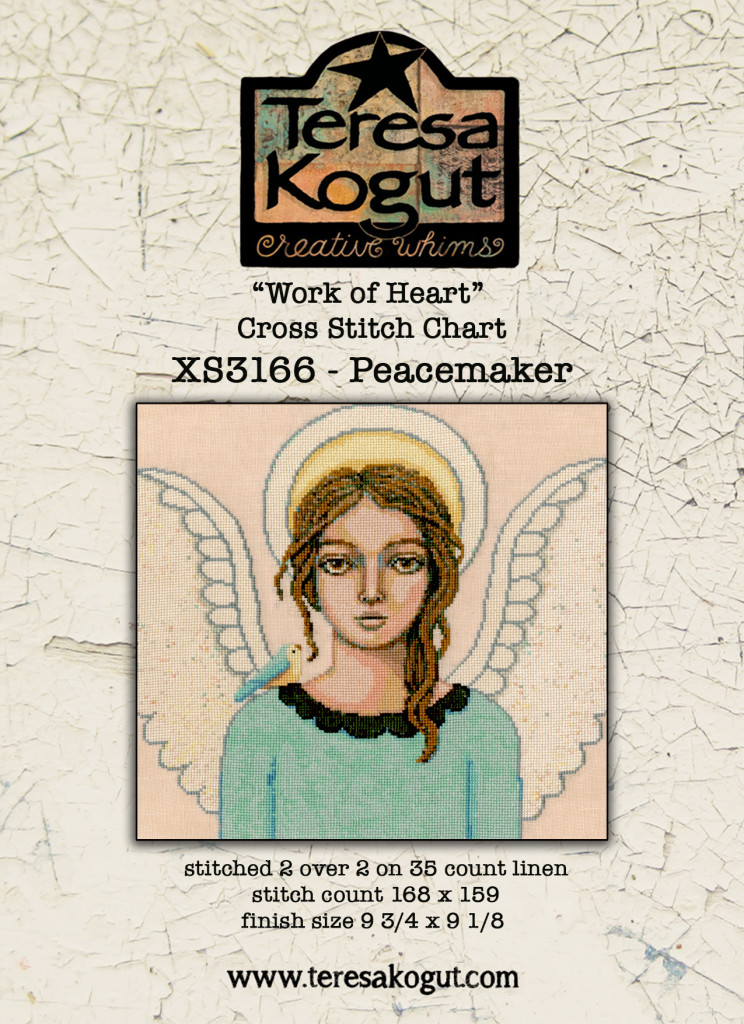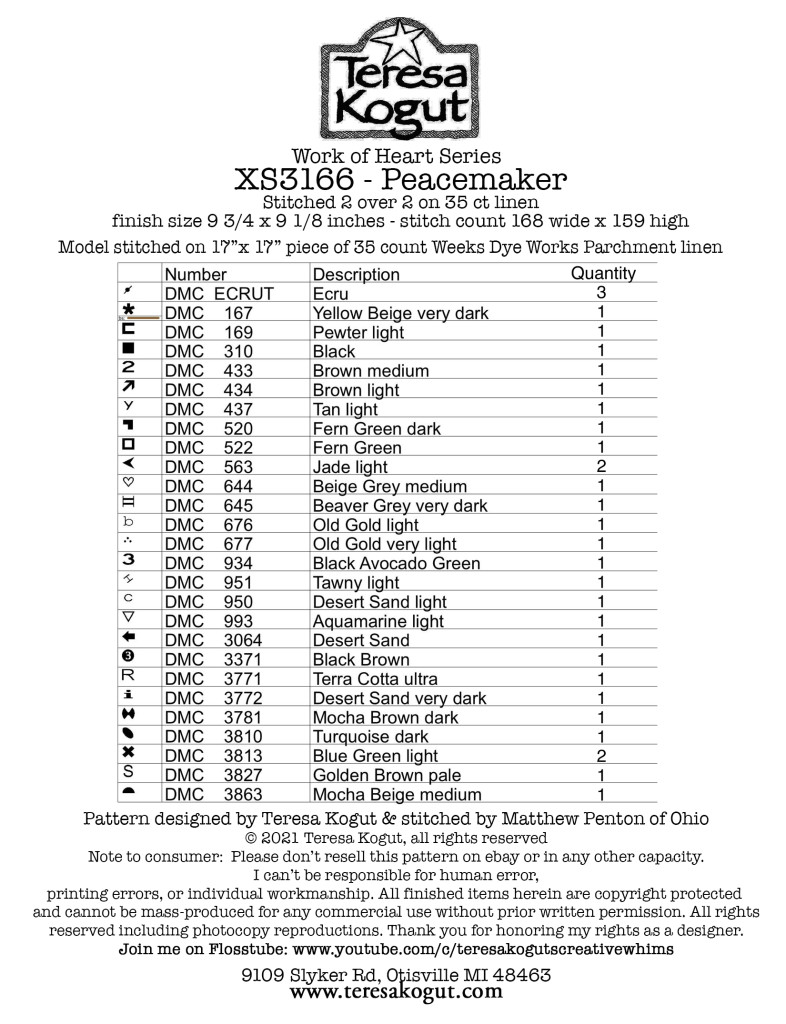 If you know me at all, you know I love Pennsylvania Dutch Frakturs and Pennsylvania Dutch folkart. "Fraktur" is one of my new CW Sampler releases. I love the folksy nature of this design.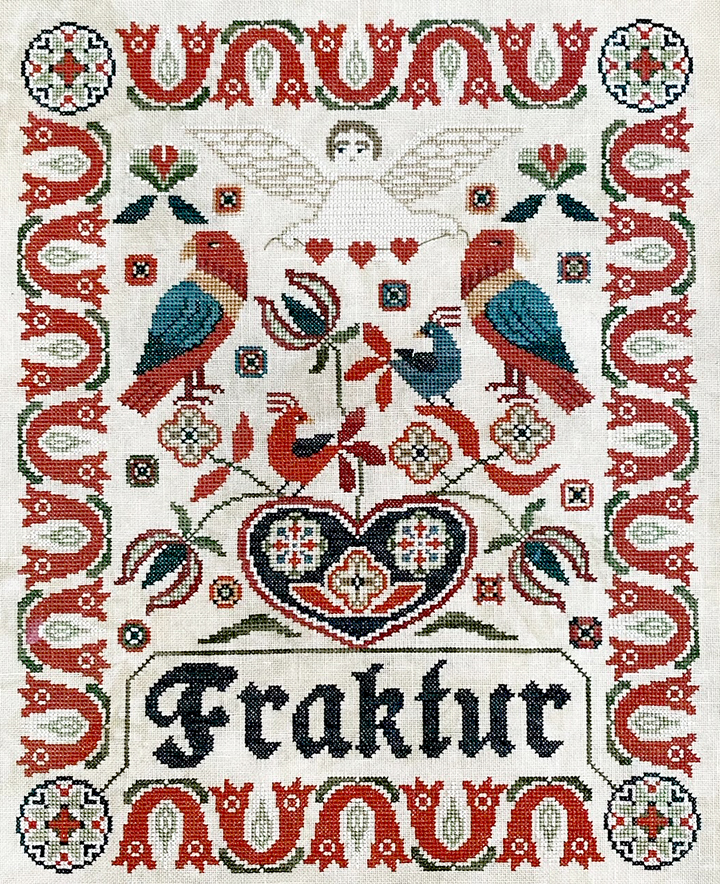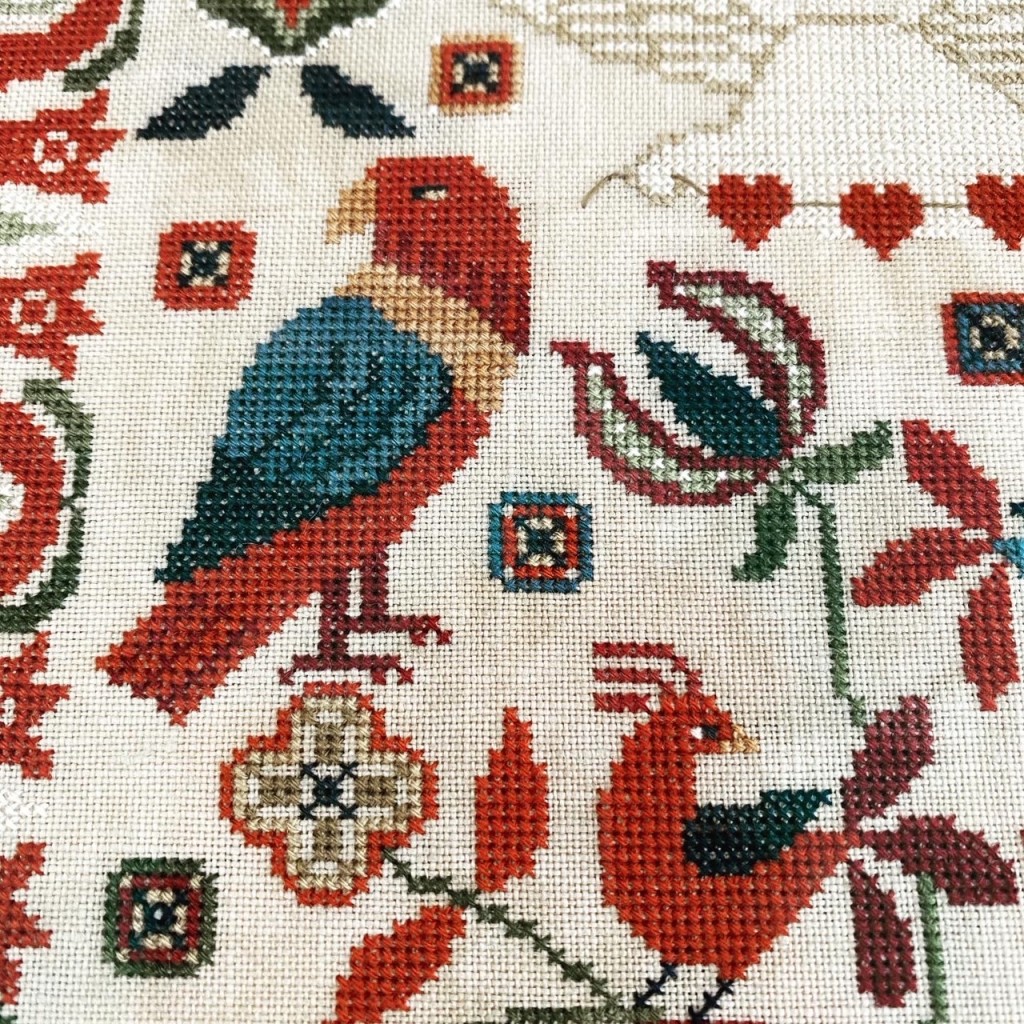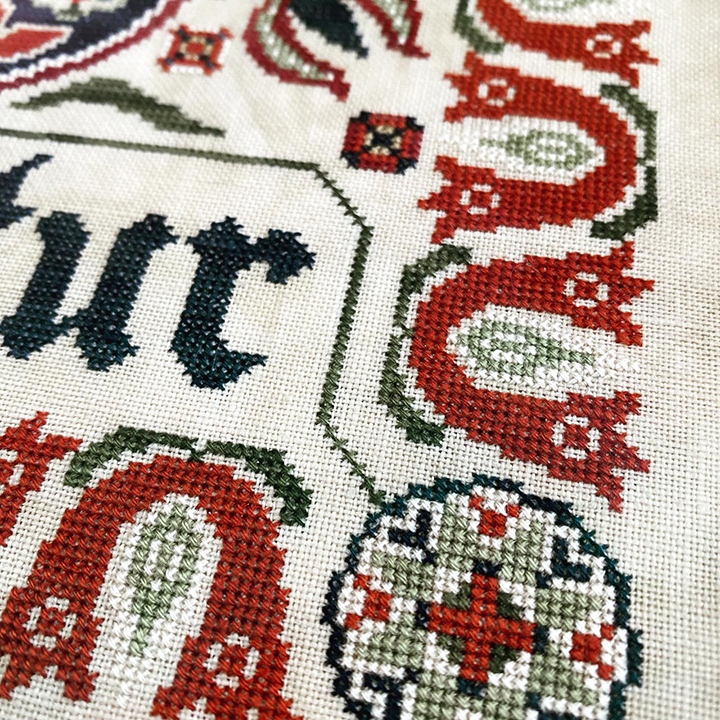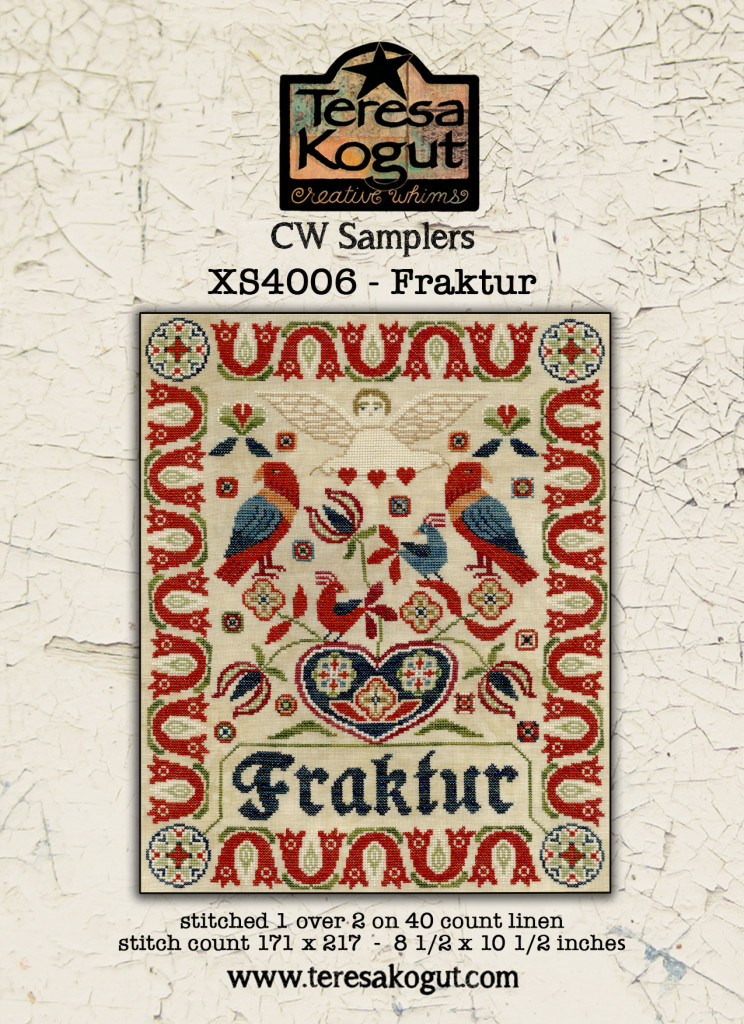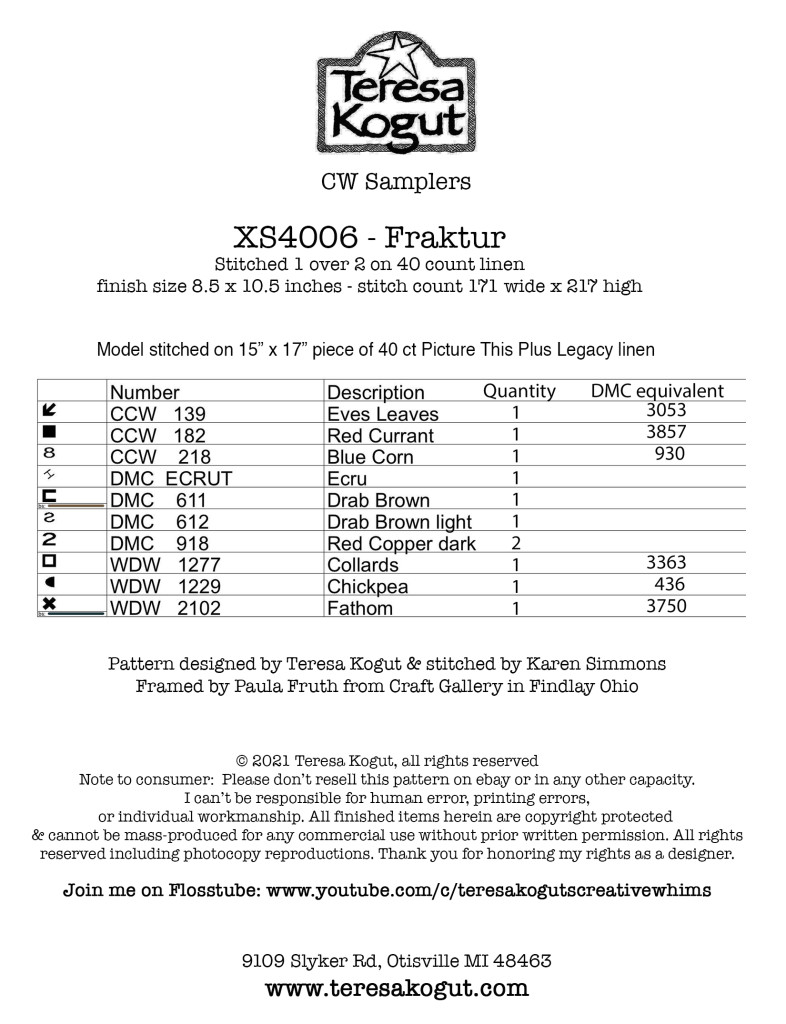 "Come to the garden was inspired by my love of gardening" We have several gardens on our property here in Michigan. When I admire the vivid colors of the flowers I always think, "only God can paint with those colors".
The phrase "thy senses will be overjoyed" is referring to the five senses the garden fulfills. I see the beauty, I touch the dirt and soft leaves/petals, I smell the flowers and ripeness of the fruits/veges, I heart he birds sing and bees buzz and I taste the sweetness of our labors.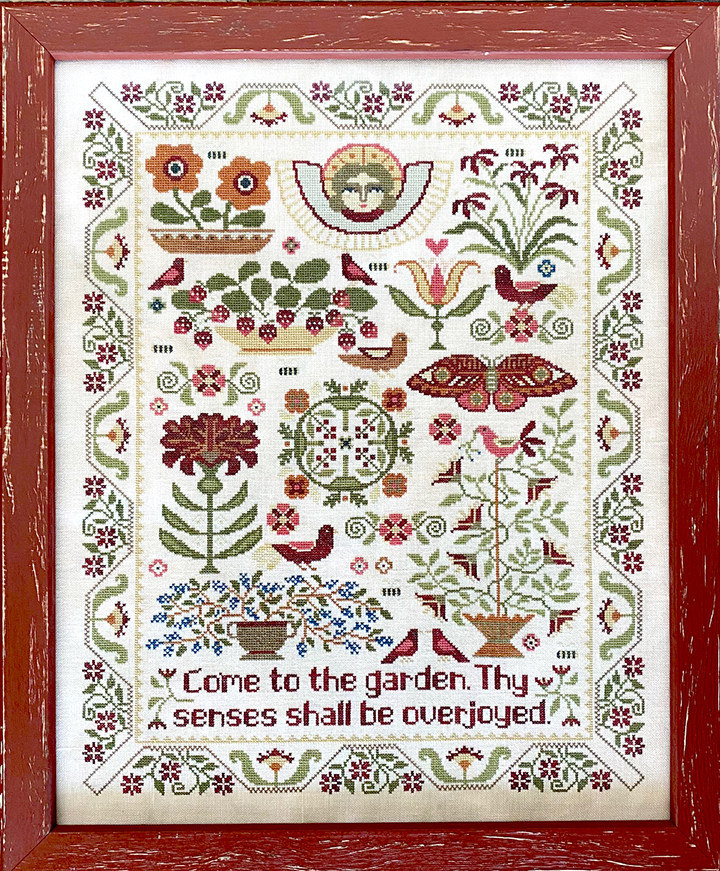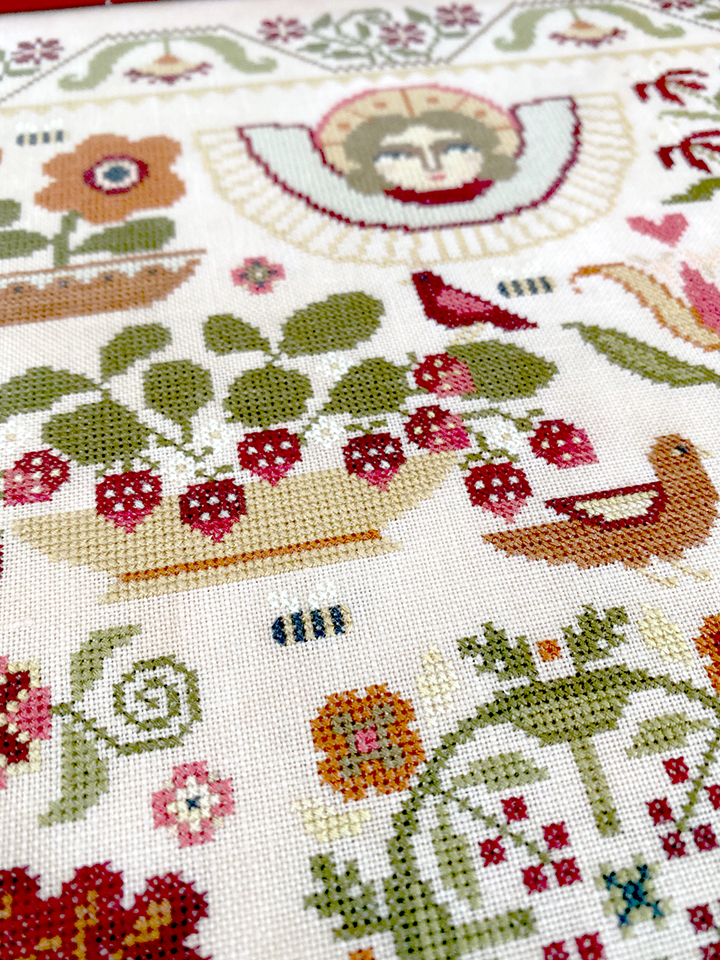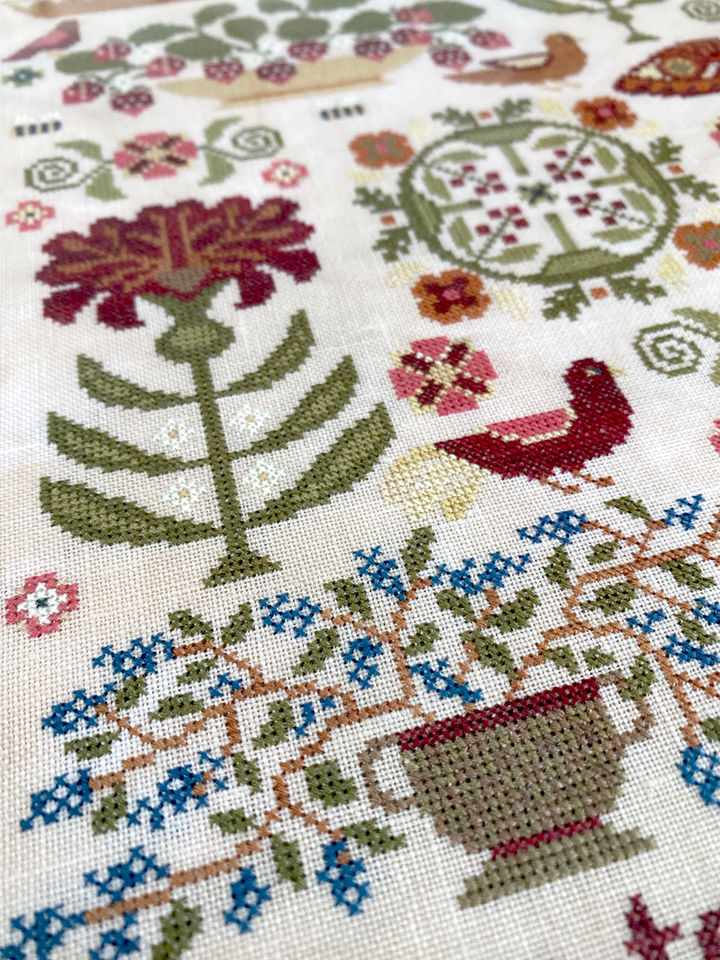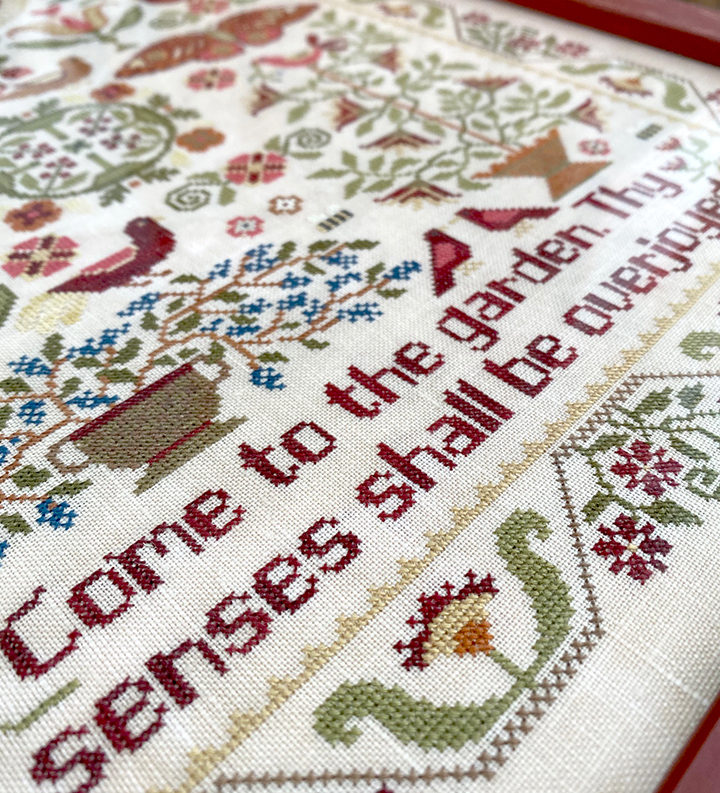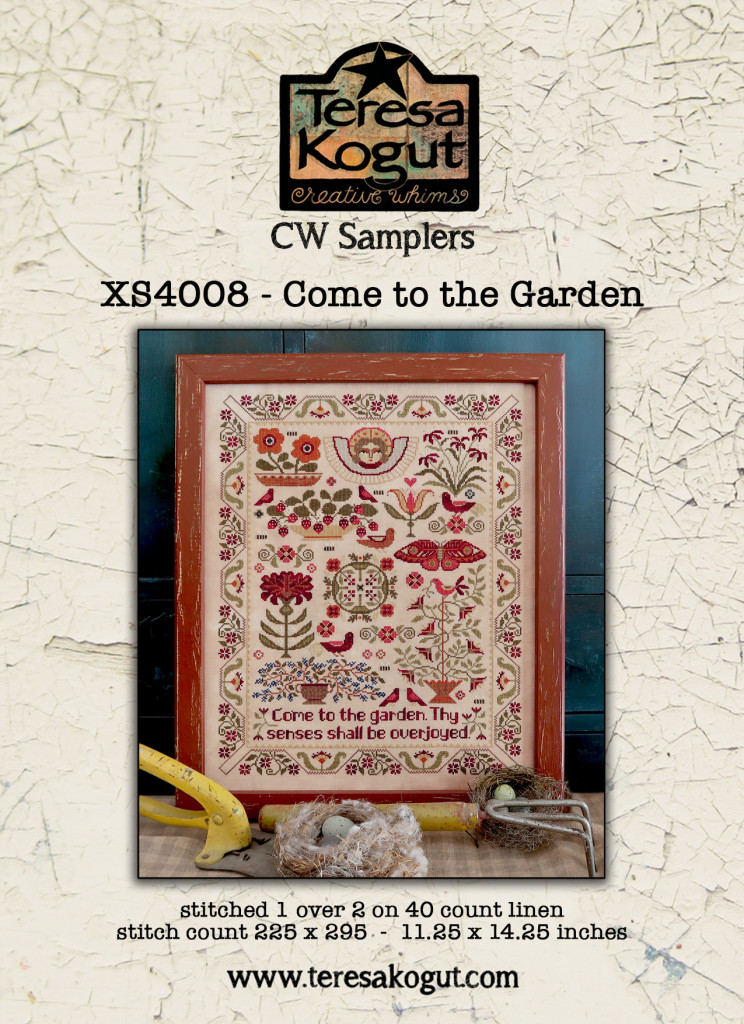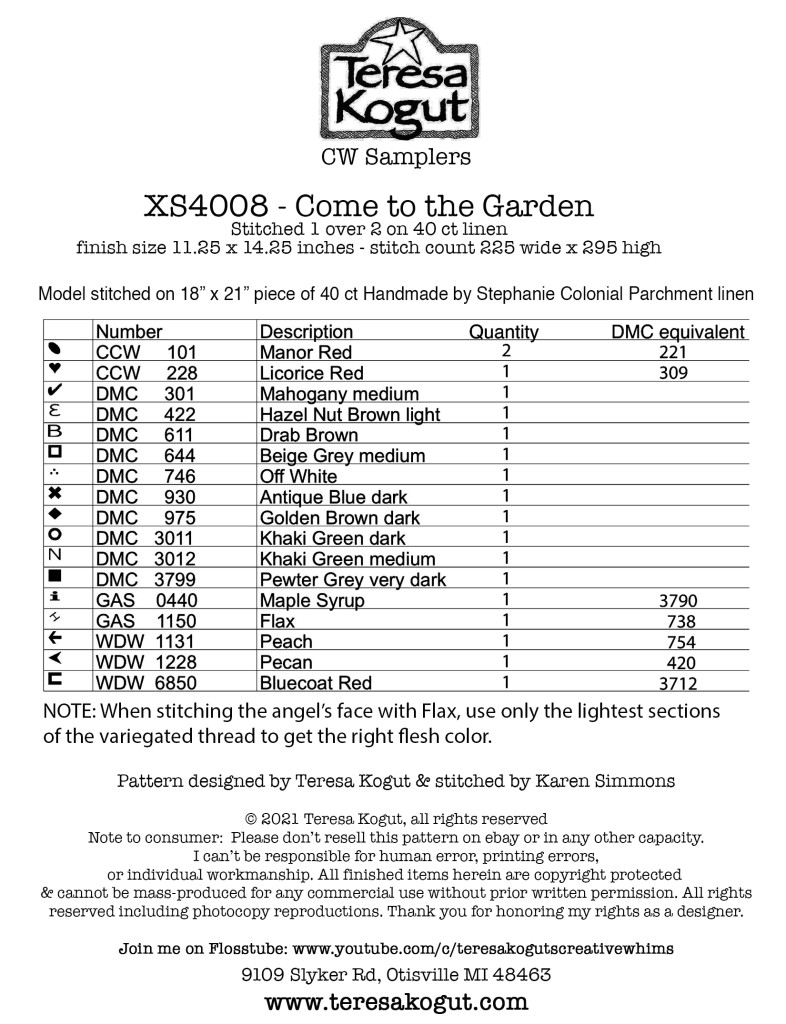 That's it y'all! Those are our March 2021 pattern releases. Hope you love them as much as we do!
You can see the new release Flosstube video below.
Let me know in the comments which one is your favorite!
Flosstube 108 – A Visit to Stitches 'N Things, WIPS and more
So much to share this week since I missed last week's update. Below is the video.
Life Update
Happy Valentine's Day and Welcome to Lent! I love the Lenten season. It's a time of purification….a time to reflect, pray, sacrifice and fast. We grow closer to Christ by looking inward and making changes in our lives that will help us to resist sin.
Kevin and I went to Traverse City with some friends for a few days. It was a nice break.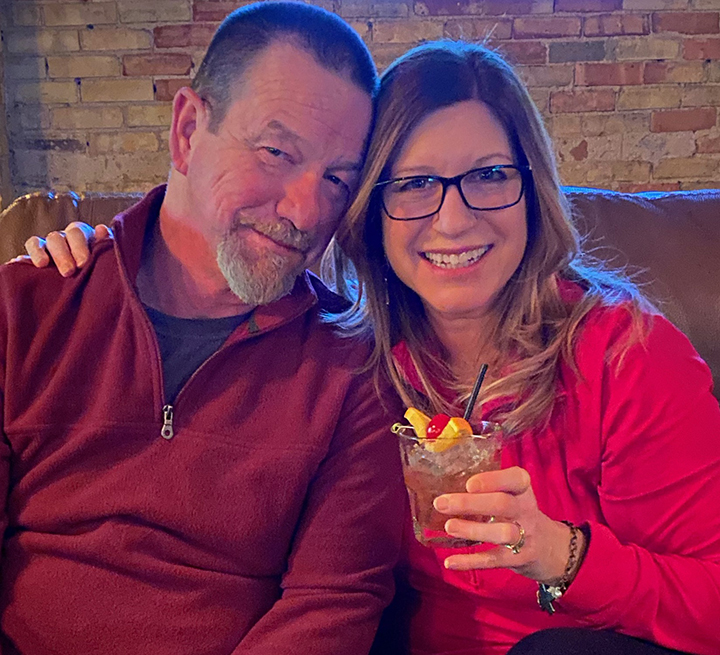 RECIPE
Oh….before I forget, I promised to share the crab dip recipe we made for Super Bowl Sunday. You can find it here.
Stitches 'N Things Needlework Shop Visit
I met my friend Donna Fedewa at Stitches 'N Things in Fenton Michigan to pick up my framed samplers. Donna was going down to Craft Gallery in Findlay Ohio to pick up something she had framed by Paula Fruth and she asked if I wanted her to pick up my framed samplers as well….. of course, I said yes. Stitches 'N Things was the perfect place for Donna and I to meet so I could get my framed samplers, do some shopping and have a delicious lunch together! Thank you Donna!
Here are a couple of photos I took while there. I show more photos and a 4 minute video tour of Stitches 'N Things at the end of my Flosstube (above). Enjoy!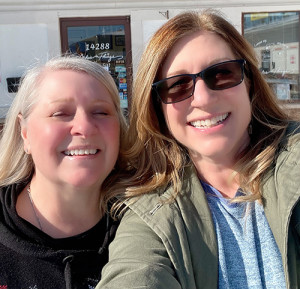 Donna and Me in front of Stitches N Things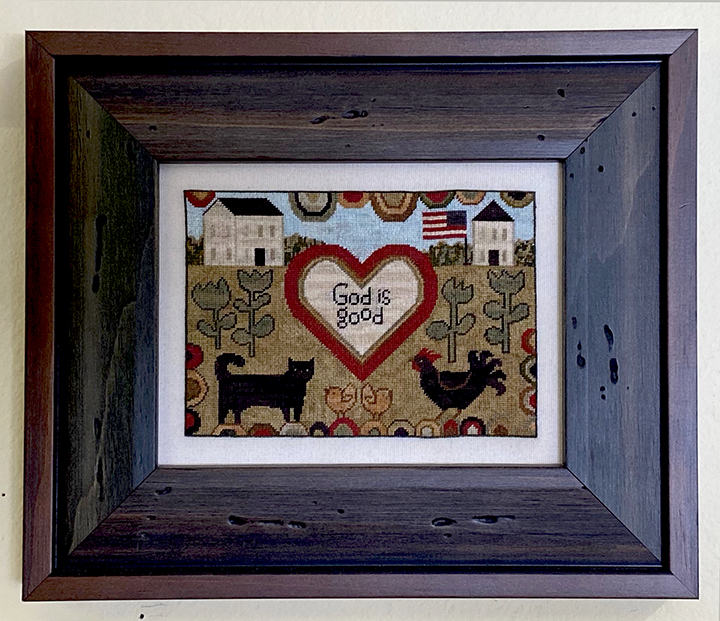 "God is Good" stitched on gauze by Deb (owner of the shop)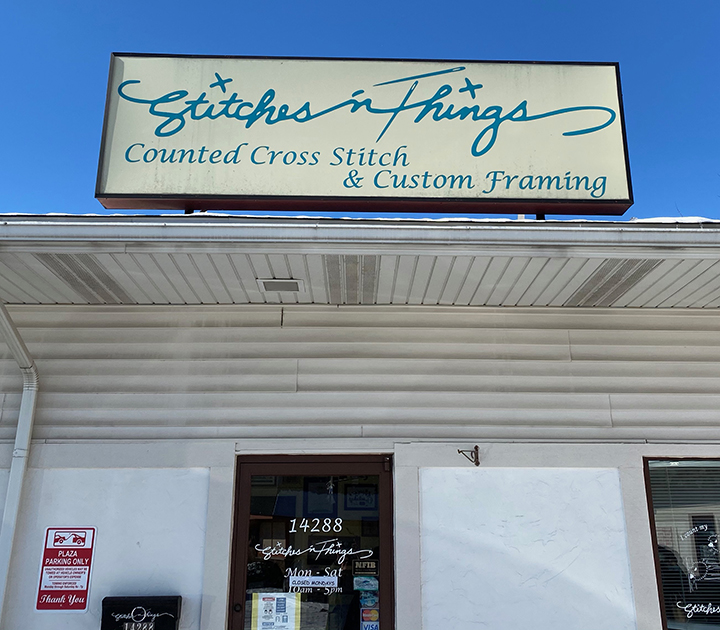 WIPS – ART
Made a little progress on this painting. Hopefully we'll have a finish by next week!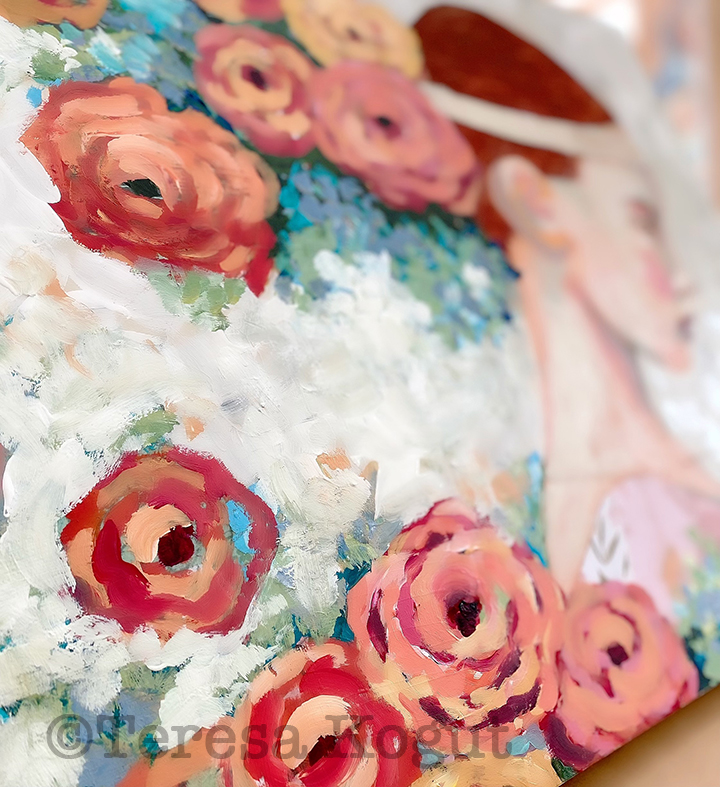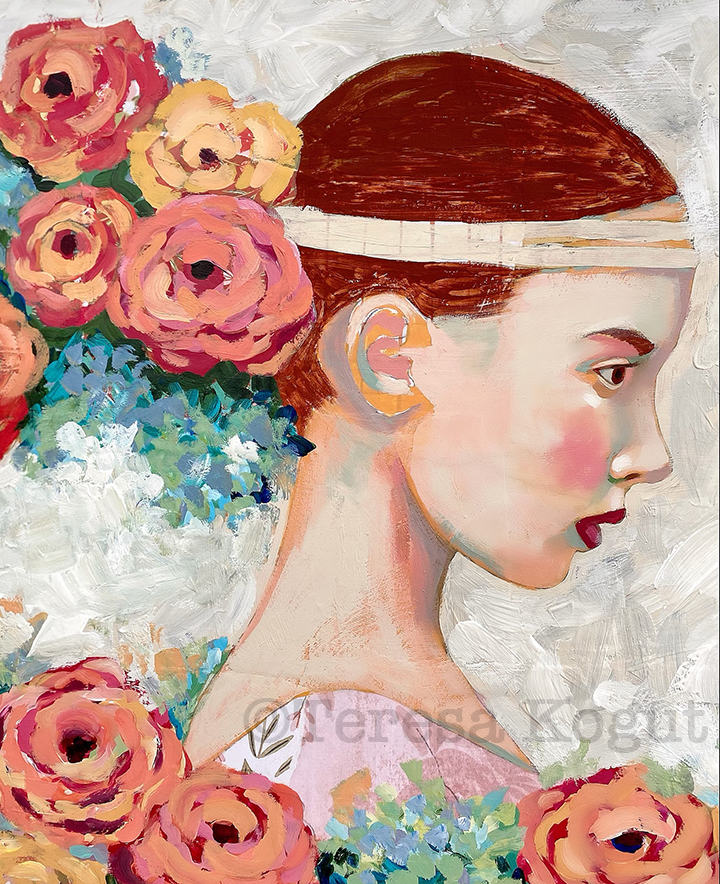 WIPS – NEEDLEWORK
I haven't had a lot of time to work on cross stitch. We're getting ready for our Needlework Expo release plus going out of town for a few days has made it difficult to find time. Here's my progress:
YOUR NEEDLEWORK FINISHES
Below are photos of some of my designs stitched by some great stitchers! I appreciate them sharing their work. If you've stitched, punched or hooked one of my designs and want me to feature it on my Flosstube/blog, you can email me at teresakogut3@gmail.com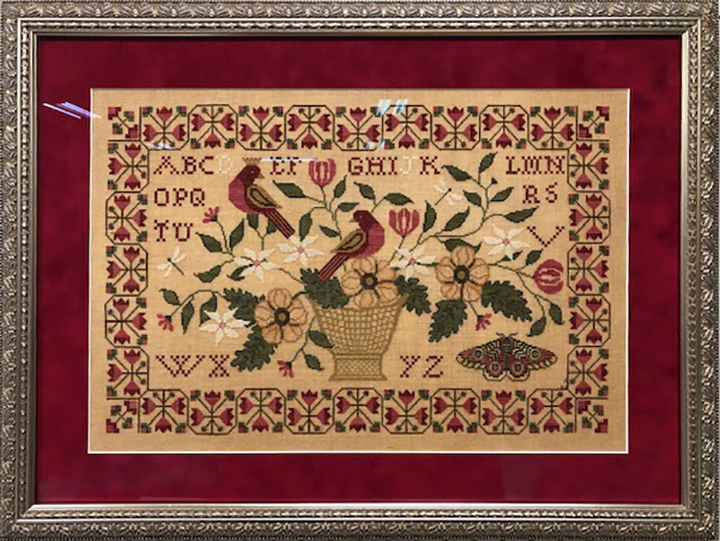 Newcastle Bouquet stitched by Donald Jones
Winter Bouquet stitched by Tammy Easterling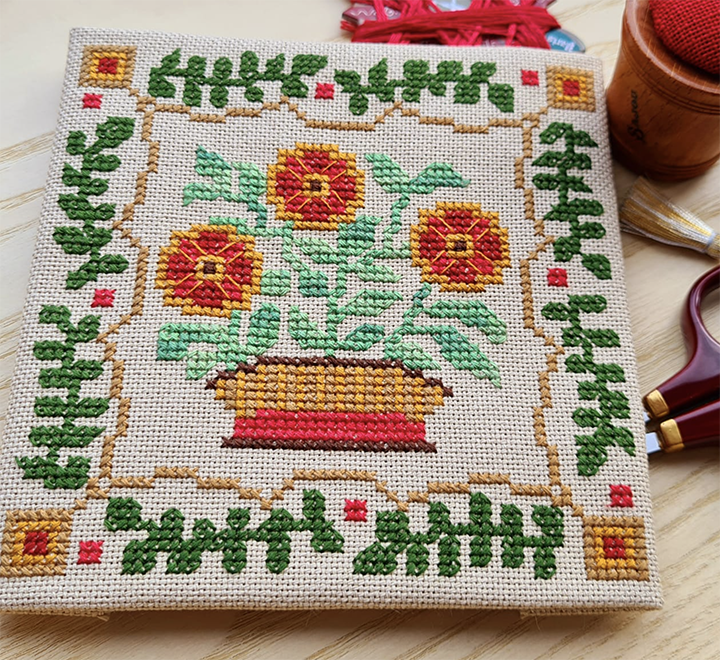 Basket of Joy stitched by Žydrė Stankūnaitė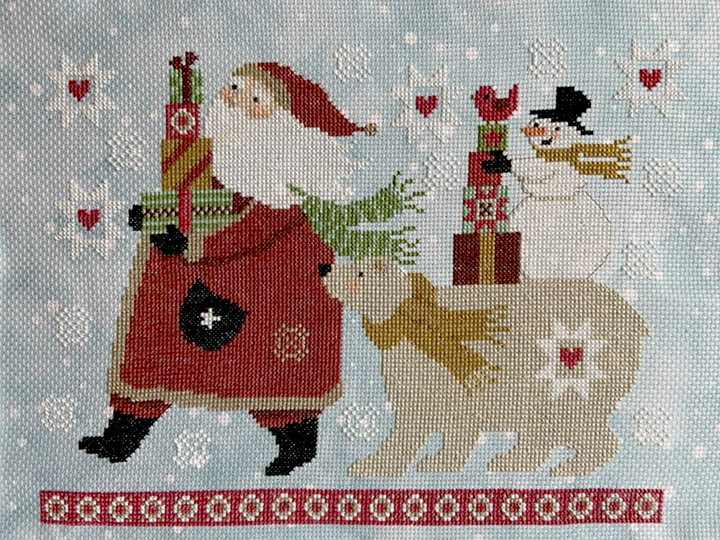 Bearing Gifts stitched by Patty McCarthy
CW LIVE – Creative Whims Live
"Sunkissed" watercolor lesson is done. I'm happy with how it came out. I'm so impressed with how the students did with watercolor! Below is my painting for the lesson.
Creative Whims Live is private Facebook group where I teach every Tuesday night at 7pm live with the students who have paid to be there. The sessions are 3 months long. We start a lesson one week and finish it the following week for a total of 6 projects per session. To learn more and to get signed up for the next session, visit Gather Dream Create.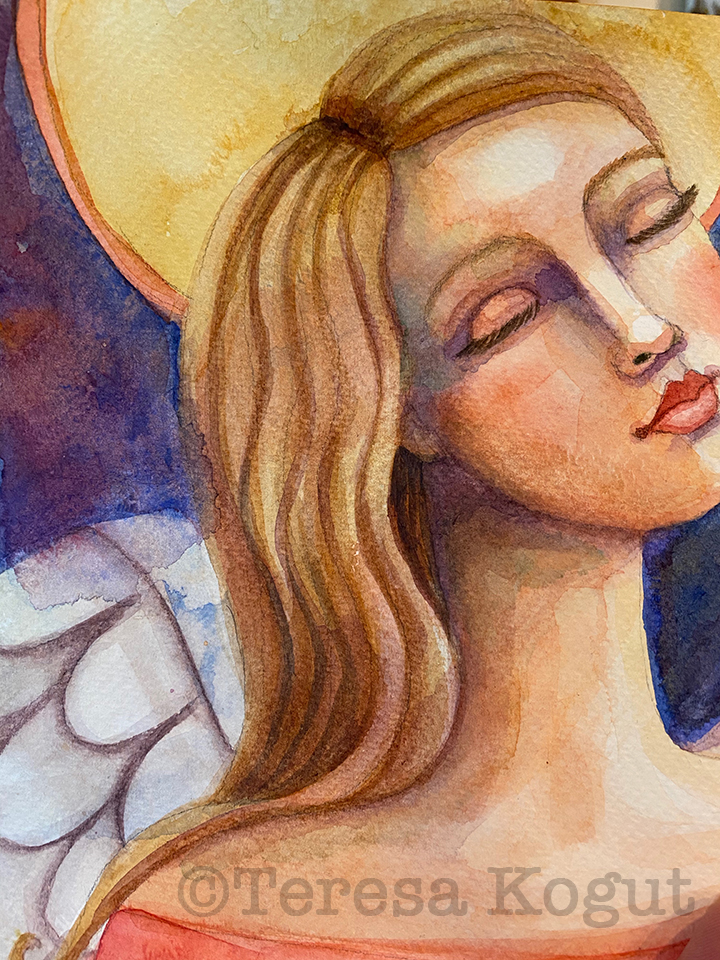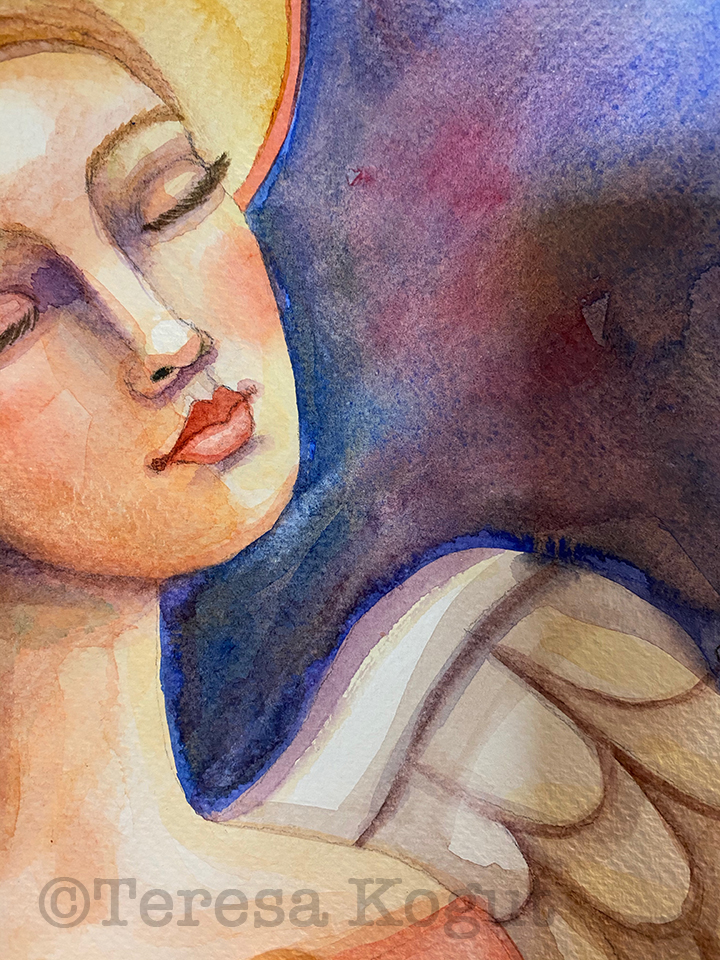 NEW RELEASES – Needlework Expo
March 6-8 will be the first (and hopefully annual) Needlework Expo. It's a virtual market where needlework shops can see merchants to order their new products. Below is a photo showing sneak peeks of 7 out of my 8 new releases that will be introduced at the expo.
This Wednesday, February 24th my new release Flosstube video will be available to watch. I'll share my new releases fully finished!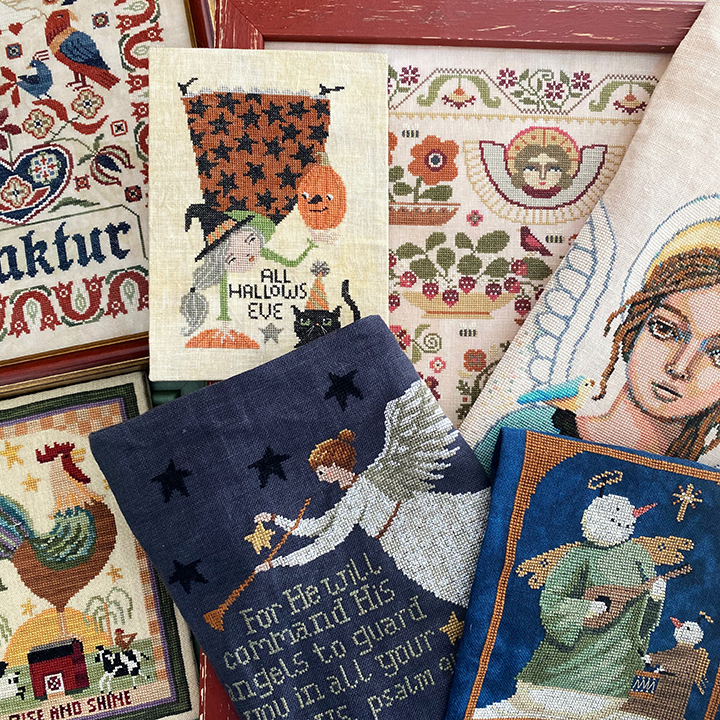 I received "Up on the Housetop" model back this week from model stitcher Mendy aka Missouri Stitcher. The design is pictured below and will be released in May 2021.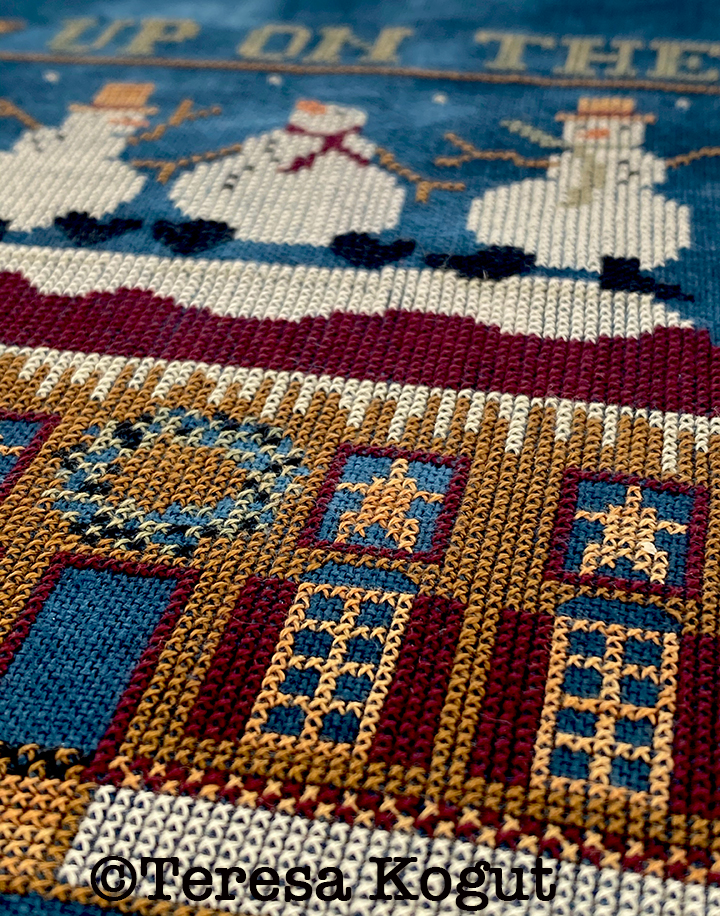 Up on the Housetop cross stitch by Teresa Kogut
NEW IN MY ETSY SHOP
Peach on Earth Art Heart is now available in my Etsy shop. Demdaco created this beautiful heart featuring my Angelic Vision artwork. Demdaco has discontinued this product so once they sell out, there won't be anymore…..ever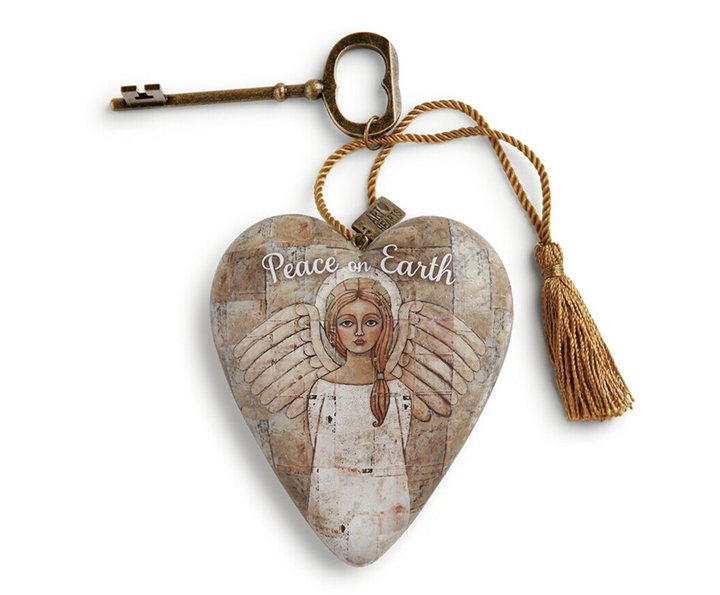 20 stitches a day on winter bouquet cross stitch
work on punchneedle for Park Designs (oh my gosh…..wait til you see it!)
daily #whimsy365 sketches
finish cover and directions for cross stitch/punchneedle pattern release (due yesterday!)
fully finish all new releases
record and upload new release video on YouTube
Paint in the mornings (not until the above three things are done, so probably not til Wednesday)
Decide what the Halloween theme fabric line is going to be……..Due end of March
Future plans (after our May pattern release) You know how I dedicate 3-4 hours in the early morning to painting, well, I plan to spend Monday mornings art journaling! I have a couple of art journals started but haven't touched them in 2-3 years. I want to have 1 journal where I create whatever floats my boat that day (whimsy chicks, various collage work, mock ups of larger paintings I plan to do, my musicians series, etc), 1 faith journal and one that will be more like a diary (very personal with family photos, my "back to health" journey, vacations, weekly happenings…getting feelings down on paper, etc) These will be recorded (except the personal one) and uploaded to my YouTube art channel. I will do voice overs to explain what I'm doing and what products/tools I'm using.

the faith journal is the one I want to focus the most on. It will be full of angels, scripture, saints, the Holy Family, quotes, my thoughts, etc.
my intention is to share my faith and faith journey with you and hopefully you will be inspired to start your own faith journaling.
You can subscribe to my art YouTube channel here. Make sure to click the bell so you'll be notified when I have a new video or when I go live. The journaling will start in June (sooner if I'm lucky) The blogging will be at my Gather Dream Create website which is here.
That's a wrap for this week! See you next weekend. Have a blessed week!
Flosstube 107 – Park Designs Beautimus and more
This week I have a lot to share! Here is the video if you'd like to take a look.
Patreon
First thing Monday morning because it was the first of the month, I uploaded the Patreon charts and coloring book pages! Here is a photo of the charts released to patrons only. To learn more about the perks of my Patreon, go here.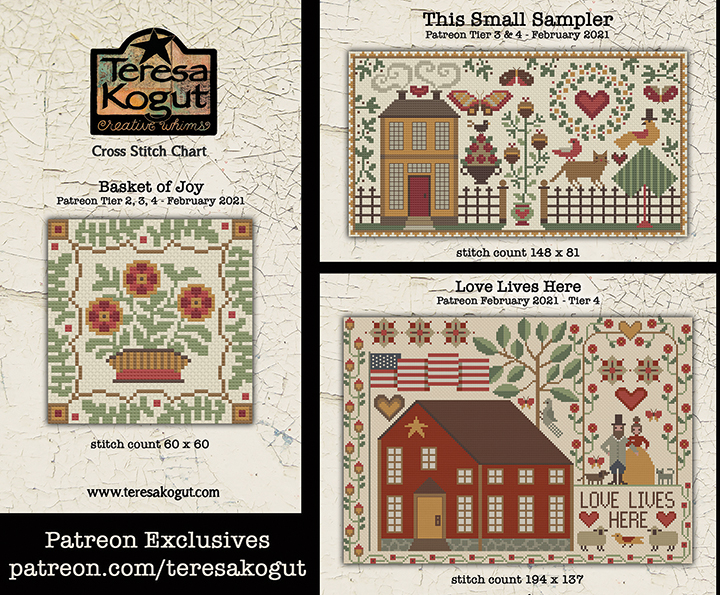 ANNOUNCEMENT
Park Design is coming out very soon with some beautiful products from my punchneedle design. The line is called Farm Life. They just introduced it in January and will start shipping soon to country/gift shops across the globe.
I'm so grateful to be working with this company for the past 20 years. They are great to work with and their products are amazing!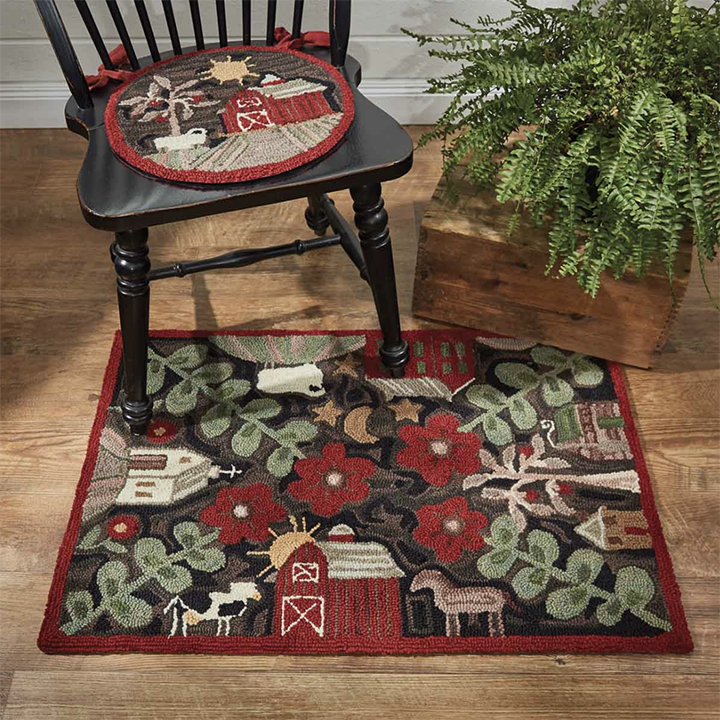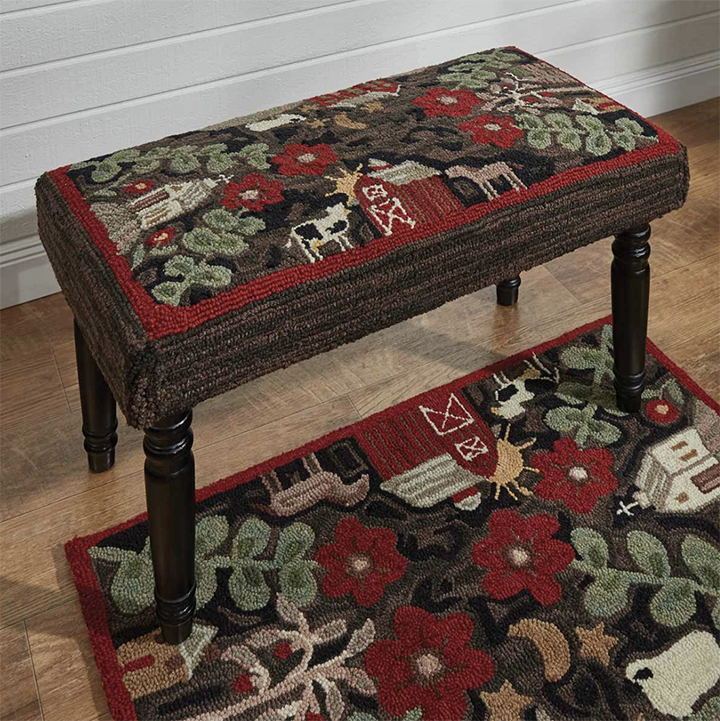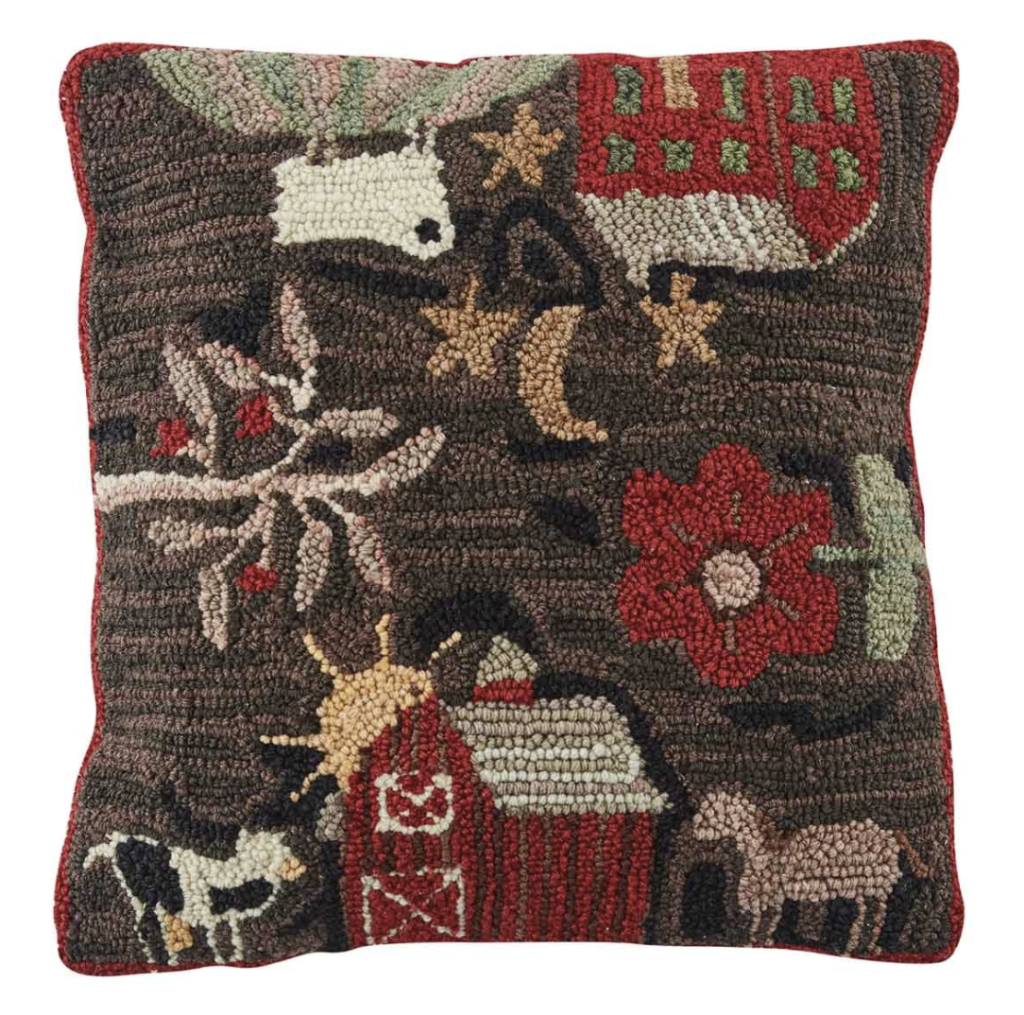 WIPS (works in progress)
Art Wips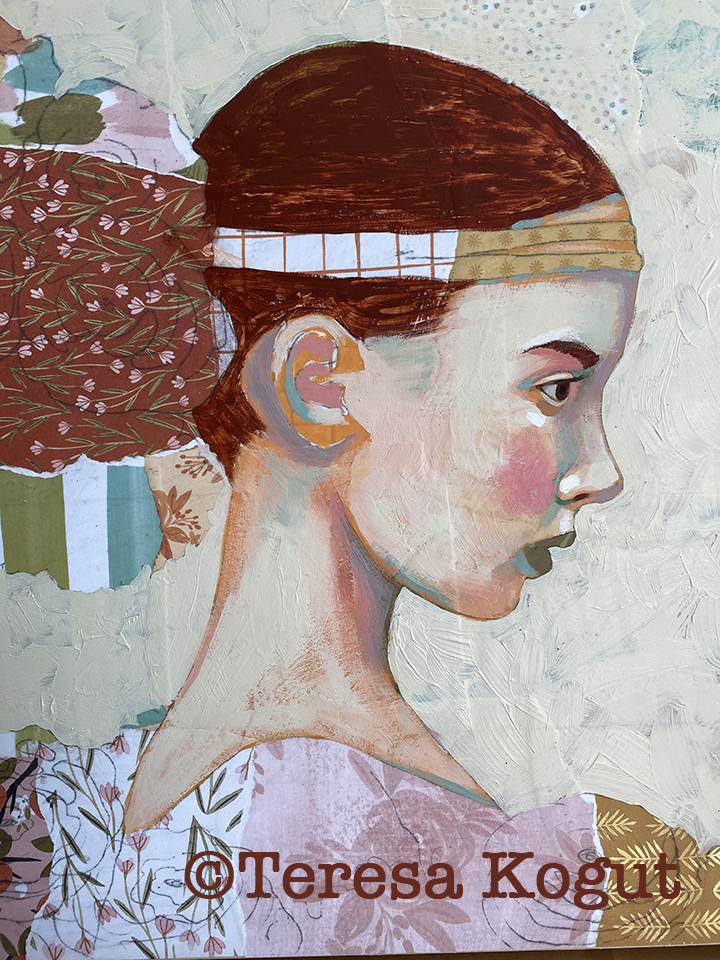 This painting is not named yet. Sometimes the name doesn't come to me until I'm done with a painting.
I'm recording myself creating this painting and will be creating a 2nd coordinating painting for tutorial to hopefully be released in the spring 2021.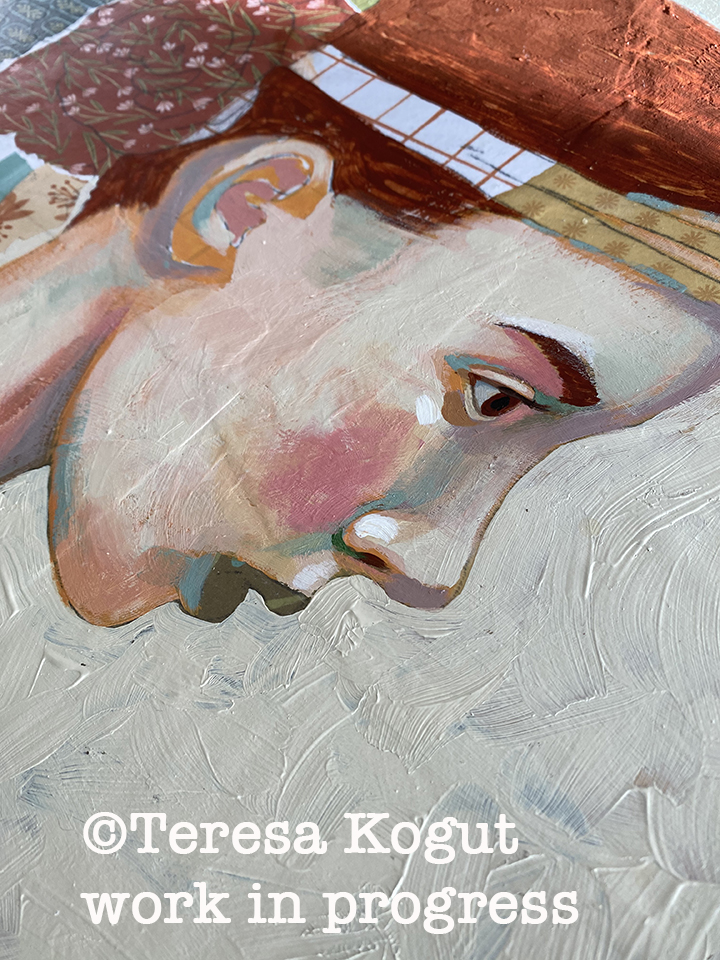 Next is "Sunkissed" which we are painting in CW Live. Creative Whims Live is private Facebook group where I teach every Tuesday night at 7pm live with the students who have paid to be there. The sessions are 3 months long. We start a lesson one week and finish it the following week for a total of 6 projects per session. To learn more and to get signed up for the next session, visit Gather Dream Create.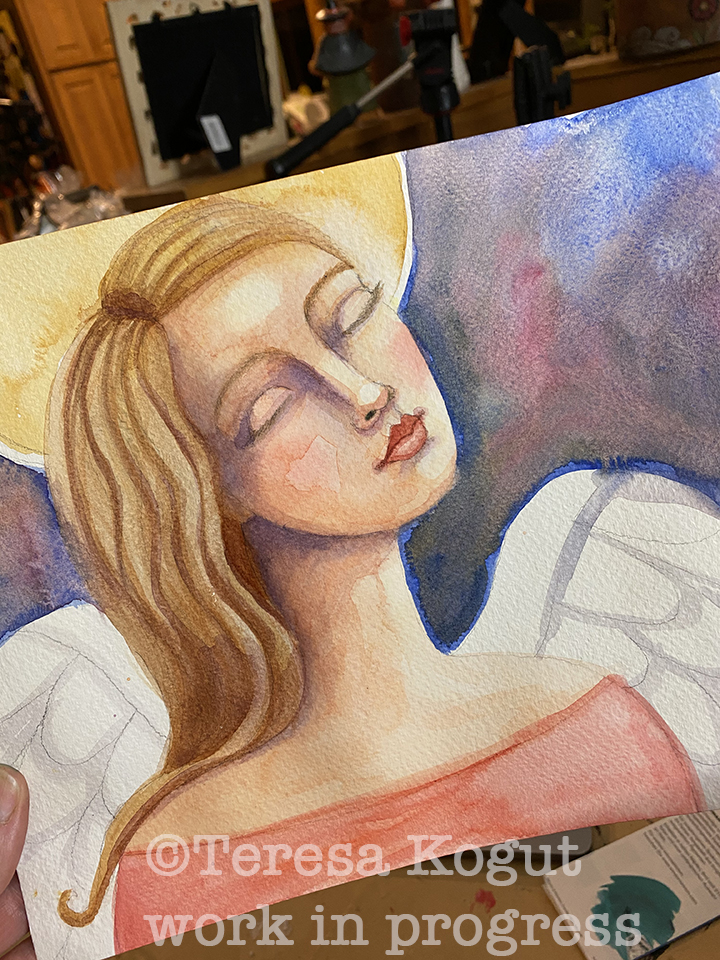 Meet Brigid. I'm painting her live on Whatcha Paintin Wednesday where I painting live on Facebook and YouTube with my soul sister, Kristin of Shabby Perceptions. I live in Michigan and she lives in Tennessee. We love spending that time together painting while chatting with each other and folks that join us live.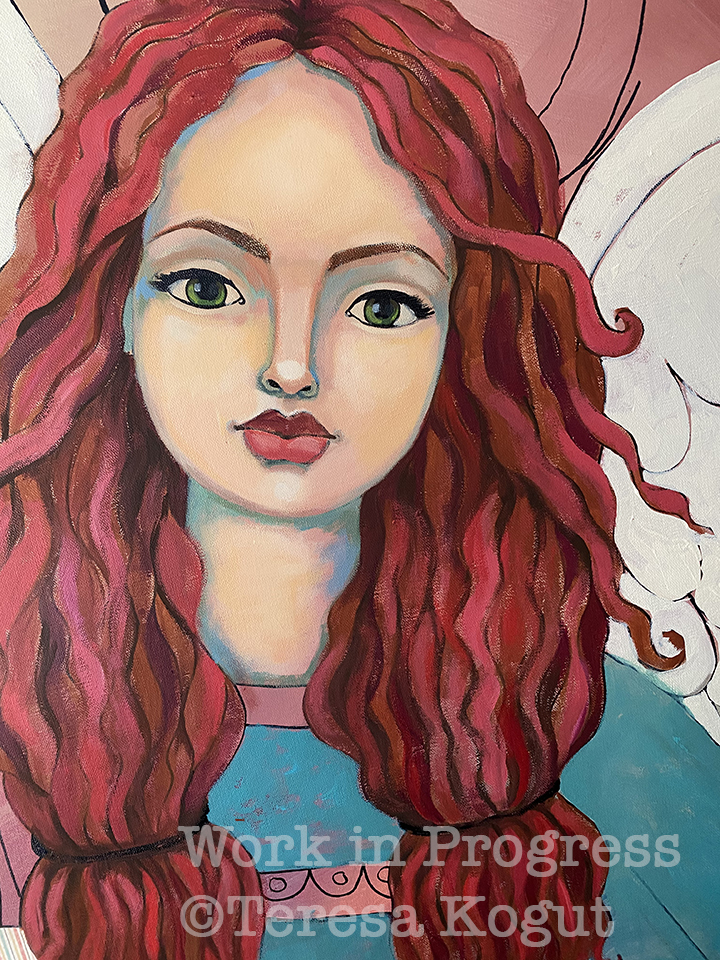 Here is this week's video:

Needlework Wips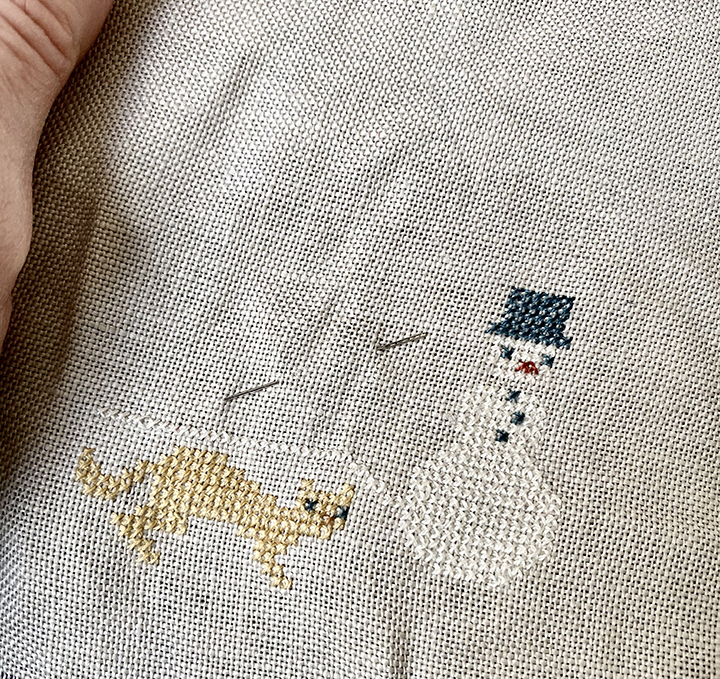 My challenge to myself was to stitch 20-25 stitches a day every week until it's done. I banked all my days this week and stitched all 178 on Saturday morning.
I started a new punchneedle design. This will be a March release. I'm frogging the hair to replace with a lighter color thread. Planning to work on it Sunday during the Superbowl.
Finishes
I didn't have any finishes but I had 4 ladies send it their finishes. Thank you 😊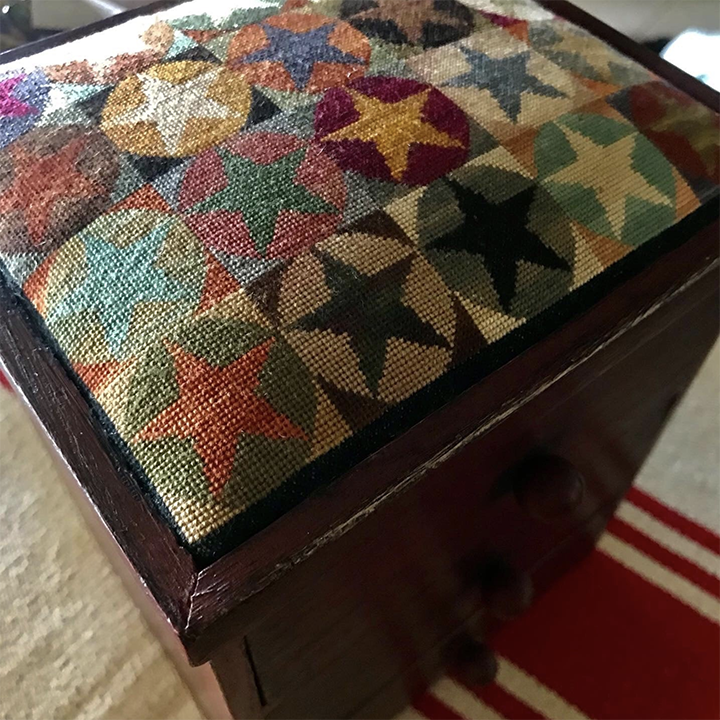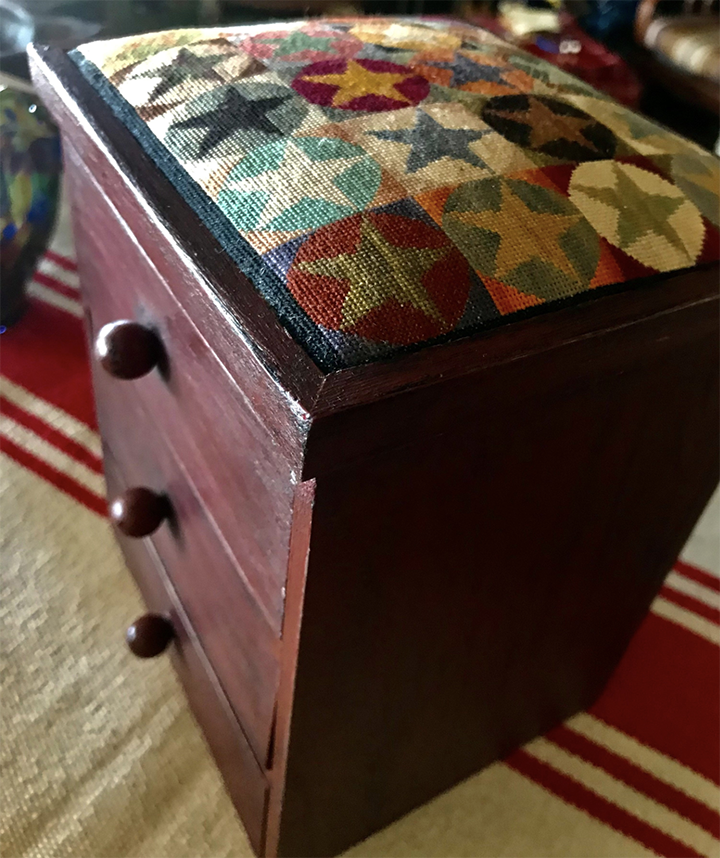 Star Quilt stitched by Kathleen Born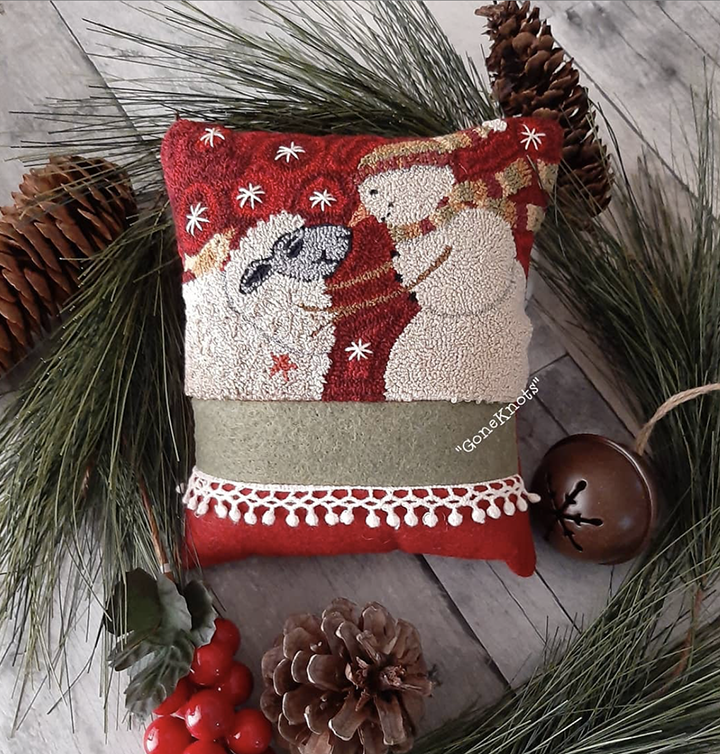 Sadie and Sam punched by GoneKnots on IG. This was in the Punchneedle and Primitive Stitcher magazine.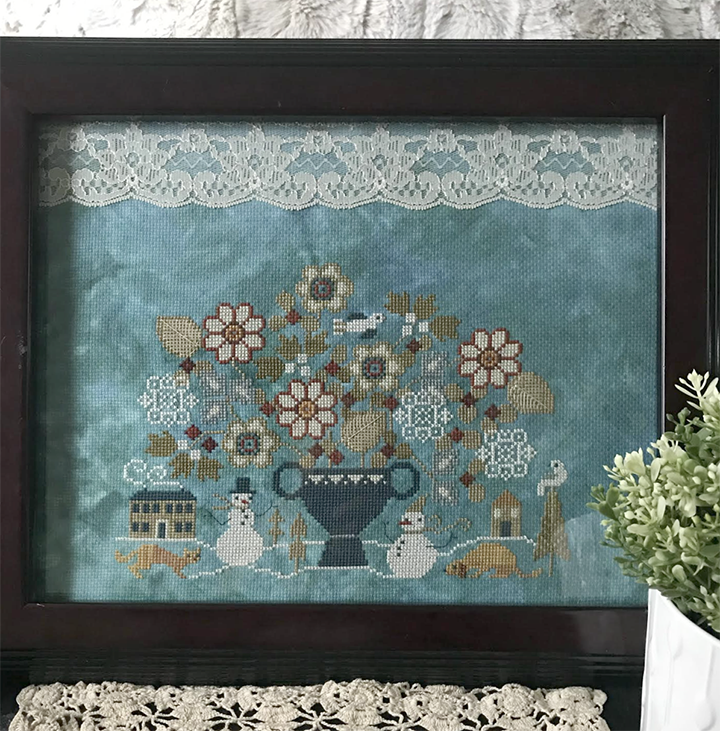 Winter Bouquet stitched by Yvette Silantiev. This chart is only available to my Patreon members.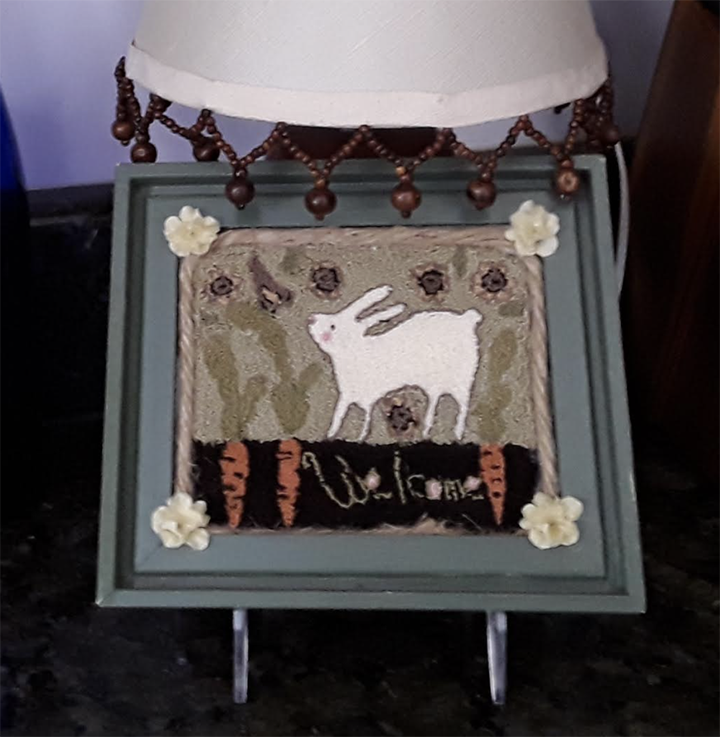 Carrot Row punched by Kim Ezman. Spring issue of Punchneedle and Primitive Stitcher magazine.
NEW in my Etsy Shop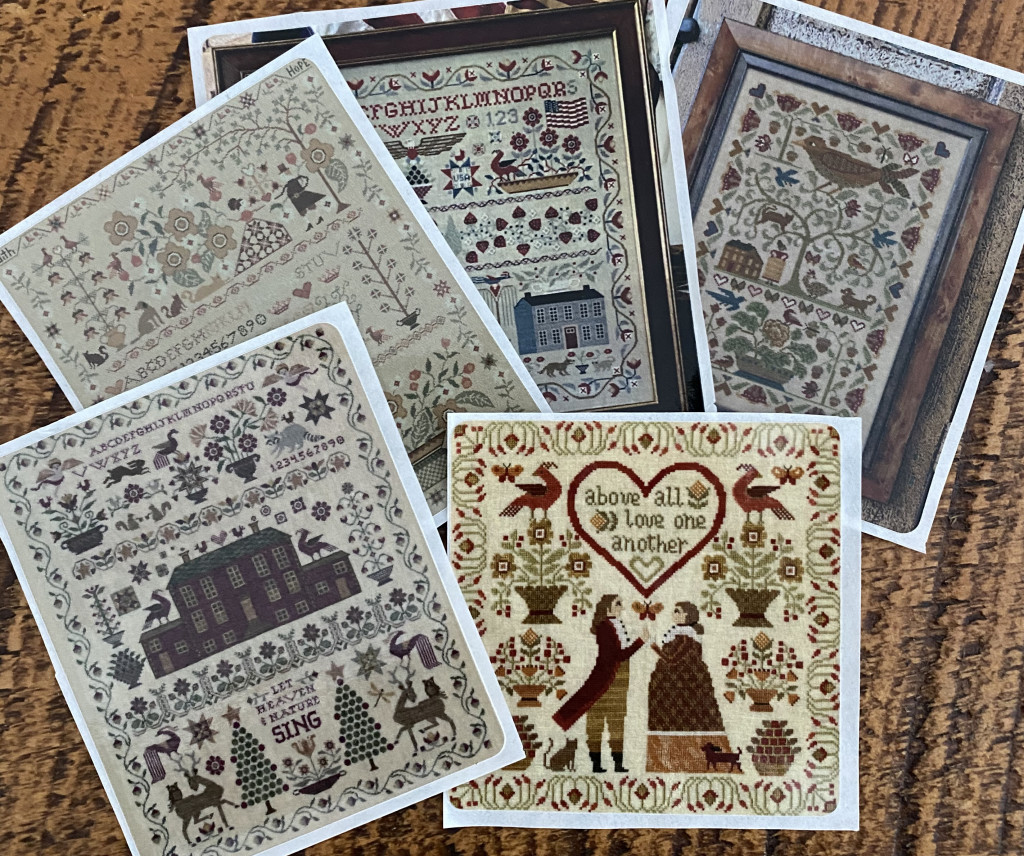 I have sampler stickers! You'll get 5 stickers for $5.00. Check them out here.
Clever Storage
In 2020 I spent many hours cleaning and organizing my studio. It was a lot of work but I still haven't cleaned and organized my cupboards in the studio….and I have a lot of them!
So little by little, so I don't get overwhelmed, I'm organizing when I have the time. This week, I took a vintage suitcase and organized all my Lady Dots Creates and Dames of the Needle finishing trims which include, mini pom pom, chenielle, rick rack, velvet ribbon and velvet backing fabric.
That's all for this week! Wishing you a blessed week ahead.
Flosstube 106 – I LOVE all the Things
What a great week I had. I got so much accomplished and it felt so good! Here is my Flosstube video recapping last week.
It started with the celebration of Ryan's 23 birthday on Sunday. It was the first time everyone was together since Christmas. We had a taco and nacho fiesta and topped it off with no-bake cheesecake (Ryan's favorite).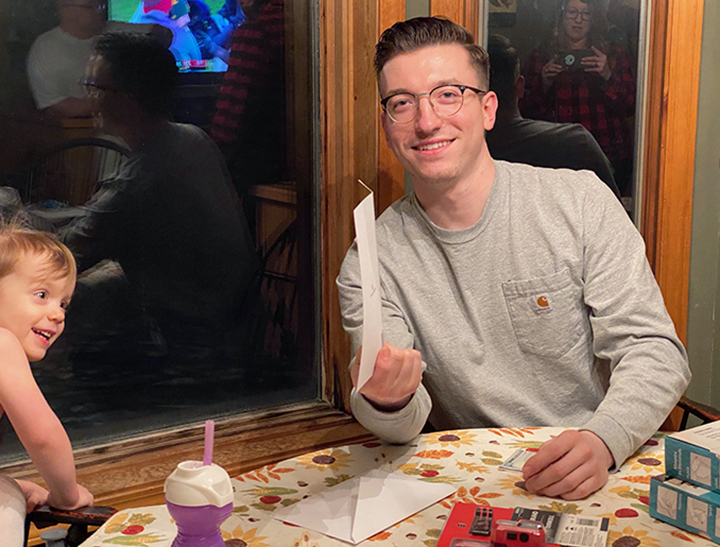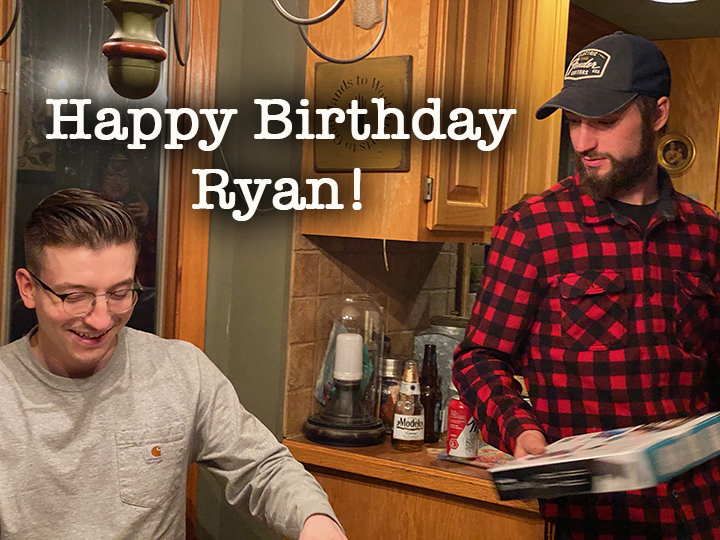 I love how Ellery says "untle Ryan" when singing happy birthday to him.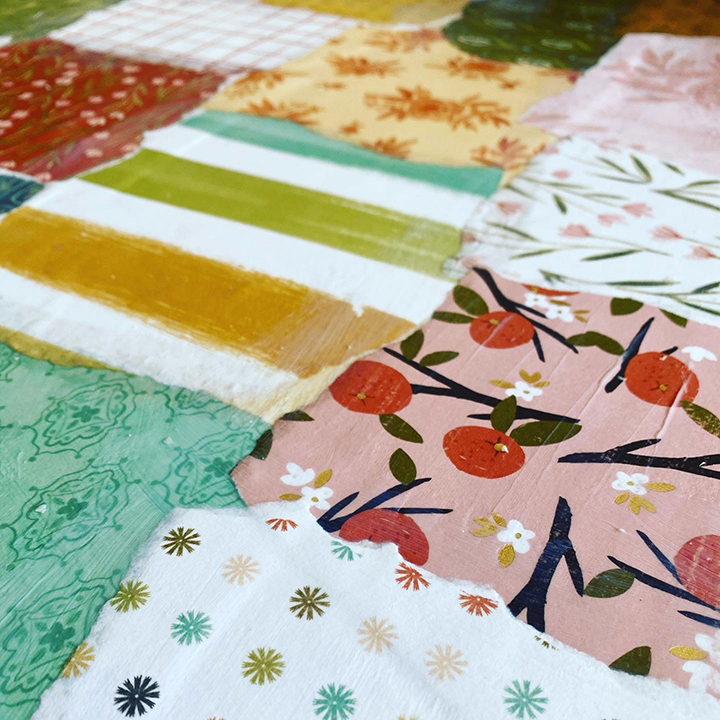 Monday I covered a cradled board with watercolor paper and will be painting a girl with flowers on it this coming week. I'm recording myself painting it and will make it into a tutorial when I get a couple painted.
I also painted this quickie as a test. I had the students of CW Live purchase this small watercolor set and I wanted to make sure it would work for the project I had planned. As you can see, the colors worked fine and the tiny brush that came with the set was a bit small and awkward but it worked fine to paint this angel.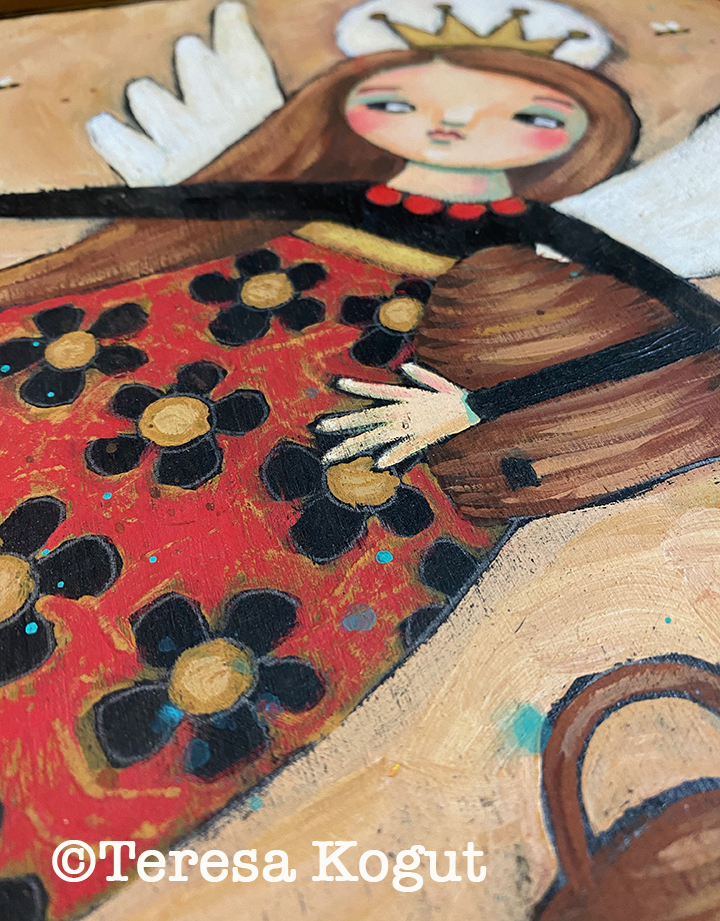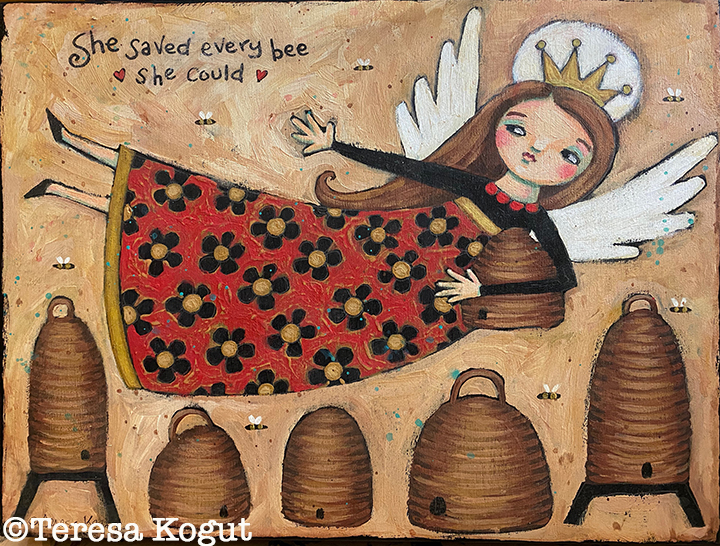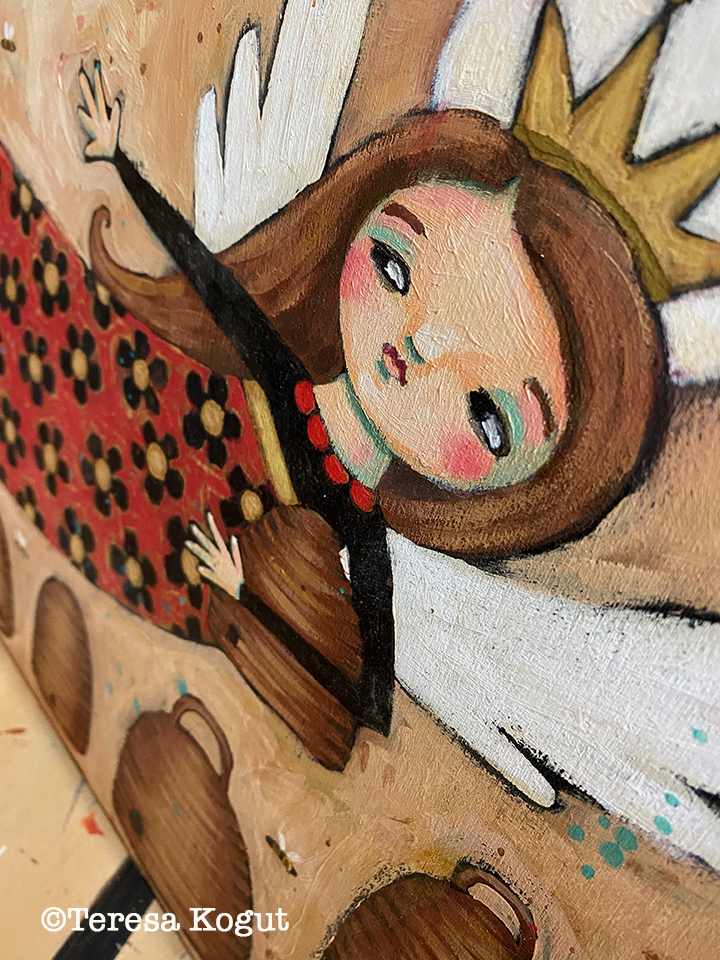 Tuesday night's CW Live class we finished "Save the Bees" acrylic painting. I love how she came out! Look for the original and prints to be sold in my Etsy shop in the coming weeks. You can find my Etsy shop here.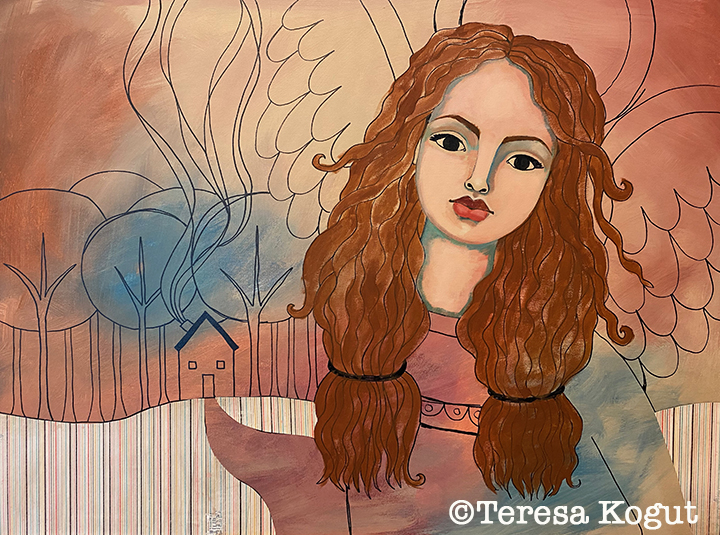 I prepped this canvas on Monday for Whatcha Paintin Wednesday. I'm excited to work on this….it's hard to hold off until Wednesday though. I used scrapbook paper for the ground and plan to add some more decoupage to this piece as I work on it.
Below is my progress on "This Chick Loves Flowers". A punchneedle from my Celebrate punchneedle book.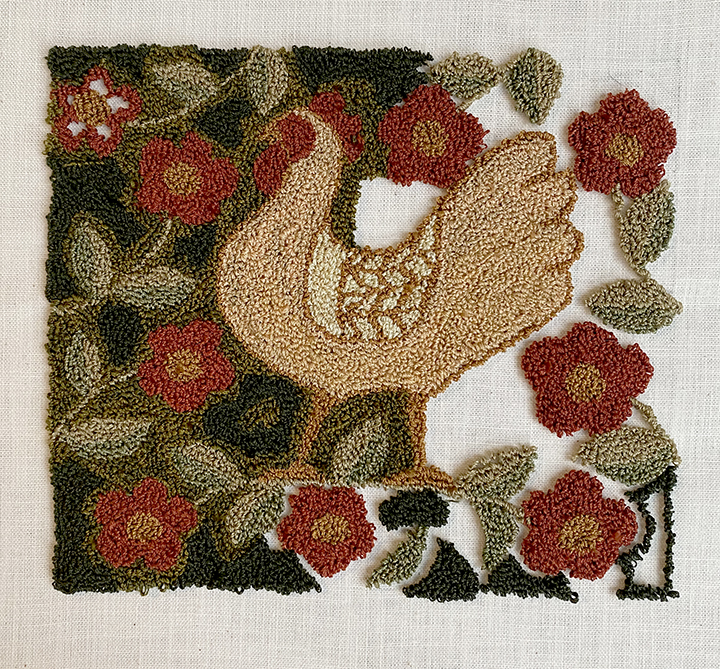 My progress on "Winter Bouquet". I've met the challenge of doing 20-25 stitches a day and it's a good pace for me.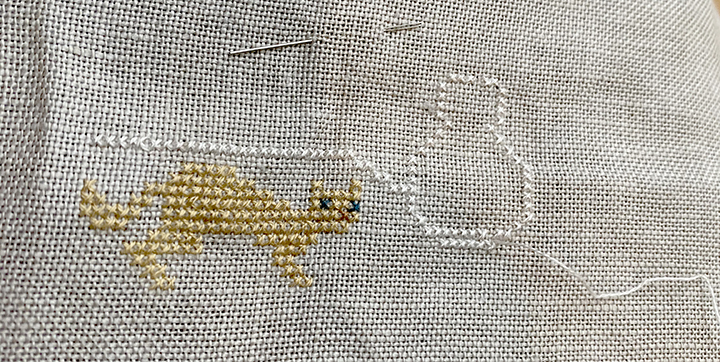 I finally framed the largest punchneedle I've ever created! "This is the Day" is fully finished. I love this frame for it. I used a watercolor board to adhere the punchneedle to but painted it burgundy first.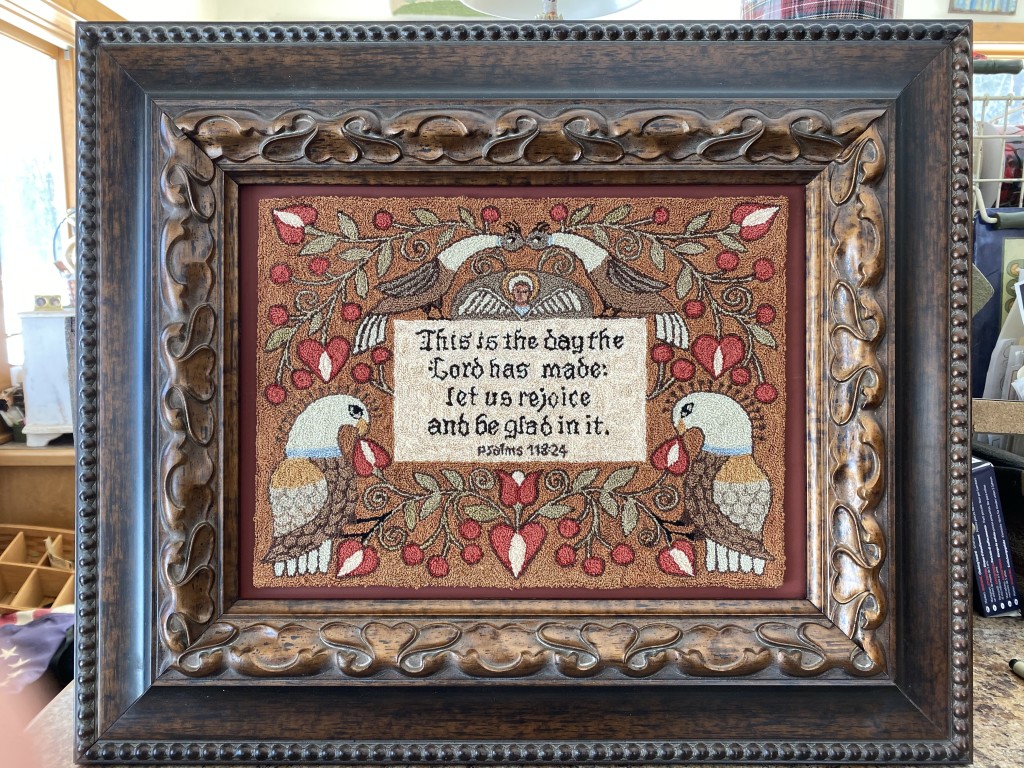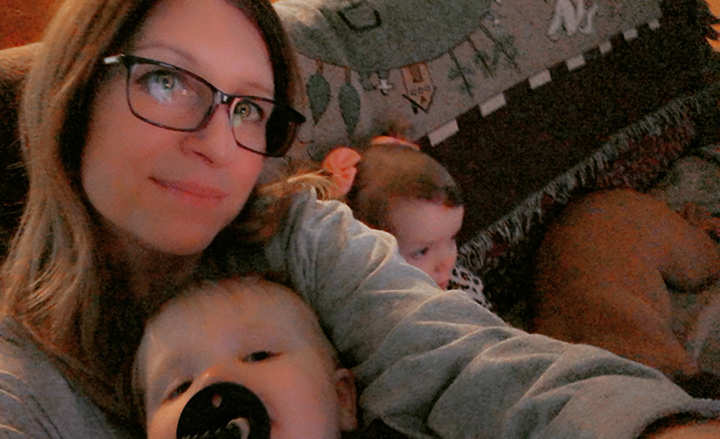 Had the grandkids on Thursday. It was so fun. They are both talking a lot….especially miss sassy pants. She is a hoot as you can see from the videos at the end of my Flosstube video.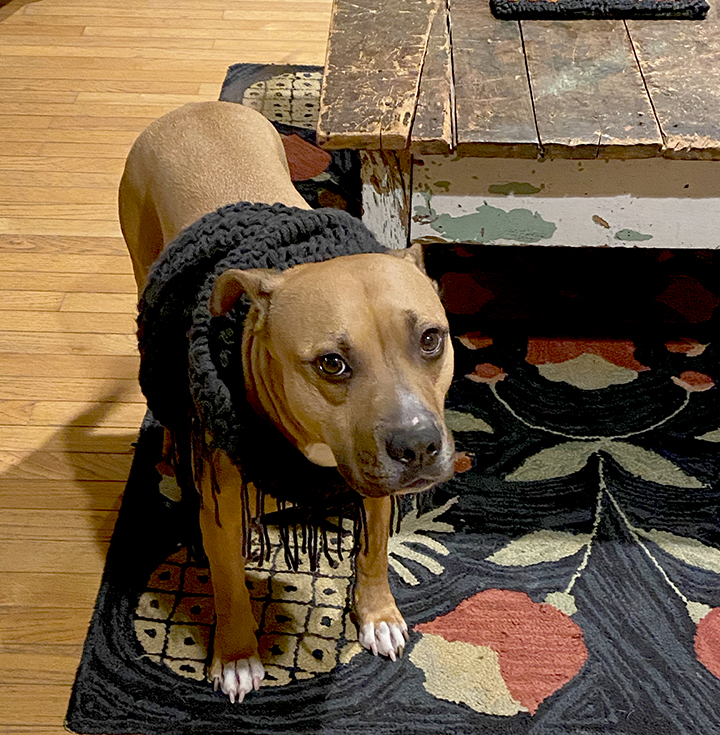 I put my scarf on Athena….as you can see….she's not thrilled 😂
EXCITING ANNOUNCEMENT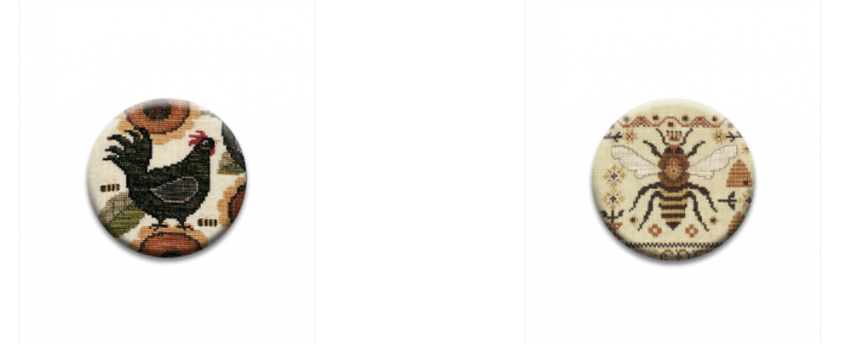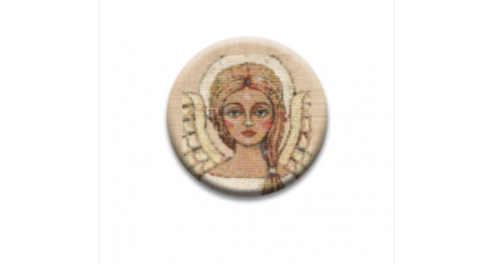 I've joined the Zappy Dots family! I'm couldn't be more excited to have some of my cross stitch designs available on their amazing products which includes needleminders & scissor fobs. Check them out here.
Thanks for stopping by for a visit. Wishing you a blessed week ahead! See you next weekend!
Flosstube 105
It's been a couple weeks since my last FlossTube. Kevin and I had a nice trip to Florida to visit Mom and Jerry. We ended up coming home after 11 days and didn't go to Siesta Keys for a few days as we had planned. I explain it all in the video.
Kevin and I recorded a Q & A video and uploaded to my Patreon page. If you are interested in learning more about Patreon, you can do so at patreon.com/teresakogut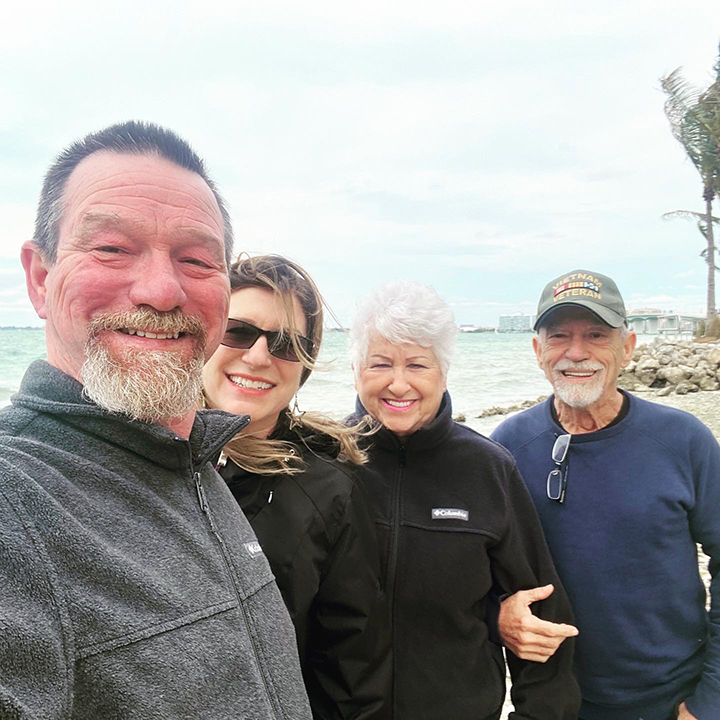 Sarasota FL at a "pet friendly" beach. Kevin, Me, Mom and Jerry 🙂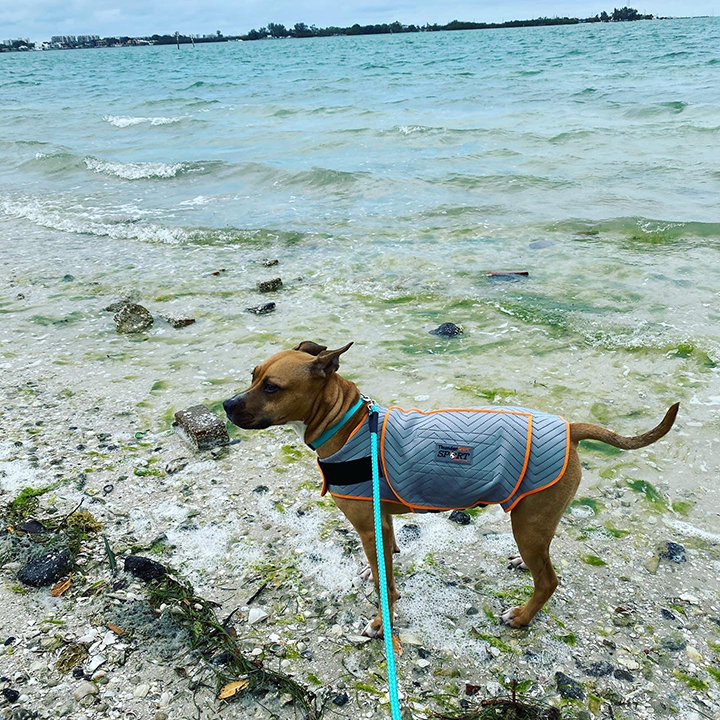 Athena (Teeny) had her first ocean experience. She thought she was at the lake and took a big ol' drink of salt water 😂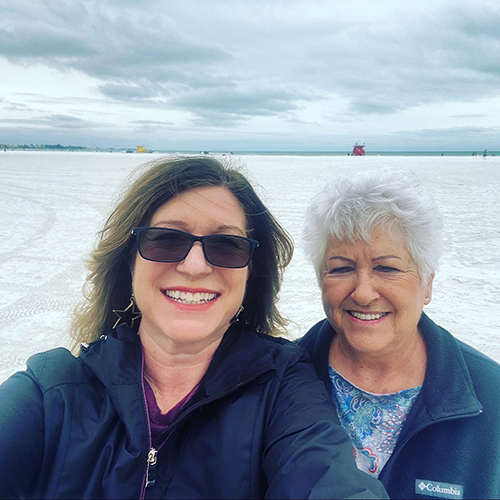 Mom and I at Siesta Keys public beach. We couldn't take the dogs on the beach so we only stayed a little while.
My WIPS & FINISHES
On the way home from Florida I worked on a punchneedle from my Celebrate punchneedle book. This is "This Chick Love Flowers".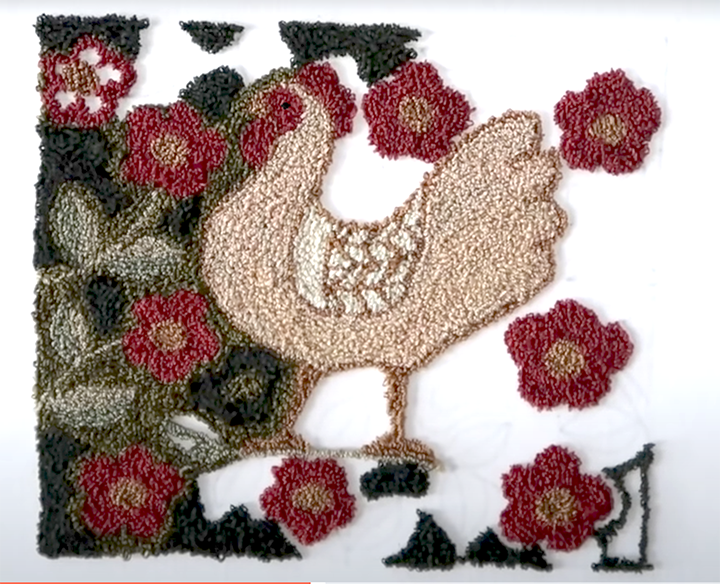 In my online painting class, Creative Whims Live (CW LIVE) we started a new painting called "Save the Bees". Here is our progress from Tuesday night's class.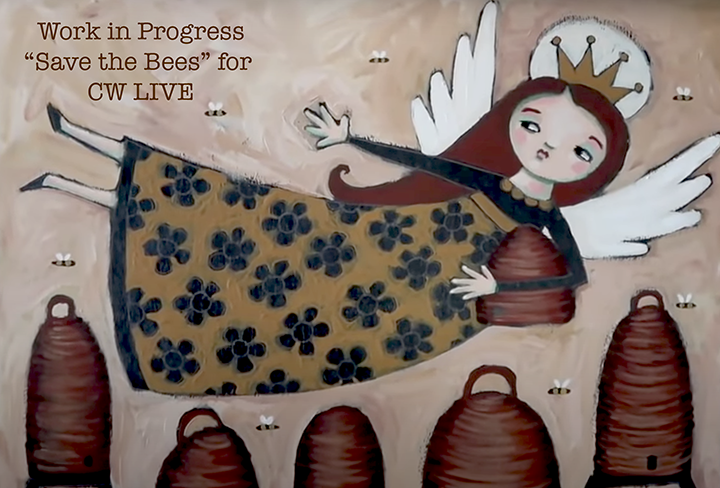 WE HAVE A FINISH!!
I finished "Carry No Burdens" angel painting that I've been working on for the past four weeks during Whatcha Paintin Wednesday. I have a full article with lots of photos here. I also have all of the videos for you to watch if you're interested.
Join my BFF Kristin of Shabby Perceptions and me on Wednesdays at 2pm eastern time to chat with us while we paint. You can join us on YouTube or Facebook.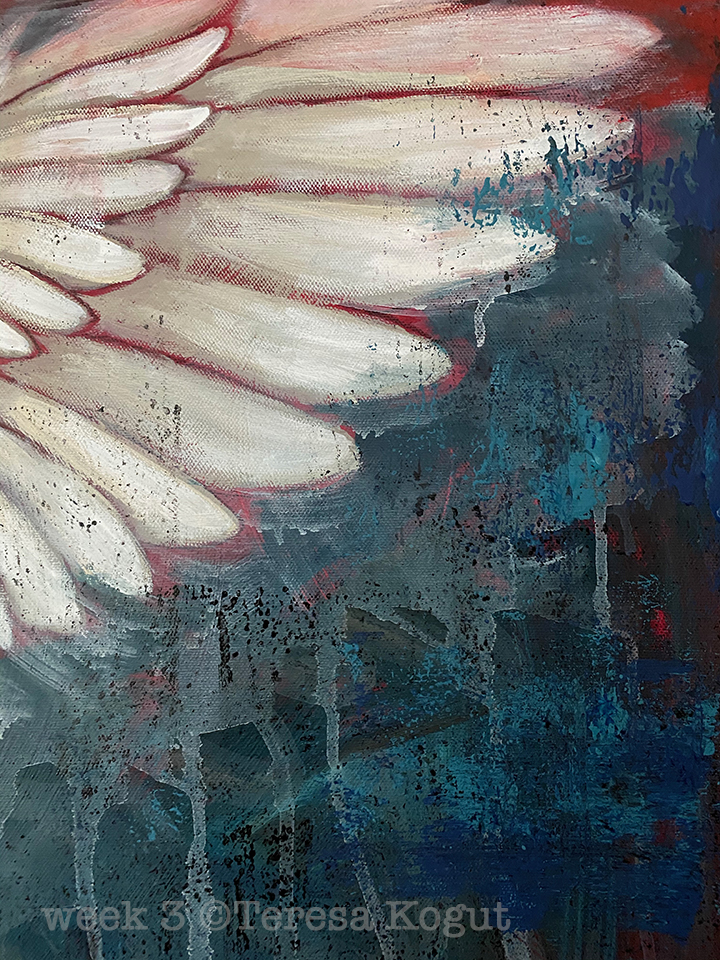 YOUR FINISHES
Here are the finishes from some amazing stitchers!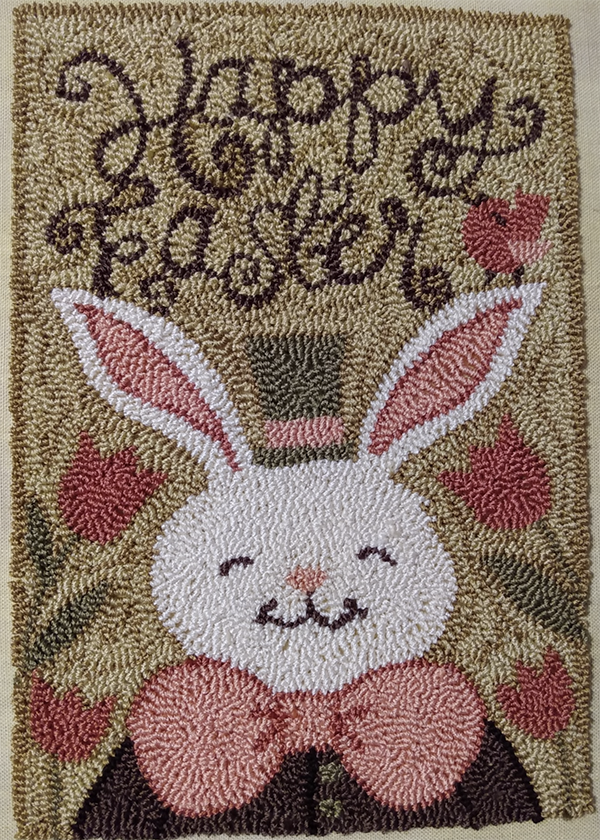 Happy Bunny from my Celebrate Punchneedle book. Punch by Doreen Brannan using Ultrapunch set #1 – 6 strands floss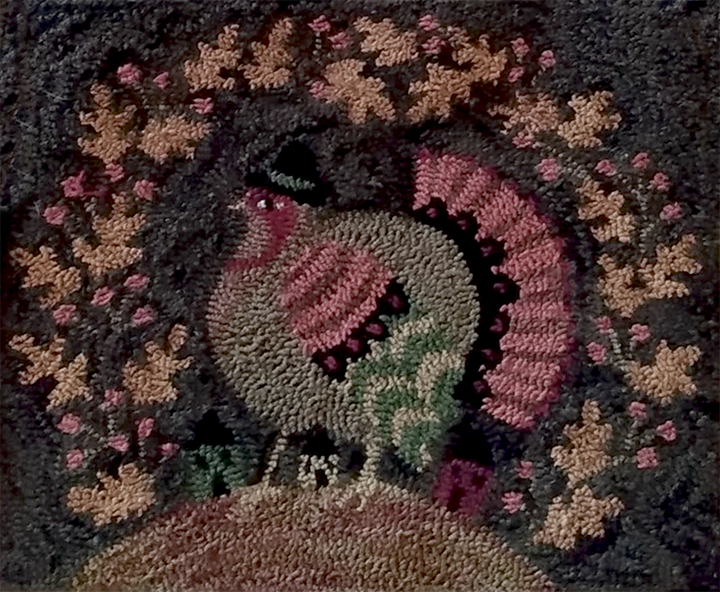 Pilgrim Turkey from my Celebrate punchneedle book. Punched by Doreen Brannan using 6 strands with Ultrapunch set at #1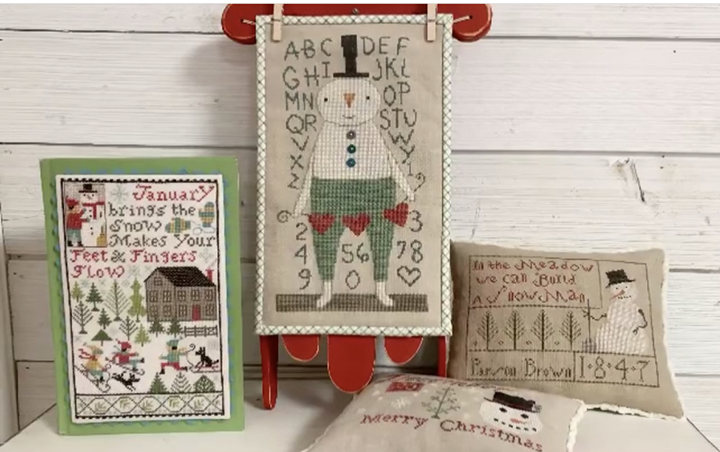 Stu Snowman stitched by Lori Holt and finished so cute on a red sled.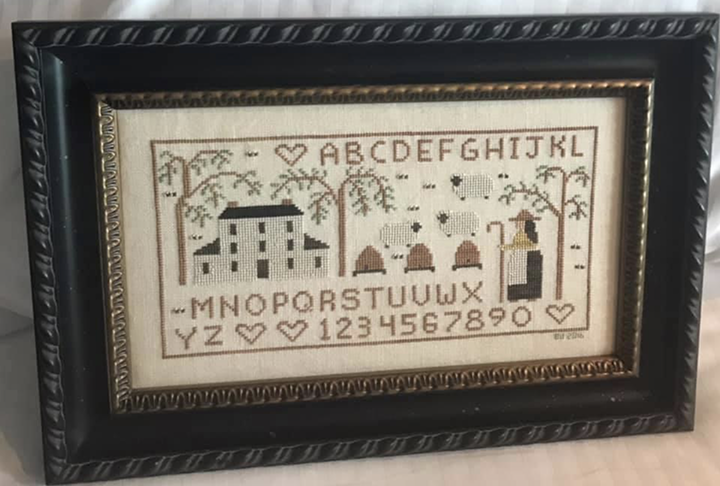 Honey & Wool Farm stitched by Betty Ulan.
Magic of Christmas stitched by Kathy Osborne (missharrietsparrow on IG)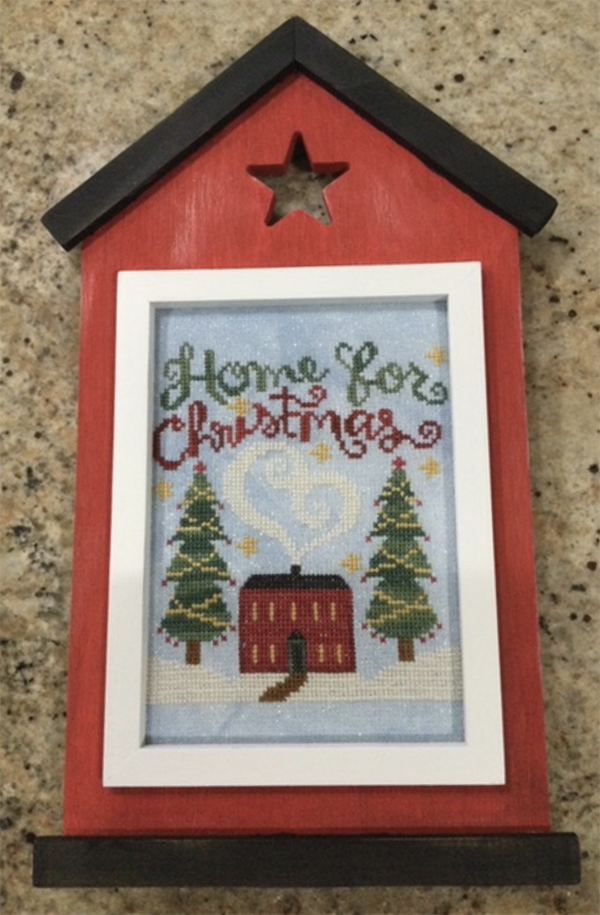 Home for Christmas stitched by Shelly Nichols. Love this house!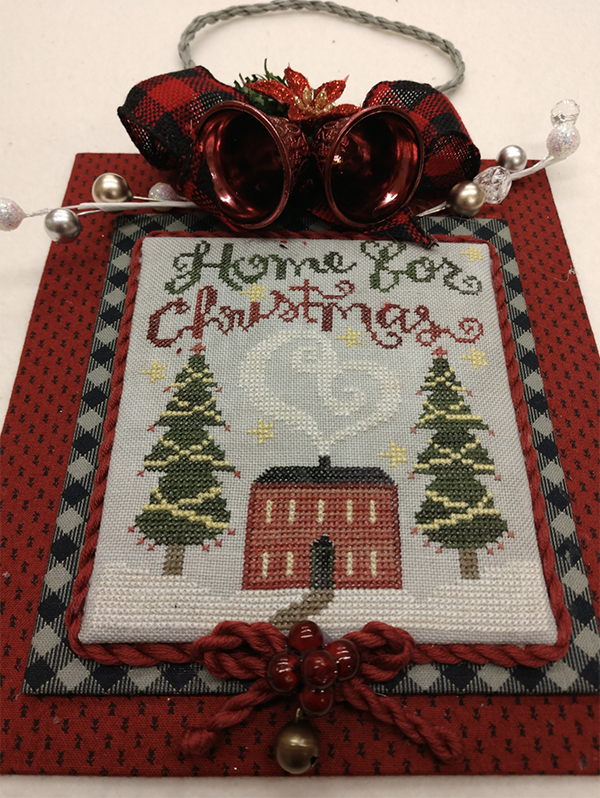 Home for Christmas stitched by Terri Whisler – Cornhusker State Stitcher on Flosstube.
Check out Terri and her daughter on Flosstube here.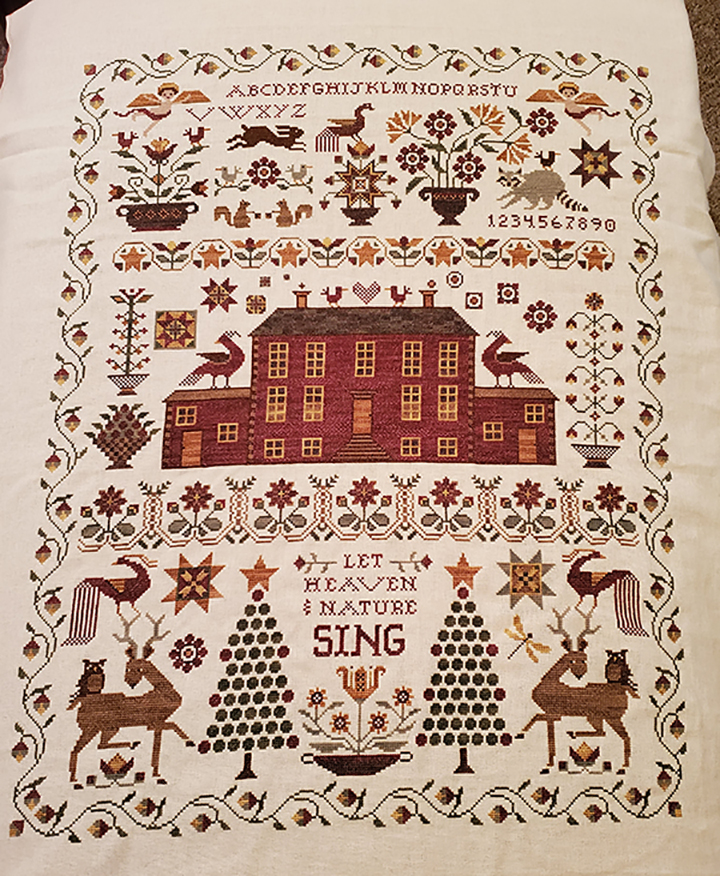 Heaven & Nature stitched by Tonya Hartnell

Merry Christmas Freebie stitched by Becci Lund
This chart is free. You can get it here.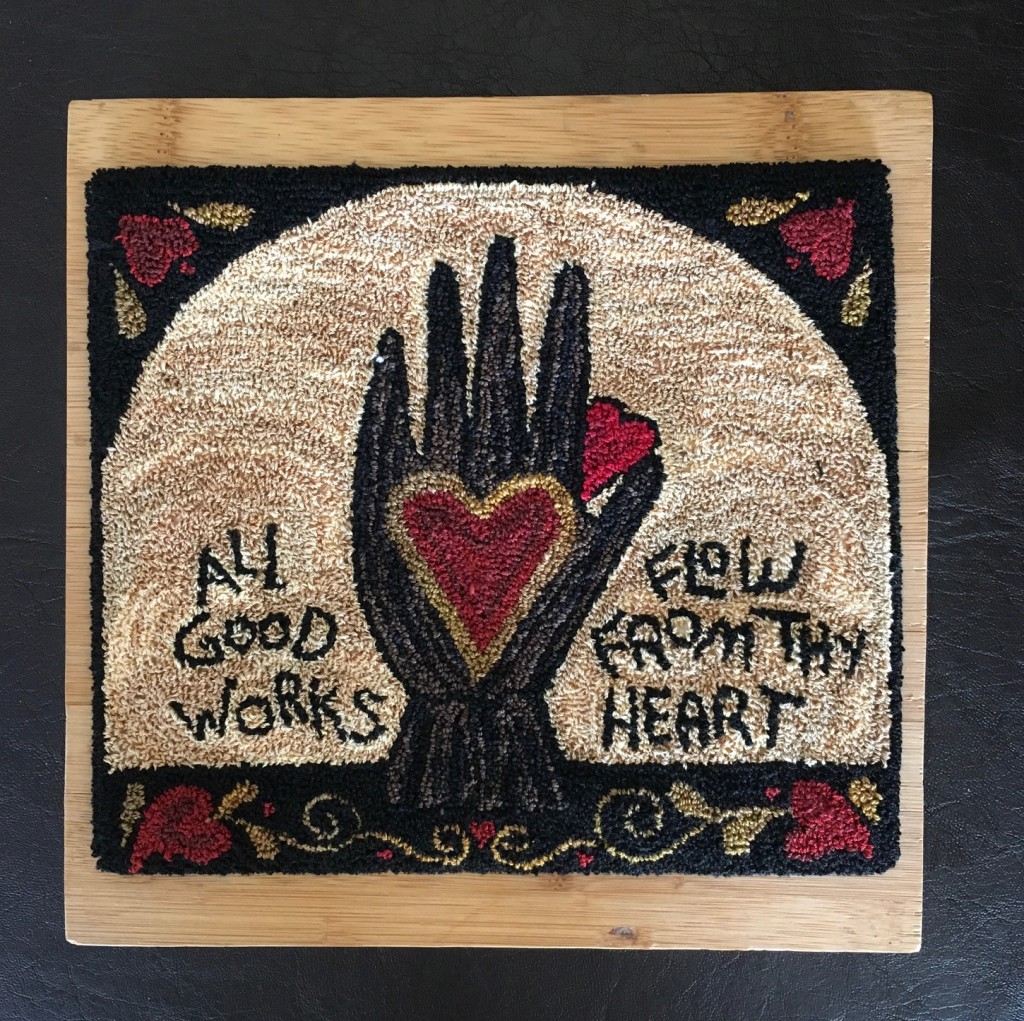 All Good Works from my Punchneedle book punched by Karen Johnson.
Go here if you want to purchase my punchneedle book.
If you would like to have your "Teresa Kogut finish" featured on my Flosstube, please email a photo of your fully finished photo to teresakogut3@gmail.com Please use good lighting and make the photo as clear as possible. It will show better on the video that way. Thank you in advance!
Current Whims
Dream Home Makeover – Shea and Syd are an adorable couple with two little daughters. Shea has amazing style. You can check it out on Netflix.
Skinny Dipped Almonds – So yummy! Check them out here.
Hopper app – This app will watch airfare for you and let you know when it's an optimal time to buy your tickets.
Tile – This will help you find your keys! Check it out here.
Those are the highlight from this week's Flosstube! Thanks for joining me!
Carry No Burdens
I started this painting on Dec 16, 2020 during Whatcha Paintin Wednesday which is where my BFF and I paint together at 2pm Wednesday live on Facebook and YouTube. Kristin lives in Tennessee and I live in Michigan. We love spending time together painting while chatting with people who join the live stream.
If you watch all the videos in this post, you will see this painting created from start to finish.
WEEK 1
Here's a photo of the beginning stages of the painting. I like to start with a red base color so after I have layers and layers of paint when I do the sanding the red can show through in areas.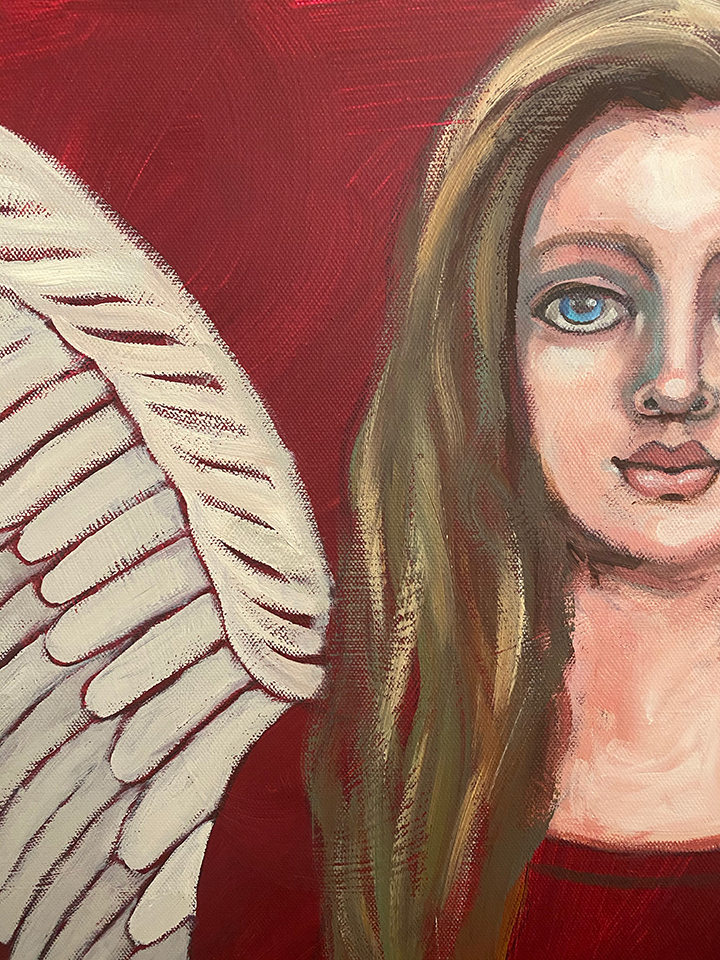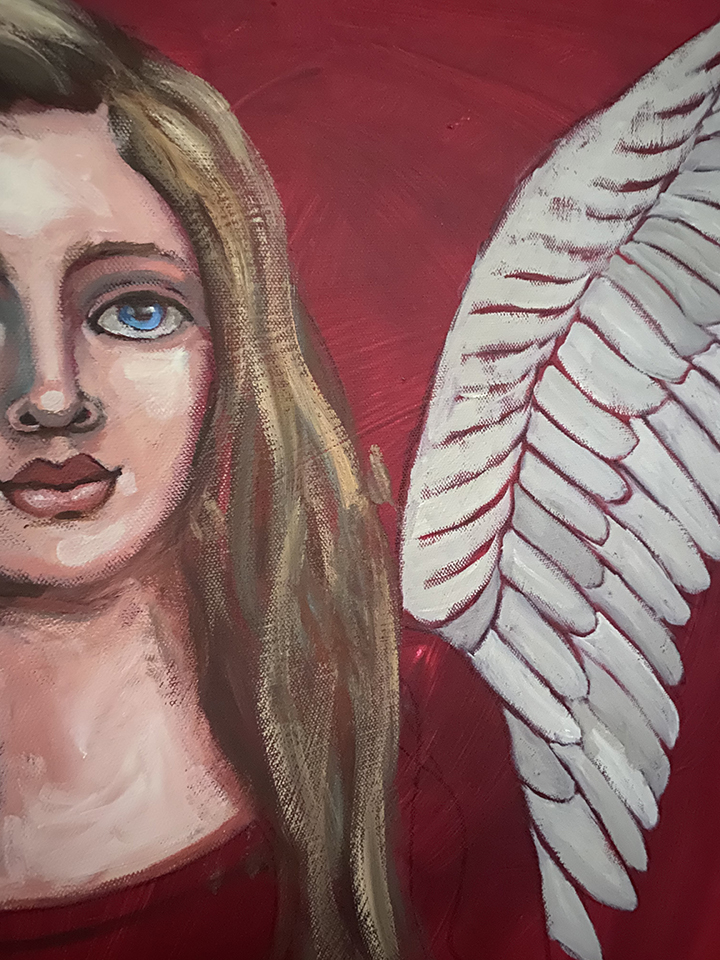 WEEK 2
To be honest, I didn't have a clear vision of how I wanted this painting to look in the end. I just kept working at it until I got it to a point I liked the colors. This week I made BIG changes. Adding the blue made a huge difference but then I decided to make her hair white (which is a first for me) and I feel by doing that the painting changed completely.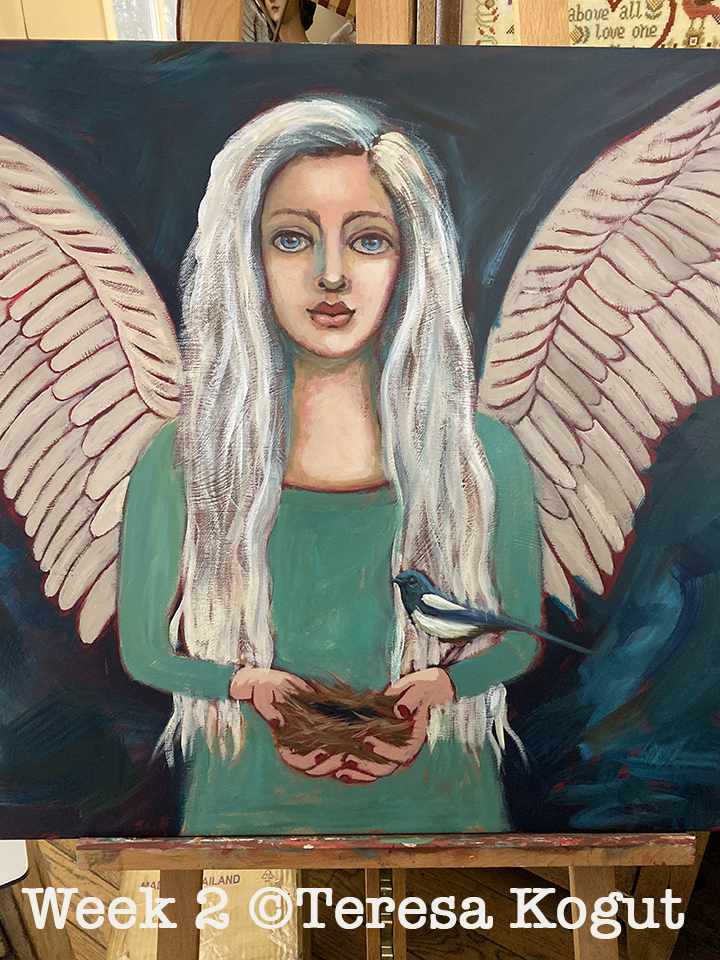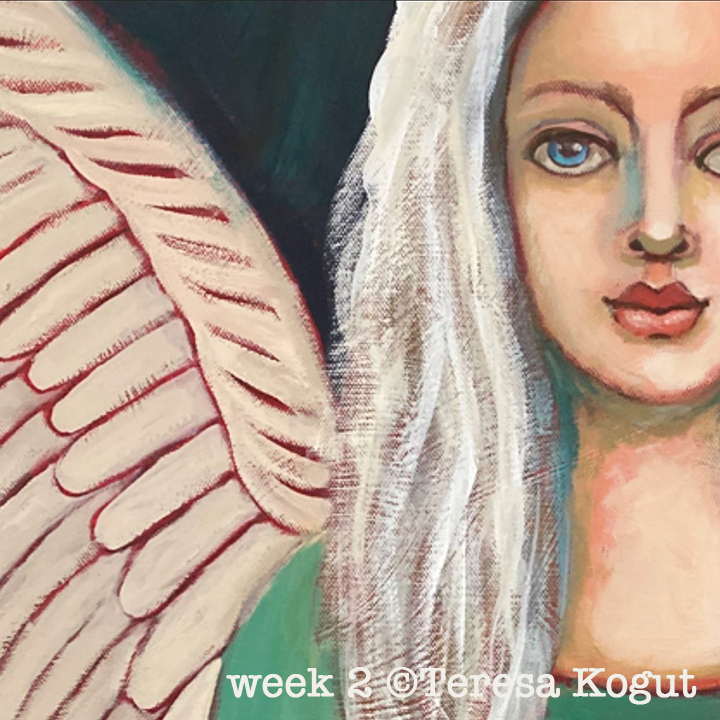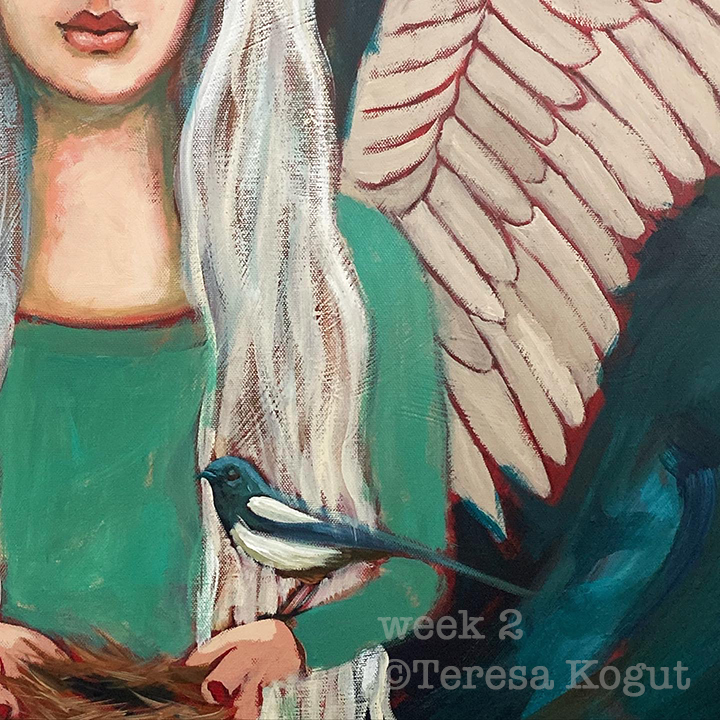 WEEK 3
This week I worked on the wings more. Adding a layers of lighter colors of cream and white to give them dimension. I also worked on the hands and nest more. I did some dripping and washes of watered down white paint in the background. I also used a brayer with red paint and rolled it on the painting. I did the same using blue paints.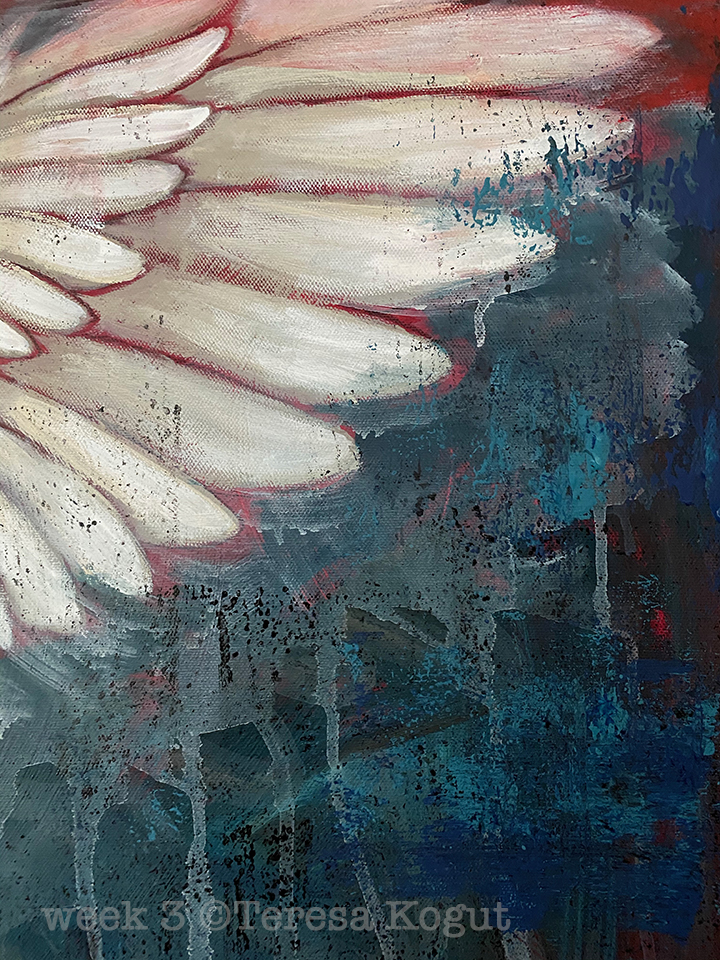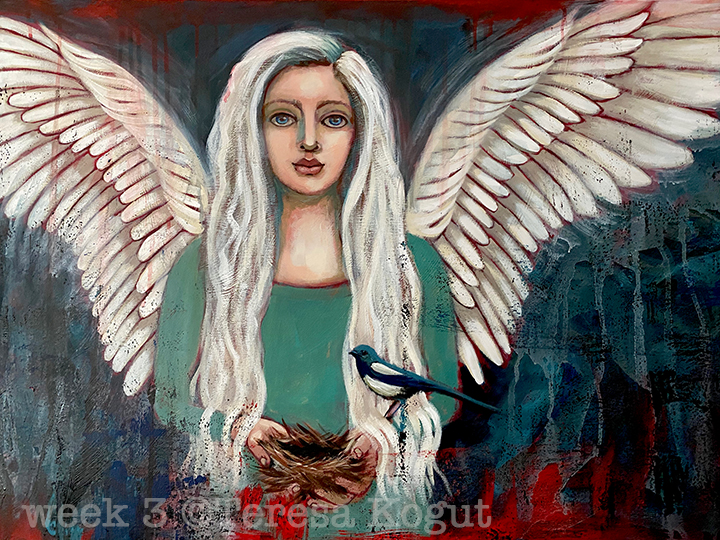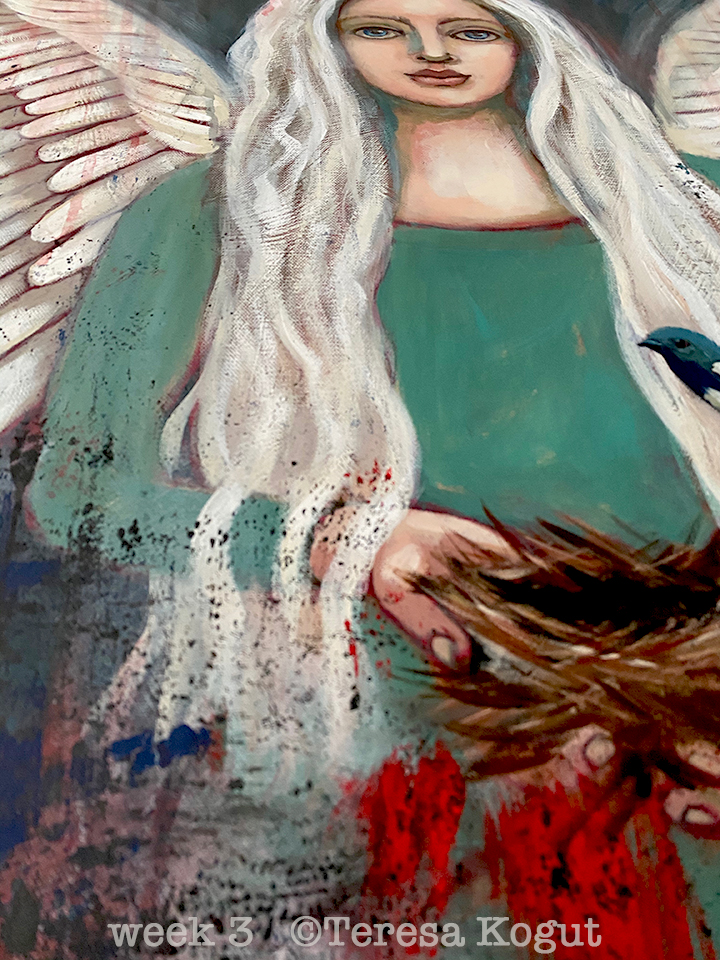 WEEK 4 – It's Done!
In this final week of painting "Carry No Burdens" I added text. First I added the word Angels using stencils. Then I added "Angels can fly because they carry no burdens" by Eileen Elias Freeman. I added Psalm 91:11 " For He will command His angels concerning you to guard you in all your ways." I used watered down red and let it run down the painting. Using a brayer, I rolled black, blue and teal paint to create a "grungy" effect.
I love how this painting came out. It's very different for me and I truly enjoyed the process.